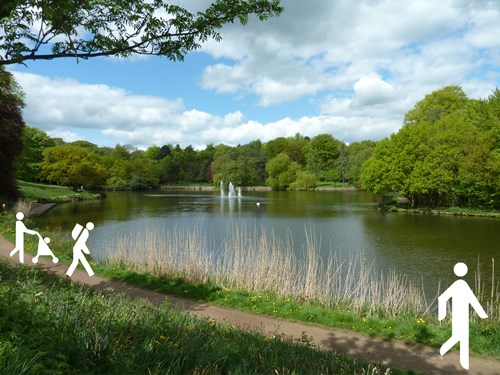 Organise a march
Take on a march, challenge yourself and raise money to help beat prostate cancer.
Organise your own walking challenge
It's your march, your way, but we're with you every step of the way.
Put your best foot forward and take on a march to help beat prostate cancer. How far you want to walk and how much you want to raise is totally up to you, but set yourself a target that you think is achievable. You could walk 5 miles, 10 miles, or take on a marathon route of 26.2 miles. Need some inspiration? Check out our ideas below!
How we can support you
We're here to help you make your walk a great success. Sign up using our online form to get: 
A free Prostate Cancer UK branded cotton t-shirt
Tips and ideas for your challenge
Ongoing support for your fundraising 
Resources and materials - such as balloons, posters and collection tins
A free Prostate Cancer UK branded technical walking top when you hit £500
Planning your march
Get in touch to let us know you're taking part. Sign up online and receive your free Prostate Cancer UK branded cotton t-shirt.
Decide on your walking challenge. Fancy walking with your friends or colleagues, or going solo around your local area? Check out some of our suggestions below for inspiration. 
Pick your date. Whether it's a one day march or you're clocking up the steps over a over a month, the choice is yours.
Spread the word. Let your friends and family know about your challenge and ask them to support you.
Ready to go? Lace up your boots and get marching!  
Raise money to help beat prostate cancer. Encourage people to sponsor you by setting up a JustGiving page. It's a great way to collect donations online.
Need some inspiration?
There is a walking challenge for everyone. Here's a few ideas to get you started:
Club March - Do you follow a football, rugby or cricket club, or even play for a team? A Club to Club march could be for you. Pick your favourite team and set a date to walk from or to the ground. Or choose to march from your team's home ground to the rival club. 
Mountain March - Take on a mountain of a challenge and push yourself to the limit! Whether you take on all of the UK's highest mountains or just one - have you got what it takes to get to the top?
Coastal March - Get your boots on and visit a section of the UK's coastal path. Take on a cliff top hike or walk along the shore while enjoying the sea breeze.
Local March - Why not plan a route around your very own local landmarks? Take advantage of your local footpaths or walk around your local park or open space. You can decide how long or short the walk is and can pick a place that's important to you.
Challenge March - Whether it is Lands End to John O'Groats, a coast to coast walk or visiting every county in the UK, test your limits by organising your own challenge.
Can't find what you're looking for?
Head over to our resources page to find out more about promoting your fundraising, paying money in and our fundraising basics.
Get in touch with us at [email protected] or call us on 0203 310 7264. We're here to help.

Fundraising resources
Whatever kind of fundraising you have in mind (or don't), we're here to help; ideas, hints, tips, downloads and more.
Want to organise your own march, but don't know where to start?
Our team has lots of useful information on how to get started, from walking routes and tips to fundraising advice and materials. Drop us an email at [email protected] or give us a call on 020 3310 7264.