A note from our CEO, Laura Kerby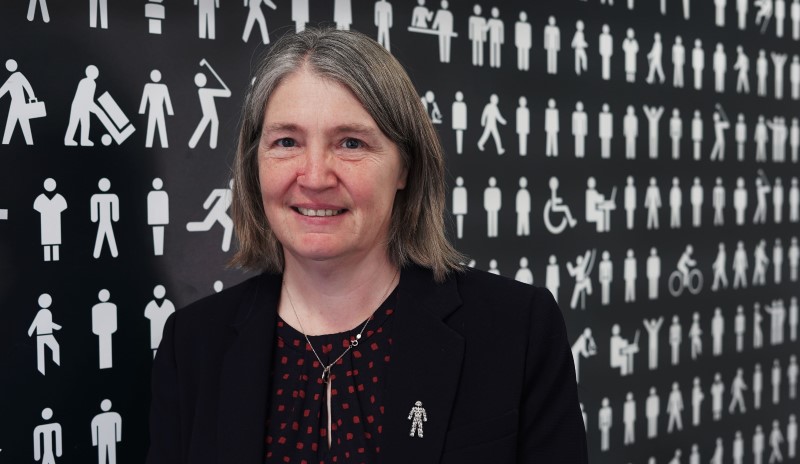 I write this filled with gratitude, and feeling like I've been doing this job much longer than eighteen months. Maybe because so much has changed in the world and here at Prostate Cancer UK. You've helped us make massive progress for men amidst instability and uncertainty. Reflecting on and sharing the impact of that support makes me so proud.
Decades of research came to fruition as the world's first gene-targeted medicine for prostate cancer was approved, giving hundreds of men more time with loved ones. World-class scanning techniques are bringing the UK closer to a screening programme, where all men get an invite for a regular test. This could save thousands of our dads, partners, brothers and friends every year. And we estimate that 6,000 extra men were able to start life-extending or life-saving treatment compared to last year. The conversations you have, sharing the risk-checker with the men in your life, your generous donations, it's working!
Of course we face huge challenges too. We identified a stark and worrying North-South divide in terms of men being diagnosed too late for a cure. We have so much work to do to address the health inequalities faced by Black men. And, as every year, we lost far too many men. We were deeply saddened by Bill Turnbull's passing. Since he shared news of his diagnosis in 2018, Bill woke up the nation to prostate cancer and inspired millions. On the day he died, we saw our biggest ever spike in risk checks. As I think of Bill's family, I wonder how many families are together because of his actions, and yours?
I'm excited for what's next. I'm so grateful for your support. Our vision of a world where no man dies of prostate cancer is daring and ambitious. But we won't stop until we get there. Thank you.
Laura Kerby
Chief Executive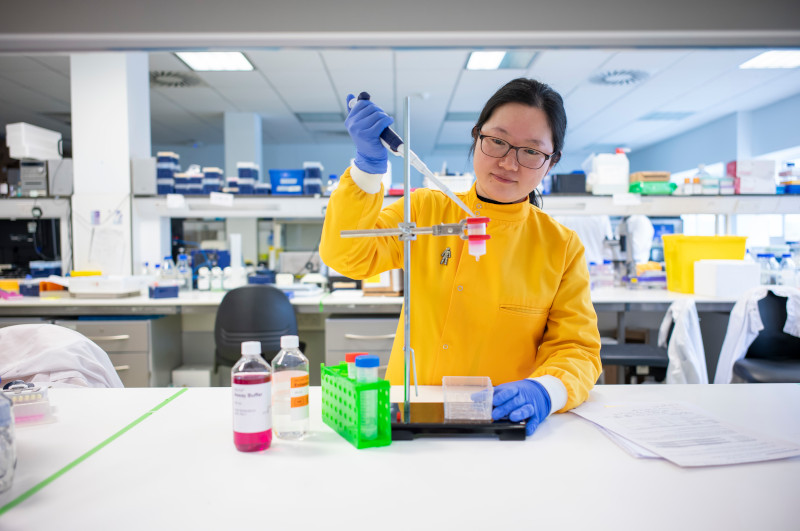 £9.6 million
invested in new research thanks to you!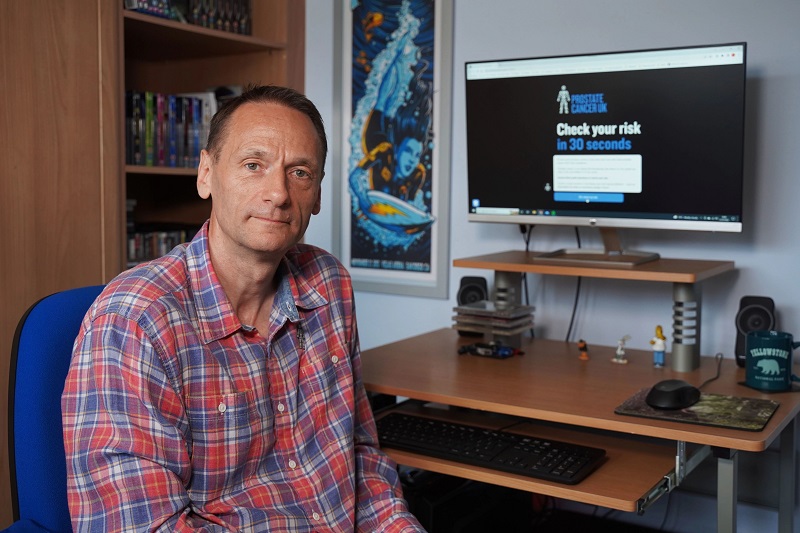 1.3 million people
have now checked their risk. And around 6,000 more men were treated for prostate cancer than the year before.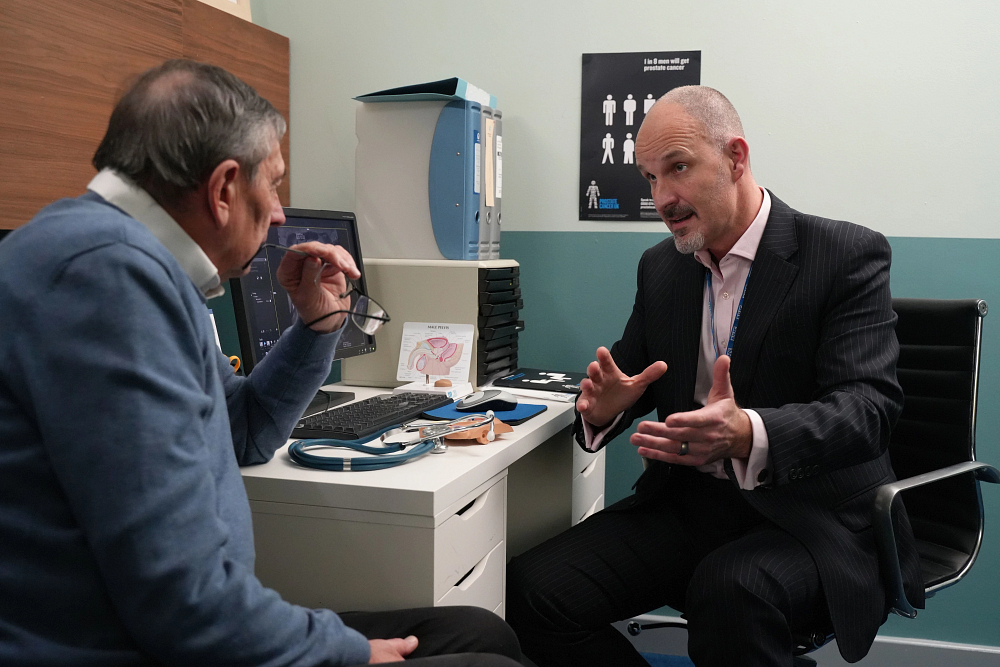 31,800 men every year
will have better care – including shorter wait times – thanks to our training programmes to help health professionals improve care.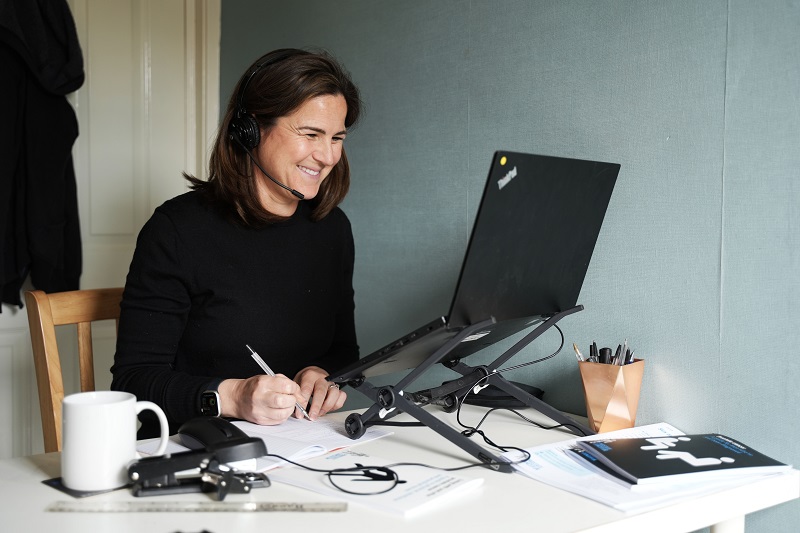 13,700 contacts
to our Specialist Nurses, 98% of which would recommend the service.
1.3 million people check their risk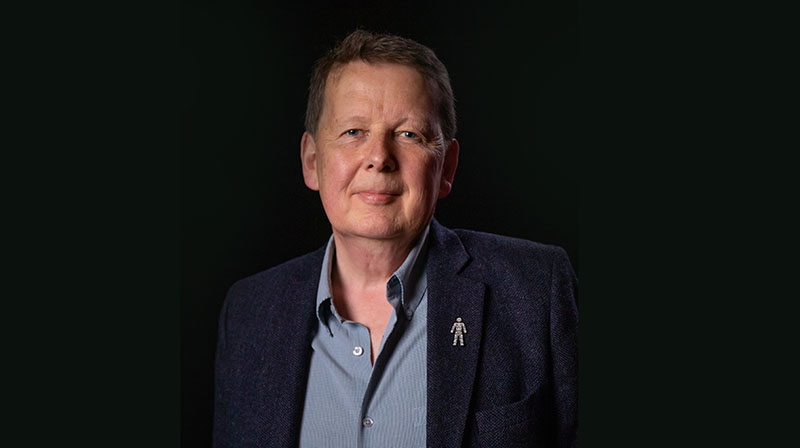 Last year, you helped launch the biggest ever national prostate cancer awareness campaign, promoting our 30-second risk checker to find 14,000 men whose prostate cancer had gone undiagnosed due to the pandemic. Thanks to you tirelessly sharing the risk checker with friends, colleagues and loved ones, over 1.3 million people have now used it and we estimate that 6,000 more men were treated for prostate cancer than in the previous year.
However, nearly 10,000 men every year are being diagnosed too late to be cured – a tragedy highlighted by the sad death of our friend and ambassador Bill Turnbull. And in January we shone a light on a report that revealed huge inequalities, with men living further north and in poorer areas facing a much higher risk of being diagnosed too late. It is shocking that a man diagnosed in Scotland is twice as likely to be told his prostate cancer is incurable than a man diagnosed in London. So during Men's Health week 2023, we targeted our awareness work to Scotland, the North West and the Midlands and 40% of risk checks showing location came from these areas.
78,000 men used the risk checker in the month after news broke of Bill Turnbull's death and we saw our biggest ever daily spike

209,000 people checked their risk in the three weeks after we revealed a huge North-South divide in men's chances of being diagnosed in time to be cured

We trained over 10,000 GPs and practice nurses to better support men asking about the PSA blood test and prostate cancer risk
Thank you so much to everyone sharing the risk-checker. Had I not seen that I would have just carried on completely oblivious. It saved my life.
Co-creating health information with Black men, community leaders and health experts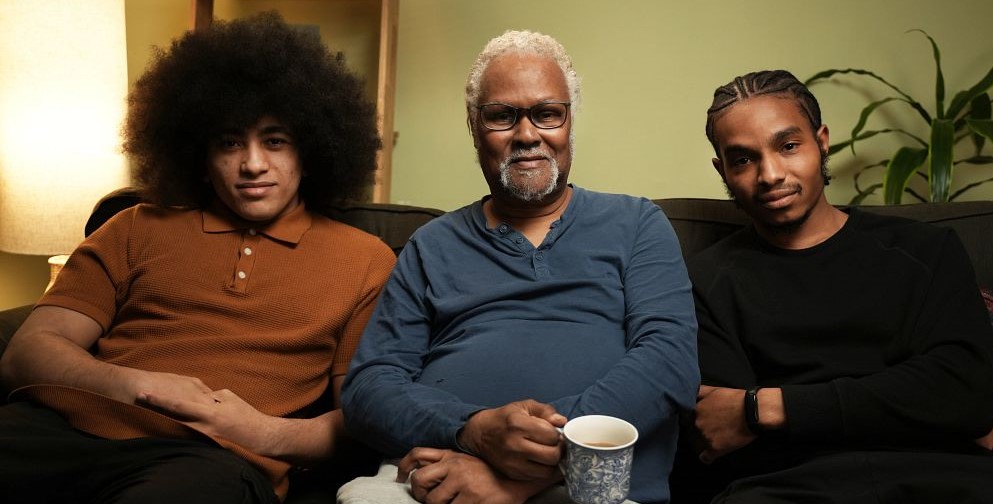 Black men have double the risk of developing prostate cancer compared to the rest of the population. They're more likely to die from it and face inequalities in healthcare which make things worse. It's a huge problem. To address it, communities, professionals, organisations and decision makers need to work together. And while there is still much to do, you've helped make progress this year and more Black men have checked their risk.
A powerful and growing community of Black representatives is helping us speak to Black men as directly as possible so they talk to their GP about their prostate cancer risk. More than 20 Black clinicians, academics, nurses and men with lived experience of prostate cancer shared their expertise in a workshop we facilitated – chaired by Professor Frank Chinegwundoh. The aim was to get an agreement about what we say to Black men about the PSA blood test - a consensus. We now strongly recommend Black men talk to their GP about a regular PSA blood test from the age of 45. And what could be more direct than a text message from your GP that links to the risk checker? We advised doctors and health bosses to trial a text message to men at risk, starting with Black men, which resulted in thousands of extra checks this year.
5.2% of men completing our risk checker were Black compared to 3.6% last year

200 people came together to discuss how to improve health information for Black men in a webinar we hosted alongside Black health professionals and communities
Check your risk and please keep sharing the risk checker with the men in your life.
Prostate cancer diagnosis now safer for tens of thousands of men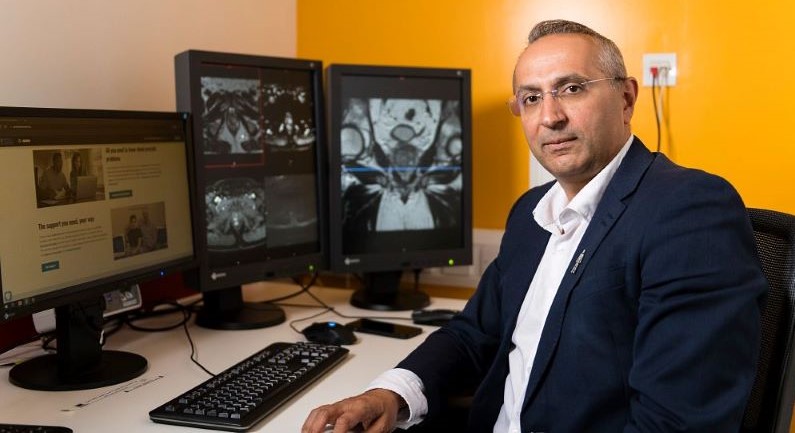 In February our research proved that now 67% fewer men are harmed as a result of having a PSA blood test – equivalent to tens of thousands of men across the country every year. Diagnosing prostate cancer used to mean a PSA blood test then, if the result was high, a prostate biopsy – random samples taken via the rectum. This put men at risk of infection and pain, missed some men's aggressive cancers and led to others having harsh treatments for cancers that wouldn't have harmed them. Now mpMRI scans – made possible by research and campaigning you supported – and safer biopsies via the perineum have changed things. 
We've taken huge steps towards the goal we've been striving for together – making diagnosis safe and accurate enough for a screening programme, where men are invited for regular testing. We're not there yet. But for Black men over 45 and men with a strong family history of significant cancers – who are twice as likely to get prostate cancer and to die from it – we now think the benefits of screening outweigh the risks. So we asked the National Screening Committee to look again at the evidence for screening these men and they agreed to review it.
Just 0.05% of men sent for a PSA blood test are now at risk of sepsis – serious infection – following a biopsy thanks to increased use of transperineal biopsies

Nearly 64% fewer men are having unnecessary biopsies thanks to widespread use of mpMRI scans

Another new type of scan, VERDICT MRI, could further reduce unnecessary biopsies, by as much as 90%
Having a biopsy is never the most pleasant experience, so research like this that could improve diagnosis and stop men like me having to undergo multiple or unnecessary procedures is hugely welcome.
We're closer than ever to a screening programme. Donate now so we can continue to improve the safety and accuracy of tests, and get there sooner.
Men's lives extended by more precise treatments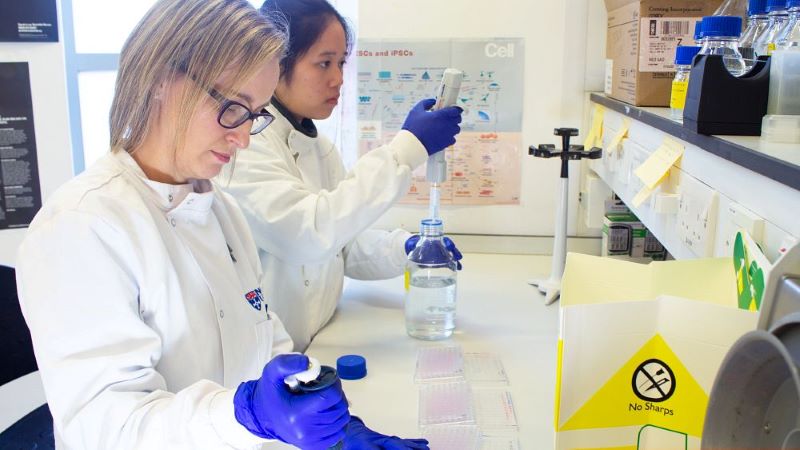 This year we celebrated a landmark moment. The first gene-targeting treatment for prostate cancer became available for eligible men across the UK, thanks to your support. Olaparib targets cancers with a particular genetic mutation and can help men live several months longer. Hundreds of men each year could now benefit from this. Olaparib could also open the door for more targeted treatments for prostate cancer – ideally at earlier stages of the disease, when they could be even more effective.
And thousands of men with advanced prostate cancer should now be able to avoid the side effects of docetaxel such as fatigue, nausea, hair loss and loss of appetite. We've invested more than £2.5m into analysing the results of the STAMPEDE trial. Now, with analysis of other trials, this has revealed which men's lives can be significantly extended by docetaxel chemotherapy and which would do better on other treatments.
You've enabled us to invest £9.6m this year alone into innovative research with real potential to transform how prostate cancer is diagnosed and treated

Thousands of men will now benefit from three life-extending treatments we've helped to make more widely available: Darolutamide, Abiraterone and Olaparib
We're delighted to see research you've funded giving men more time and paving the way for more personalised, more effective treatments to reduce side effects and extend lives further.
Dads, brothers, partners, mates, daughters – supported on their terms over 13,700 times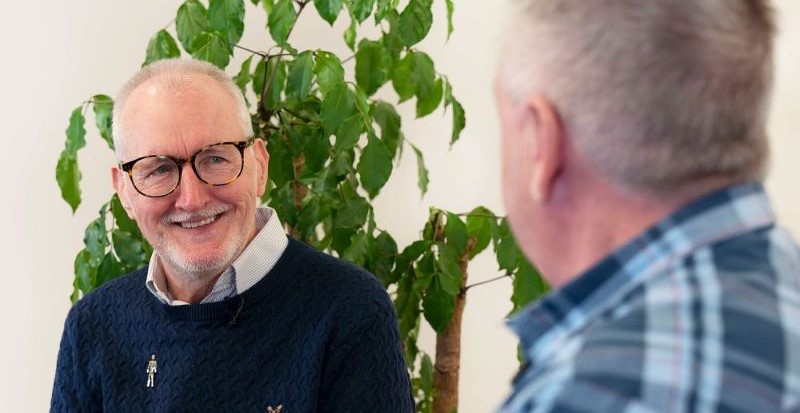 We know you care deeply about supporting men and their loved ones after a prostate cancer diagnosis and through whatever comes next. Your donations have enabled our Specialist Nurses to do this more than 13,700 times this year, providing expert support and information and giving people the time they need to talk and ask questions. They've kept this up through extremely busy times during awareness campaigns and when prostate cancer was in the headlines, supporting more Black men and also men in Scotland affected by the shocking news that they have a much lower chance of being diagnosed early enough for a cure.
More people have been using our WhatsApp service to contact the nurses – a helpful alternative for men who can't call or email the nurses or aren't comfortable doing so. And a very generous donor and wonderful new volunteers have enabled our peer-to-peer support service to expand by 28%, giving more people the chance to talk things through with someone who's been in the same boat.
98% of people who contacted our Specialist Nurses would recommend the service

87% of men who talked about their prostate cancer experience with our peer-to-peer support volunteers understood their situation better and felt better able to make decisions afterwards
I cannot fault the service. I spoke to the same nurse twice who was outstanding both times. Her patience and empathy were exactly what I needed at the time. So informative and caring.
Thank you for all you do!
A huge heartfelt thank you to all supporters, fundraisers, partners, volunteers and everyone in this incredible team who has made it possible to find more of the 14,000 men and save lives.
From Jools Holland who Raised the Roof of the Royal Albert Hall – to the 1,800 people who wrote to MPs to tell them Boys need Bins – to the biggest club in football, Prostate FC – and every donor, runner, walker, golfer and anyone who shared the risk checker – thank you!
Find out more about the world we're building a path to: