What's involved
Our volunteers play a huge part in bringing our events to life, whilst supporting our runners, cyclists and walkers. We have events taking place across the UK, and we would love you to join us at one this year.
This Summer we'll be on the streets of London, supporting our walkers, runners and riders. We are looking for volunteers to support giving them an amazing event experience with us.  
By becoming an event volunteer, we'll welcome you with open arms, tell you more about the event and send you the kit, so you're dressed up in style for the big day!  
On the day you'll meet the team and other like-minded people, develop new skills and get some events experience. We'll provide you with drink and refreshments to keep you fueled throughout the day, and cover some of your travel expenses. Please note, expenses are limited, so please only select those events close to you.
…the wonderful support and incredible crowd, I have never cried so much. Was lovely to have and hear the support from the Prostate Cancer team, especially at mile 17, when I was struggling a bit. To hear my name over the tannoy and being asked to do a bow - which I did - got me going again. The old legs will take a while to recover, but the memories will last forever.'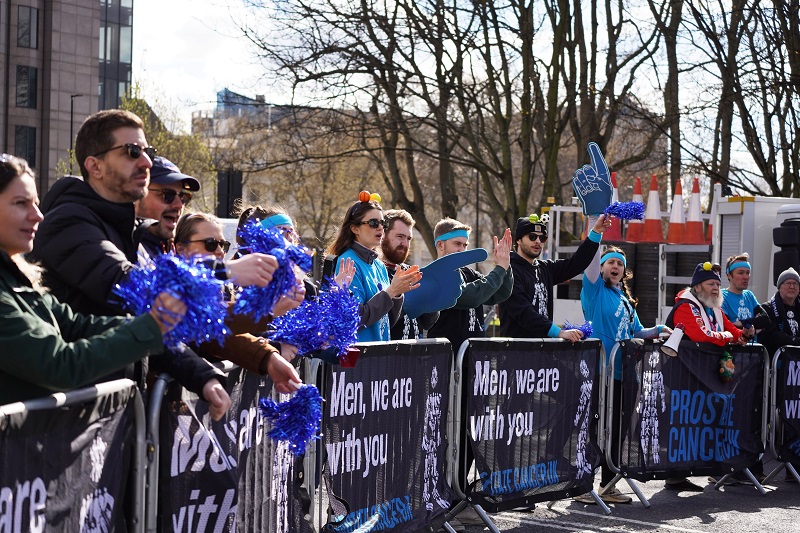 Pride in London, Saturday 1 July
An unforgettable day, with a vibrant atmosphere and joyful energy. Grab your walking shoes and join our team at Pride in London, helping raise awareness of prostate cancer amongst the LGBTQ+ community.
Marchers will be a friendly face, helping to raise awareness amongst gay & bisexual men & trans women about their prostate cancer risk.
We will meet in central London, times & exact location tbc.
March for Men, Sunday 23 July
Our iconic walking event, March for Men, is back on Sunday 23 July in London's beautiful Battersea Park. Thousands of people affected by prostate cancer will come together to walk side by side in solidarity, raising vital funds for prostate cancer research to save men's lives. On the day participants can choose to walk 2, 5 or 10km around the park. 
Sign up to volunteer at March for Men
Our volunteers play an incredible part in making March for Men a day to remember and supporting everyone taking part to have a fantastic experience.  
What's involved 
By volunteering at March for Men, you'll get the chance to meet like-minded supporters (and us too!), as well as gaining events experience. We'll provide you with drinks and refreshments to keep you fuelled throughout the day, and will cover some of your travel expenses.  
Key roles on the day include: 
Meeting and greeting walkers and their families

 

Handing out medals and water

 

Helping on the registration desk and the merchandise shop

 

Directing people to the event site

 
Key timings 
Timings can be flexible but most support on the day is required in shifts between 10:30am and 3pm.  
Sign up to volunteer at March for Men 
What's next? 
Once you've signed up to volunteer, a member of our team will be in touch to discuss how you can support on the day. We can't thank you enough for your support! We couldn't put on events like these without our amazing volunteers.  
Email our team if you have any questions in the meantime, we're here to help.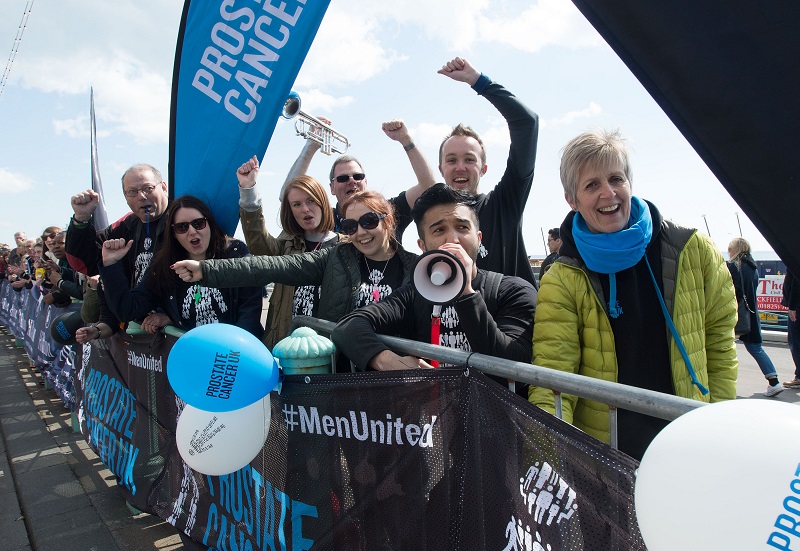 There will be more events across the country to volunteer at later in the year, so please return to this page for the latest updates. 
Please click below to register for an event, and the team will be in touch soon.