What's involved
Our volunteers play a huge part in bringing our events to life, whilst supporting our runners, cyclists and walkers. We have events taking place across the UK, and we would love you to join us at one this year.
This Spring we'll be on the streets of London, giving our runners and riders a huge boost of encouragement as they pass our cheer points. We are looking for volunteers to cheer on our runners and go wild with excitement towards their moment of glory. 
By becoming an event volunteer, we'll welcome you with open arms, tell you more about the event and send you the kit, so you're dressed up in style for the big day!  
On the day you'll meet the team and other like-minded people, develop new skills and get some events experience. We'll provide you with drink and refreshments to keep you fueled throughout the day, and cover some of your travel expenses. Please note, expenses are limited, so please only select those events close to you.
…the wonderful support and incredible crowd, I have never cried so much. Was lovely to have and hear the support from the Prostate Cancer team, especially at mile 17, when I was struggling a bit. To hear my name over the tannoy and being asked to do a bow - which I did - got me going again. The old legs will take a while to recover, but the memories will last forever.'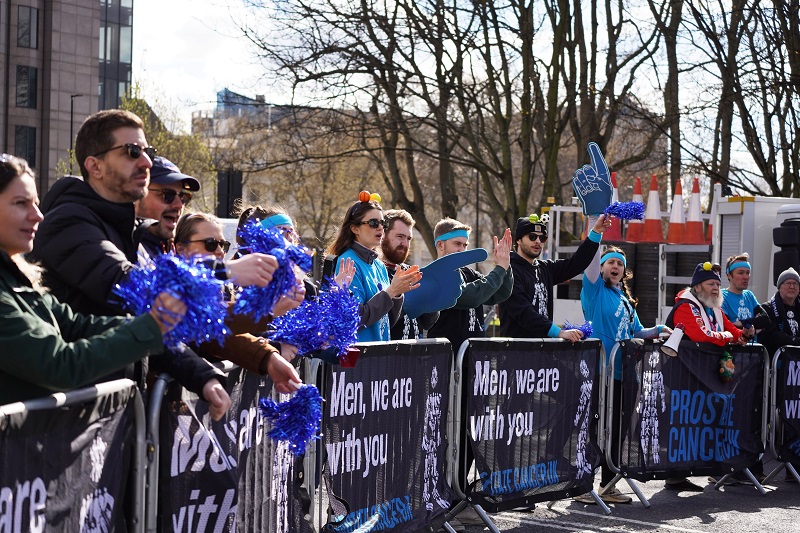 London Landmarks Half Marathon, Sunday 2 April
One of the most fun and well-loved cheer points. Our cheer point theme this year is a celebration of London's music legends, so expect some great music and fun props. We'll have over 450 runners taking part for Prostate Cancer who are hoping to raise £250,000 so we need to make sure we turn out in force to support them.
You'd be needed from 10am-1pm at Tower Hill Station, Central London. 
TCS London Marathon, Sunday 23 April
The ever-iconic London Marathon returns to its historic April slot for 2023 and brings with it our biggest team in over 10 years. We'll have over 250 runners, hoping to raise over half a million pounds, so we really need to show up in force on the day to help get them round those 26.2 miles and celebrate their achievement after all their hard work. It really isn't an event to miss, with an incredible buzz and emotion across London on the day.
There's a variety of locations where we need your support:  
 
Cheer point 1, The Highway, nr Shadwell Station, 11am - 2pm 
Cheer point 2, Mudchute Station, 11am - 3pm 
Cheer point 3, The Highway, nr Shadwell Station, 2pm - 5pm 
All locations have a great atmosphere. The Highway is one of the busiest locations on route, so if you're looking to avoid heavy crowds we recommend the more family friendly Mudchute Station location.
RideLondon-Essex 100, Sunday 28 May
RideLondon-Essex 100 is a phenomenal feet of strength for our 350 participants who take on the challenge to ride 100 miles through London and the Essex countryside. To show our appreciation we want to give them all the support we can across the cheer points along the route and also lots of friendly faces at our post-race reception. It's set to be an amazing day and our riders really appreciate the support.
There's a variety of locations where we need your support:
Cheer point 1, North-East London, 11am – 4pm (exact location to be confirmed)
Post-race reception, London Bridge, 11am - 6pm. Welcoming back our riders to our offices on Tooley Street.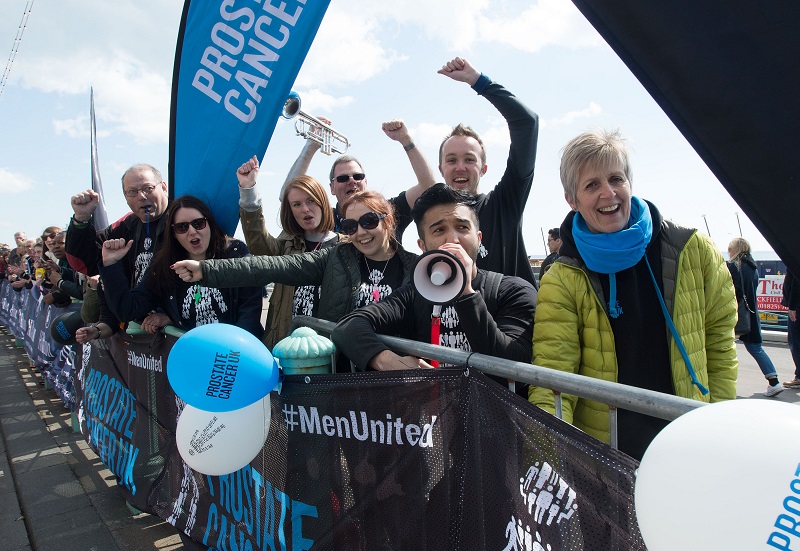 There will be more events across the country to volunteer at later in the year, so please return to this page for the latest updates. 
Please click below to register for an event, and the team will be in touch soon.