Emerging from the pandemic smarter, stronger, and more supportive
A note from our CEO, Laura Kerby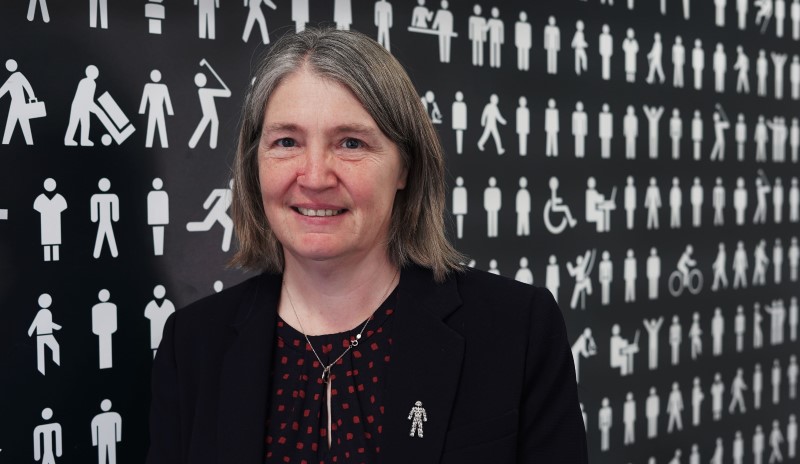 February 2022 was a superb time to begin my role as Chief Executive of Prostate Cancer UK and to see how we'd stepped up to the challenges of the last two years. Through the changes of the pandemic, we listened and responded to men's changing needs by working collaboratively with our partners, volunteers and supporters. We found new ways to fundraise, to reach men at increased risk of prostate cancer and to provide vital services and support.
When the restrictions made working in labs and clinical trials almost impossible, we supported the research community to save our 48 existing projects that were at risk. When NHS data showed that 14,000 men might be diagnosed too late to be cured, we launched a national campaign with NHS England and half a million people used our 30-second risk checker. When the pandemic delayed diagnoses and treatments, we kept our frontline services open, ensuring men and their families could access support and information of the highest quality. More on this below.
Thanks to generous supporters like you and the return of events and face-to-face activities, our annual fundraising income was £35.4m. This represents a 27 per cent increase on the previous year (£27.9m) and returns us to our pre-pandemic peak. Tremendous results given the challenges of 2021/22 and only made possible thanks to the dedication of our supporters and incredible staff.
As we re-emerge from the pandemic, our mission remains the same: save more lives and support more men affected by prostate cancer. Looking forward we are in good financial health, and we can be confident as we continue our work to create a better future for men and their families.
Laura Kerby
Chief Executive
Finding the 14,000 men: an unprecedented partnership for an unprecedented challenge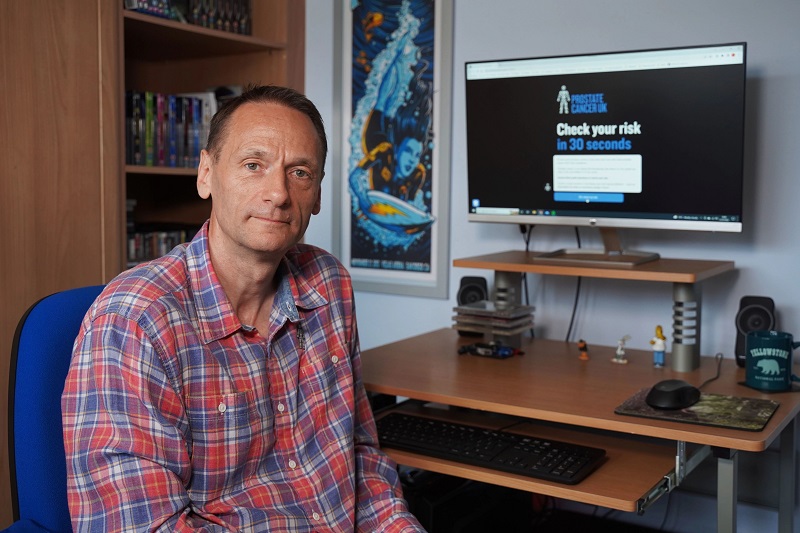 As a result of the pandemic, 14,000 men in the UK are living with undiagnosed prostate cancer. From January to April 2022, we joined forces with NHS England and launched a national risk awareness campaign to find these men and promote our 30-second risk checker.
With no signs or symptoms in the early stages and no screening programme, it's a huge challenge to find the men who have prostate cancer and get them diagnosed early, when it can still be cured. Thanks to supporters sharing our risk checker, the campaign saw record-breaking results, both in terms of our reach and the impact it had on men's lives.
551,396 people used our 30-second risk checker, over 80% of whom are at higher risk of prostate cancer because of their age, ethnicity, or family history. 
Urgent referrals for urological cancers reached an all-time high, with almost 25,000 people checked in March alone. Referrals were up almost a quarter (23%) on the previous month and 28% above pre-pandemic levels.
On the day of launch, our Specialist Nurses took 250 calls, twice as many calls as normal, and our website dealt with its biggest ever spike in people seeking information on prostate cancer.
Lives are being saved thanks to a record-breaking number of men taking the vital decision to get an NHS cancer check.
This is an incredible collective achievement that we should all be proud of! But we must keep going. Share our 30-second risk checker with the men in your life so we can find the 14,000 men and get them the treatment they need.
Protecting our progress: re-igniting 48 active research grants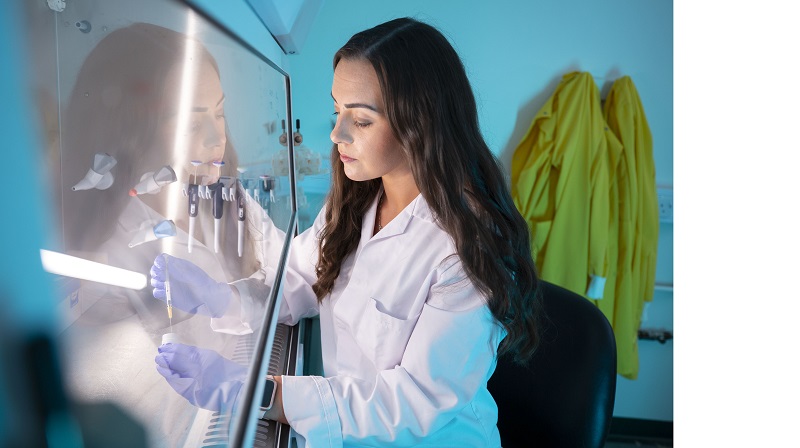 With labs working at reduced capacity and clinical trials on hold, the effects of COVID-19 were still threatening existing and future research projects in 2021/22. We urgently needed to help our researchers build back momentum and protect years of progress.
Thanks to the continued support of people like you, we were able to work closely with researchers throughout the pandemic, supporting boundary-pushing research into better prostate cancer treatments.
We saved all our 48 active research projects that were at risk of stalling or stopping due to the pandemic. This included the £400k+ CHRONOS project, which was trialling high-intensity ultrasound and cryotherapy (freezing cancer cells) to treat early-stage prostate cancer but was forced to shut down for several months.
We funded three exciting new projects that could transform prostate cancer treatment and our understanding of the disease biology. One of these is led by Dr Victoria Dunne, whose team at Queen's University in Belfast is investigating a new method of delivering radiotherapy to extend the lives of men with advanced prostate cancer. 
We committed £13.2 million into research in 2022/23. This included large-scale grants like the Transformational Impact Awards, which tackle the biggest challenges in prostate cancer in order to maximise the speed and scale of research progress.
We must keep exploring novel research and developing new treatments for the men who need it most. Without the support of Prostate Cancer UK and supporters like you, this research wouldn't be where it is now, and a lot of it wouldn't even be possible.
Breakthrough research in how we treat men is only possible thanks to your continued support. Donate today and help fund vital research to get men the treatments they need to live long and live well.
Tailored support through turbulent times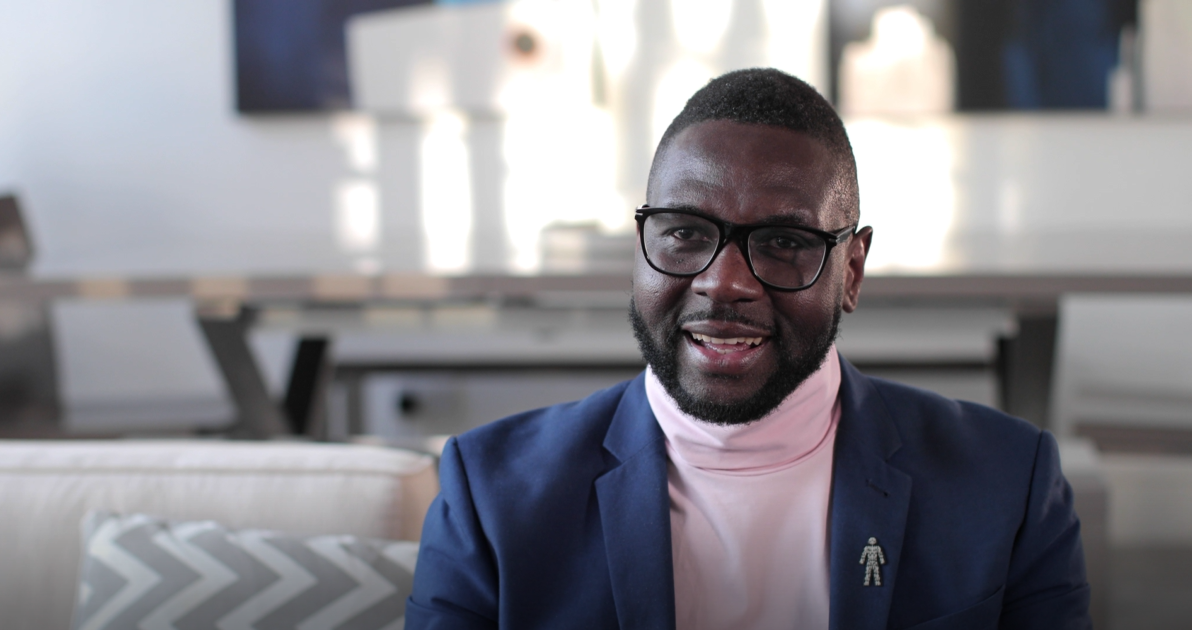 Whether it's dealing with a diagnosis, choosing treatments, or managing side effects, prostate cancer can have a huge impact on the lives of men and those close to them. Our Specialist Nurses are there to offer support and information when men need it the most.
Throughout this uncertain period, we kept our lines and services fully open, ready to support the backlog of men who'd missed their diagnosis or saw their treatments delayed. As the number of people using our services returned to normal, we listened and tested new approaches to make sure our services adapted to men's changing lives – and saw some remarkable results.
When I was recovering from surgery, I lost my confidence. I am slowly finding that life is looking brighter. One of my first tips for men in my situation is to contact the Specialist Nurses.
Our Specialist Nurses are here for you, via phone, email or live chat. 
From their homes, running track, local park and golf clubs, supporters across the country join the fight
Our supporters refused to let the pandemic get in their way, marching, running, cycling and golfing across the country to fund research and create a better future for men.
From virtual challenges and the return of face-to-face events, our activities reached millions.
Thanks to your support, our fundraising income of £35 million this year has returned to pre-pandemic levels.
From London to Glasgow, families across the UK celebrated the life of their loved one with an engraving on The Prostate Cancer UK Memorial, our touring remembrance sculpture.
Asking the nation to Keep Dads Dancing, our Father's Day campaign landed in almost a million social media feeds and received 45,000 engagements.
Whether you like to run, cycle, walk, golf or play football, there's an event for you.
Thank you to our supporters
None of this would be possible without people like you. Thank you so much for everything you do to save and improve the lives of men affected by prostate cancer. Explore how you've helped us emerge from the pandemic smarter, stronger and more supportive.