18 Dec 2022
Golfers across the UK play the long game to help beat prostate cancer
Armed with their clubs and Man of Men badges, the golf community helped raise £2 million in 2022 to help beat the most common cancer in men.
Golfers show they have what it takes by taking on our biggest golf challenge yet
Since 2020, we've called on the golf community to take on our biggest fundraising challenge, The Big Golf Race. From West Cornwall Golf Club to Whitecraigs Golf Club, and beyond, golfers have been swinging their clubs from sunrise to sunset to complete their rounds in 24 hours and help fund lifesaving research for the 1 in 8 men affected by prostate cancer.
This year, just under 3,500 golfers have conquered either two or four rounds of golf in a day, battling the unseasonably hot summer temperatures and wet autumn months.
The wait is over! New video up now! @WycombeHeights @cobragolfuk @ProstateUK https://t.co/tkI4cPCNvG pic.twitter.com/EAA2AOhNik

— Bad Golf (@BadGolfChannel) July 12, 2022
Thanks to supporters like you walking marathons around your clubs to complete the challenge, as well as the thousands of mates and family members who have rallied to your cause, The Big Golf Race raised an incredible £1.3 million to help fund research into better tests and treatments.
Yesterday we managed to complete 'The Big Golf Race' 72 hole marathon and raise money for a great cause @prostatecanceruk ❤️

A massive thank you to all that donated and came along to support! 🙏🏼 pic.twitter.com/8BsjIe71bY

— James Urquhart (@TorquayGolfAcad) July 25, 2022
The Man of Men returns to the Belfry with Danny Willet
In May, our ambassador and golf pro Danny Willett hosted The Betfred British Masters and selected Prostate Cancer UK as the charity partner for the second year in a row. Putting our Man of Men centre stage at the iconic Belfry course and helping to get our message out to thousands of golf fans.
Danny made every swing count as title sponsors donated £1,000 for every one of the 19 birdies that Danny hit, totalling over £19,000.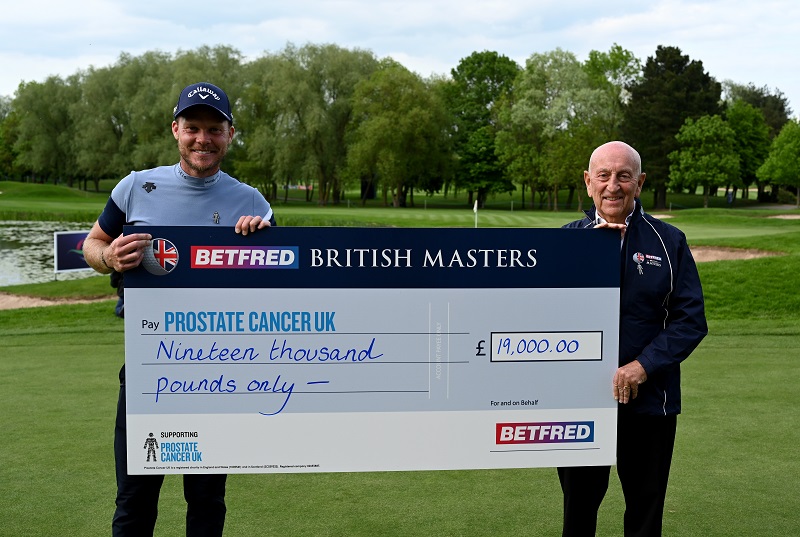 You forget what British crowds feel like; they came out in their masses this year and it's been tremendous.
Thousands of supporters took part in our Long Putt Challenge across the week, raising more than £10,000. And 100 skilful putters bagged a hole-in-one and claimed a sleeve of balls.
Thanks to your support, we raised over £49,000 from the tournament to help fund lifesaving research. We also raised awareness of this devastating disease to countless golf fans, both on the course and at home following the action on TV.
PGA pro and the world's biggest golf Youtuber, Rick Shiels treks across Scotland to The Open
In June, Bolton-based Rick Shiels completed six marathons in six days from the west coast of Scotland to the east coast to celebrate The Open Championship - and raise money along the way to help fund lifesaving research to beat prostate cancer.
Battling Scotland's unpredictable weather, blisters and a stress-fractured toe, Rick marched 150 miles to St Andrew's Links, the home of golf, carrying his trusty golf clubs the entire way.
I never in my wildest dreams expected any of this!
Walking 150 miles from Prestwick to St Andrews was challenging but it's something I'll remember and treasure forever! pic.twitter.com/sDsDTLYFeR

— Rick Shiels PGA (@RickShielsPGA) June 21, 2022
The hardest challenge of my professional life. It was a real honour marching through Scotland, visiting some fantastic golf courses, and spectacular scenery, but to also learn more about prostate cancer and meet some of the people this terrible disease affects.
Thanks to thousands of supporters, many of whom joined Rick on his walk, he raised an incredible £126,000 to keep men in the game for longer.
Community golf steps up to the challenge
The work we do wouldn't be possible without golfers in the local community, helping to raise awareness and fundraising at their golf clubs.
Throughout the year, golfers across the UK held 236 golf days. Raising a whopping £700,000, they brought together 17,000 golfers wearing our Man of Men pin badge, receiving awareness leaflets and knocking countless branded golf balls around the course. And 81 captains nominated Prostate Cancer UK as their club's Charity of the Year.
Brilliant day at the stunning @LittleAstonGolf great to catch up with "Host" @AMurrayGolf excellent Putting Clinic at todays @ProstateUK Championships #Cheers from my team Jacqui, Nick & Neil for the "Tips" pic.twitter.com/NPA00EFqM1

— David Edwards (@trickgolfshow) September 7, 2022
In partnership with HowDidiDo, 3,757 club members signed up to their annual eclectic competition HowDoWeBeatIt. Raising £29,275 and giving themselves a chance to become the 2022 HowDoWeBeatIt champion which will be taking place at Trump Aberdeen early next year.
Help us raise £30K for Prostate Cancer UK before the end of the year 💪

Enter Now ➡️ https://t.co/ku91aIKHMo@ProstateUK | #HowDoWeBeatIt️ pic.twitter.com/W86q49brs5

— HowDidiDo (@HowDidiDo) December 8, 2022
None of this would be possible without your support and the collective action of the golf community, helping to beat prostate cancer on and off the course. By helping to raise £2 million this year, you're helping to get men diagnosed earlier and get the treatments and support they desperately need. Thank you.