07 Jul 2022
"I've never done anything like this before. It was the biggest challenge of my professional life"
PGA professional and world's biggest golf Youtuber, Rick Shiels, treks across Scotland ahead of The Open Championship – with golf clubs on his back.
It's 7.51am on Tuesday 14 June 2022. Dozens of golf fans are walking up the first hole of Prestwick Golf Course, on the west coast of Scotland - the home of the first Open Championship in 1860. People are watching on from a nearby train and there's a sense of anticipation in the air. But what's going on? They certainly aren't playing golf.
The night before, the world's biggest Golf YouTube star and PGA professional, Rick Shiels, launched a video to his army of over two million Youtube followers. The rest, they say, is history.
Taking on his first epic walking challenge, Bolton-based Rick committed to completing six marathons in six days from the west coast of Scotland to the east coast to celebrate everyone's favourite tournament - The Open Championship - and raise money along the way to help fund lifesaving research to beat prostate cancer.
From 14 - 17 July, St Andrews plays host to the 150th edition of The Open. Rick wanted to mark that milestone by walking from the location of the first Open - Prestwick Golf Club - to the home of golf, St Andrews Links. But not content with trekking 150 miles, Rick upped the ante by carrying his trusty golf clubs the entire way.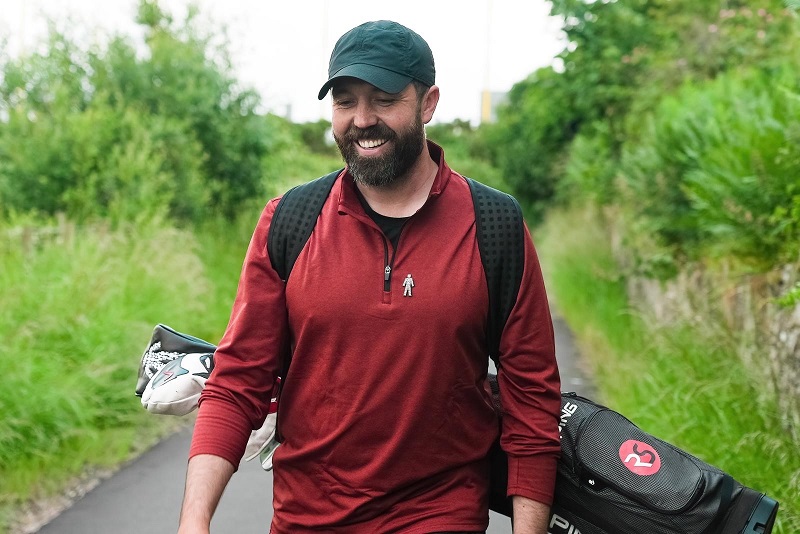 The week before Rick set off, Prostate Cancer UK supporter Jase Whitehouse posted on Prostate Cancer UK's Golf Society on Facebook about how Rick's videos give him the strength to deal with his prostate cancer diagnosis. Little did he know that Rick was about to embark on a lifesaving challenge to support men like him.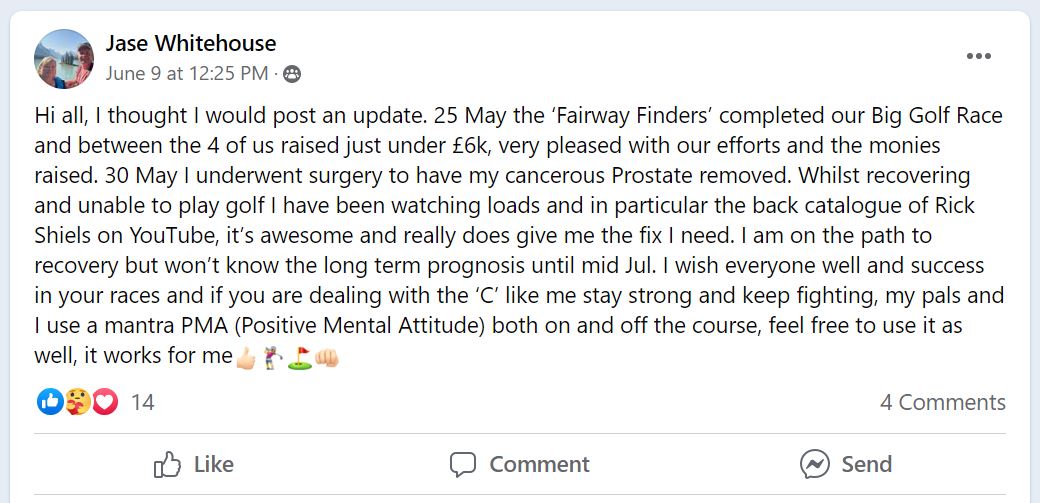 On his walk across Scotland, Rick met many who have been affected by the most common cancer in men.
"I met so many people in the '1 in 8' club, and it hit home why this challenge was so important. It was an incredible week. The hardest challenge of my professional life. I was humbled by the fans and people I don't even know who came to see me, who sent me a supportive message. It was truly motivating and inspiring.
"I've watched The Open since I was a boy, so to walk from the birthplace of the tournament to where it'll be hosted this year was quite an emotional experience. There were massive highs and lows on each day of the walk. But the fantastic support I received - whether that was from everyone who donated, the golf fans that joined me on the walk, everyone who looked after me, and everyone who came to meet me at St Andrews, including my family - helped to get me over the finish line."
I never in my wildest dreams expected any of this!
Walking 150 miles from Prestwick to St Andrews was challenging but it's something I'll remember and treasure forever! pic.twitter.com/sDsDTLYFeR

— Rick Shiels PGA (@RickShielsPGA) June 21, 2022

Rick was joined and greeted by hundreds of fans on his six-day trek, making stops at Cawder Golf Club and the famous Gleneagles Golf Resort before finishing at Swilcan Bridge close to the iconic Old Course at St Andrews.
He battled Scotland's ever-changing weather, blisters and a stress fractured toe to complete the challenge, raising over £126,000 to help keep more men in the game for longer.
"I've not done anything like this before," he added. "It was a real honour marching through this great country (Scotland), visiting some fantastic golf courses, spectacular scenery, but to also learn more about prostate cancer and meet some of the people this terrible disease affects."
Thanks to people like you, Rick has already raised over £126,000. It's not too late to show your support. Donate to Rick's page today and help stop prostate cancer being a killer.