Jeff Stelling's March for Men 2021
400 fans. 4 days. 4 marathons. 1 cause. Walk a marathon with Jeff Stelling and visit some iconic stadiums along the way.
The Soccer Saturday host is back for his fourth multi-marathon walking challenge for Prostate Cancer UK to help beat a disease taking the lives of his friends.  
Jeff will be joined by fellow pundits, celebrities, managers and football fans who'll walk 4 marathons in 4 days. Leaving from, going via and finishing at a football stadium on each day, Jeff will start in the Northeast, followed by a leg in Yorkshire, then heading to Merseyside before completing the action packed 4 days in London.  
How can I support Jeff? 
Sponsor Jeff and fund lifesaving research to help save men's lives. Visit his JustGiving page to donate today.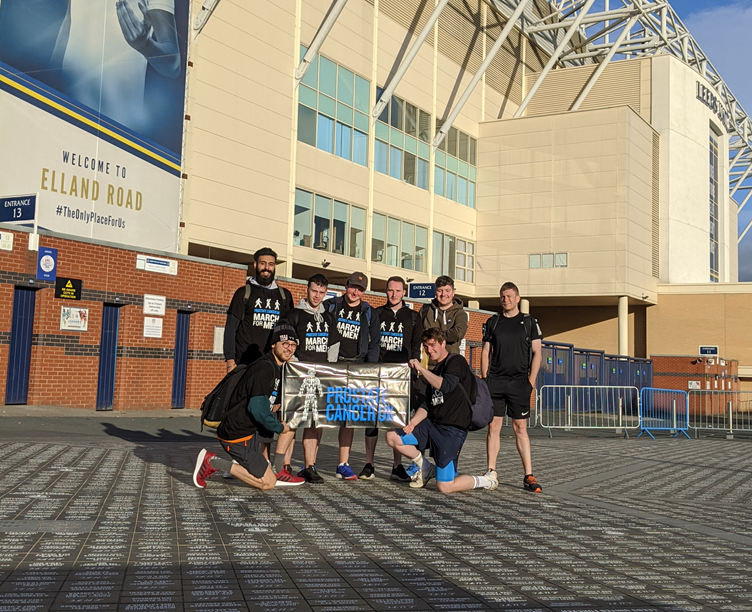 Take on your own Club to Club march
Can't make Jeff's March? Take on your own Club to Club march.
The Route
30 August: Northeast 
Newcastle United – Durham CCC – Sunderland AFC 
 31 August: Yorkshire  
Harrogate Town – Kirk Deighton Rangers- Yorkshire CCC – Leeds Rhinos – Leeds United 
1 September: Merseyside 
Tranmere Rovers – Marine FC – Aintree Racecourse – Everton FC – Liverpool FC 
 4 September: 
Millwall FC – Chelsea FC – Queens Park Rangers – Tottenham Hotspur 
*please note that the route plan may be subject to change.
FAQs Jeff Stelling's March for Men 2021
Can I walk with Jeff? 
We are encouraging as many walkers as possible to walk with Jeff and the wider football family to raise funds and help us on our mission to stop prostate cancer being a killer. There is a maximum capacity of walkers for each day though, so be sure to sign up as soon as possible to avoid disappointment. 
Does it cost to sign up? 
There is a £30 registration fee (£25 with code EARLYBIRD), plus a fundraising pledge to raise a minimum of £300 per walker.  
How do I register? 
Unfortunately, Jeff's March for Men has now sold out.
What happens after I register? 
You will receive regular communication from us, giving updates and information in the route, fundraising advice, training tips and more.  
Can I register on the day? 
Each day has a walking capacity, so registrations need to be taken well in advance of the day. This will also help you with more time to train and raise your minimum fundraising total. 
How much do I need to fundraise? 
On top of your registration fee, there is a pledge to raise a further £300 per person for Prostate Cancer UK. You can raise this money however you like – we'd strongly recommend a JustGiving page for your family and friends to donate to, plus we have a team supporters at Prostate Cancer UK HQ who are ready to support you any way we can with ideas, materials and queries. Once you sign up, you will receive this helpful fundraising advice in the build up to the event.  
What do I get for my registration fee and fundraising efforts? 
You will receive a walking t-shirt to wear on the day and you will be provided with breakfast, lunch, snacks, water and a celebration event at the end of the day. You will also receive a Jeff's March medal on a completion, medical support and expert guidance on the walk from Charity Challenge our tour operators. 
Raise £600 and you'll bag yourself a branded steel flash, perfect for the challenge! If you smash your fundraising and hit £800 you'll receive a limited-edition football top signed by Jeff Stelling!  
Can I walk all the 4 routes? 
Geographically this will be difficult with a lot of travel between locations. We therefore encourage you to just do one and give it your all! If you still wish to register for more than one day, you will need pay an added registration fee, raise another £300 per day, plus arrange your own transport between locations e.g. if you did 2 days, it would cost £60 registration fee and raise minimum £600. 
How much is Jeff Stelling trying to raise from this event for Prostate Cancer UK? 
Jeff is trying to raise £250,000 for Prostate Cancer UK which will be invested into ground-breaking research.  
Are there going to be other celebrities taking part? 
Jeff in previous years has been joined by fellow Sky Sports pundits, managers, former players and other well-recognised names outside of football. This will be no different for this year's event. We'll launch the names via our social media channels in due course- keep a look out! 
How many people are going to take part? 
We are aiming to recruit 400 walkers across the four days. 
Can children join? 
Unfortunately not. Due to the risks and physical challenge of the event, there is a minimum age of 16 to register and take part. 
Is transport included to and from the start and finish? 
You will need to provide your own transport to the start line and from the finish. Once registered, we will supply you with nearby carparks and recommended public transport options closer to the time. 
What happens at each club on the walk?
Each stadium visit will vary dependent on timings and pre-planned activity. While they are planned rest stops, there is a tight schedule each day so some visits will be shorter than others. 
What time do I need to arrive? 
It will be an early start with Jeff looking to leave each day around 7.00am. Exact registration and arrival timings will be confirmed closer to the event, but there will be no flexibility in the start time due to Jeff's travel itinerary at the end of each day. 
When do registrations close? 
Registrations will close in August, but we advise to register well before then. We will close registrations as soon as we reach capacity. 
How long will each leg take to walk? 
Walking a marathon is a full day's work, especially with stadium stops. It will take roughly 10 hours from start the finish, including breaks for toilets, food and drink. 
Can I walk ahead of the group without Jeff and the other walkers? 
Each day is set up to be completed as a group, giving each walker the chance to walk with Jeff, their friends and families at a similar pace. While some people will drop off, the group will have a pace-setting staff member, leading directions and walking a steady speed. There will then be a sweeping staff member at the back, walking the minimal speed to ensure the group arrives at checkpoints around the right time. If you drop behind the sweeper, there will be a support vehicle to pick you up and take you to the next checkpoint. 
How fit do I need to be? 
Simply put, you need to be able to spend a full day on your feet. We endeavour to ensure that everyone reaches the end and there will be plenty of opportunities to take a break and stay topped up on food and water. That said, walking 26.2 miles is no easy undertaking so some long walks in the weeks building up to the event would certainly be advisable, especially if you don't get regular exercise. This isn't for everyone, but with the right preparation, it is an achievable challenge. 
Can I still support Prostate Cancer UK and Jeff Stelling even if I can't walk the event? 
Of course. If you can't make the event, you can 'sponsor' Jeff and donate to his fundraising page. Or, if you are around and want to cheer them on, feel free to meet Jeff and the fellow walkers at different checkpoints along the way.  
Why is there no event in Scotland this year?  
This year, our Jeff's March locations represent football-themed links to two of our ambassadors whose lives are among those we'll be commemorating and celebrating as part of the event. We have planned as suitably as we could in line with emerging from the Covid-19 restrictions, including four different regions in England on this occasion which we hope, by their geographical spread, might enable our supporters to travel to them from wherever they are in the UK. We do appreciate that travel may be greater for some participants this time around, but we thank everyone for their understanding. 
What happens when we get to the finish? 
There will be a short reception at the stadium which will include some refreshments, speeches and a medal ceremony for all the walkers. For the last day in London, there will be a longer celebration to complete 2021's event and Jeff's fourth challenge for Prostate Cancer UK.  
Can I volunteer at the event? 
Due to capacity limits we unfortunately won't be having volunteers on this event, but please get in touch with our volunteer team to find out how you can get involved on others events, please email    volunteer@prostatecanceruk.org 
Is the event COVID-19 secure? 
We are planning all our events in line with current government guidelines and will inform all participants of our event safe guidelines before the event. We are monitoring the situation closely and will adjust as guidelines change.  
What happens if the event is cancelled?  
If the event is cancelled due to COVID-19 we will issue you with a full refund.  
If you have any questions about this event please get in touch with our team marchformen@prostatecanceruk.org  
Terms and conditions
Conditions of entry Jeff Stelling's March for Men
By completing this registration form and signing up for the Jeff Stelling's March for Men Event you acknowledge and consent to Prostate Cancer UK sharing your personal information with Charity Challenge, the event management supplier, to assist them with planning, operating and managing this Event on behalf of Prostate Cancer UK.  Prostate Cancer UK might request additional personal information from you to ensure that the Event can be run professionally and safely.  Charity Challenge will also share your information with us where necessary to enable us to steward you through the Event.  For further details on how your data will be used, please see Section B below.
CONDITIONS OF ENTRY
Section A:
Please note that, unless the context otherwise requires, all defined terms in these Conditions of Entry have the same meanings ascribed to them as contained in Section B below.
The Event is being promoted by Prostate Cancer UK, registered charity 1005541. Charity Challenge is the Event management supplier. Your contract for the Event is with Prostate Cancer UK
We require a registration fee of £30 for the 26-mile walk to reserve your place on the Event. This is paid on completion of the online application form. This registration fee is non-refundable (unless any of the circumstances in Condition 14 of Section A apply).
By registering for this Event, you are pledging to raise the minimum sponsorship of £300 for the 26-mile walk (in addition to the registration fee and any gift aid).
You agree to send all the sponsorship you have raised to Prostate Cancer UK no later than 6 weeks after the Event. All payments to Prostate Cancer UK under this Condition shall be made via debit or credit card, cheque, bank transfer or via a secure online fundraising page such as JustGiving.
Should you, for whatever reason, not take up your place, all sponsor forms and sponsor money collected must be forwarded to Prostate Cancer UK or returned to sponsors if requested and if this is possible.
Participants must be at least 18 years old by the Event date.
You must not have an alcohol or drug dependency.
The itinerary may be subject to change should climatic or other unforeseen circumstances deem this necessary. You should refer to Section B below for more details.
Prostate Cancer UK does not arrange insurance for participants. You must make your own insurance arrangements if you would like to be insured in connection with your participation in the Event.
You must be fit enough to cover a full day of walking across hard terrain. Before taking part in this Event, you must provide medical details. These medical details will be shared with our event partner Charity Challenge and subject to our joint assessment of that information we may ask you for a doctor's note to certify that you are able to take part in this Event. By agreeing to these terms and conditions you are confirming that, to the best of your knowledge, your general state of health is good and that you take full responsibility for yourself.
You participate at your own risk. The event management suppliers will provide advice, instructions and warnings to minimise risk and you will be required to comply with them. The event management suppliers and Charity will operate in accordance with current COVID-19 government guidelines which participants must comply with. You are responsible for your own actions or inactions. Where these differ from the wishes of the event management supplier, neither the event management supplier, Prostate Cancer UK, its employees or agents can be held responsible for loss or damage to personal effects, injury or death.
You agree that Prostate Cancer UK and Charity Challenge may use without payment, notice or further consent any photographs, videos and other images in which you appear which are taken at an Event or Event-related occasion by our employees or suppliers or any participant or other person attending, in our brochure, website, social network marketing activities or any other relevant promotional material. Prostate Cancer UK will not, however, identify anyone by name without their agreement. Should you prefer that Prostate Cancer UK do not use any such images in which you may appear which are taken at the Event or any Event-related occasion in any promotional materials or if you do not wish to be the subject of any photography, please notify by telephone on 0203 310 7034 or by emailing marchformen@prostatecanceruk.org
If broadcasting your Event activity via social media, such as Facebook, Instagram, Snapchat, Twitter, YouTube or any such site, you shall not upload, post, e-mail or otherwise transmit any content that is unlawful, harmful, threatening, abusive, harassing, tortious, defamatory, vulgar, obscene, libellous, invasive of another's privacy, hateful, or racially, ethnically or otherwise objectionable.
Cancellation guidelines
In the event that the Event is cancelled by the organisers due to circumstances outside their control, entry fees will be refunded. Liability for the cancellation or rescheduling of an event will be limited to the refund amount as set out condition 2 of these terms and conditions.
If you cancel:
Where you are unable to take part in the Event for any reason, including injury and changed personal circumstances you must notify Prostate Cancer UK in writing. The effective date of cancellation will be taken from the date of this written notice. Once received, at the discretion of Prostate Cancer UK, you may be offered a transfer, once only, to a suitable alternative event within three months of your original Event date.
If an offer of a transfer is made you will have to fund the registration fee for the new event, but your sponsorship can be carried forward to the new event.
If you do not wish to transfer, any sponsor money collected must be forwarded to Prostate Cancer UK and this will be treated as a donation* unless sponsors specifically ask for it to be returned to them. Prostate Cancer UK is unable to return anonymous donations and any income raised through fundraising events.
It is your responsibility to contact your sponsors telling them you are no longer participating in the challenge, and what will happen to their sponsor money.
*Any event costs incurred at the time of cancellation by Prostate Cancer UK on your behalf will be taken from the sponsor money sent to Prostate Cancer UK.
Section B:
The booking conditions set out below form the basis of your relationship with Prostate Cancer UK, Fourth floor, The Counting House, 53 Tooley Street, SE1 2QN. References in these booking conditions to the Charity include any trading subsidiary of the Charity or organisation collecting fundraising monies on behalf of the Charity. Please read them carefully as they set out each party's respective rights and obligations. All bookings are subject to these booking conditions.
All parties agree the following:
Definitions.
In these booking conditions, the following words have the following meanings unless the context otherwise requires: -
(i)            Event means the fund-raising event for the Charity;
(ii)           Registration Fee means the registration fee, if any, payable to the Charity for the Event;
(iii)          Event Cost means the cost of the Event payable to the Charity as advised at the time of booking (including any Registration Fee);
(iv)         you and your means the participant named on the registration form.
Part 1
Who organises the Event?
Your contract for the Event is with the Charity. Please note the Charity's responsibilities are limited to the provision of the Event in accordance with these booking conditions and the other terms of your contract with the Charity.
What is the Payment Timetable?
2.1 You must pay any Registration Fee to the Charity at the time of booking.        
2.2 You agree to send to the Charity all sponsorship monies raised by no later than 6 weeks following the Event.
What are your responsibilities?
3.1 You must not do anything or fail to do anything which is reasonably likely to bring the Charity into disrepute whether before during or after the Event.
3.2 You must ensure that all information you give the Charity and/or Charity Challenge including all information provided on the registration form, (where applicable) is complete, true and accurate. If you fail to do so in any material respect, the Charity shall be entitled to cancel your booking and the Registration Fee will be retained.
What happens to the information I provide?
4.1 In respect of the processing of your personal data, the Charity and Charity Challenge are each a data controller for the purposes of the UK General Data Protection Regulation (which is otherwise known as GDPR) and the Data Protection Act 2018 (together referred to as data protection laws in this section). The words personal data, data controller, data processor and process have the same meaning in this clause as they do in the data protection laws. The protection of your personal data is extremely important to Charity Challenge and the Charity. In order to respond to an enquiry, send you any material in respect of your Event, administer your booking and organise and provide the Event, the Charity and Charity Challenge each needs to use, where appropriate disclose, and otherwise process the personal data you provide to the other.
4.2 Personal data which concerns your health or reveals your racial or ethnic origin are special categories of personal data. The Charity and Charity Challenge generally require your explicit consent in order to process special categories of personal data which you will be asked to provide at the time of booking. The Charity cannot accept bookings where this consent is not provided.
4.3 The Charity will only process your personal data in accordance with its privacy policy (available at Privacy Statement | Prostate Cancer UK) for or in connection with the purpose for which you have provided  or as permitted by data protection laws. Please read this for full details of the personal data the Charity collects from you (either directly or through Charity Challenge), why the Charity does so and what the Charity does with this data. The Charity takes appropriate technical and organisational measures to protect against unauthorised or unlawful processing of personal data and against accidental loss or destruction of, or damage to, personal data, which is appropriate to the harm that might result. Your personal data will be retained by the Charity for the period referred to in the Charity's privacy policy or as otherwise permitted by data protection laws.
4.4 Charity Challenge will only process your personal data in accordance with its privacy policy (available at Privacy policy (charitychallenge.com)).
4.5 You may ask the Charity what personal data of yours is being held or processed, for what purpose and to whom it may be or has been disclosed. You may also withdraw your consent to receiving marketing material or other communications from the Charity (other than communications relating to the Event) at any time by unsubscribing to the Charity's e-mails or otherwise contacting us on marchformen@prostatecanceruk.org .Please also let the Charity know if you believe the personal data the Charity is holding is inaccurate, out of date or incomplete. If you have any complaint about the way in which your personal data has been dealt with, please contact us by e-mail at marchformen@prostatecanceruk.org  The Charity will investigate and respond to you as soon as reasonably possible. If you remain dissatisfied, you may complain to the Information Commissioner's Office. For further details, see www.ico.org.uk.   
Part 2
How do I Book?
You must complete and sign the registration form and return with the appropriate payment at the time of booking. You must answer the medical questions at the time of booking.
Prior to the Event date you will receive an email from Prostate Cancer UK in relation to a medical questionnaire. If you do not receive this email, please contact marchformen@prostatecanceruk.org The details you provide will be shared with our event partner Charity Challenge for our joint assessment to ensure you are able to take part in this event. You must be at least 18 by the Event date.
Except where no Registration Fee is applicable, the Charity will not accept any registration form without the appropriate payment as a confirmed booking. In this situation you will not be issued with a booking confirmation and no contract will come into existence. The Charity will have no further liability towards you.
When does my contract for the Event come into existence?
A binding contract between you and the Charity comes into existence when your booking confirmation is issued. You and the Charity agree that English law (and no other) will apply to your contract and to any dispute, claim or other matter of any description which arises between you and the Charity (claim). You and the Charity also agree that any claim (including any involving personal injury) must be dealt with by the courts of England and Wales.
Changes and Cancellation by the Charity
The Charity starts planning the Event many months in advance. Occasionally, the Charity has to make changes to a planned Event both before and after your booking has been confirmed. Whilst the Charity always endeavours to avoid changes and cancellations, the Charity must reserve the right to do so in accordance with this clause.
Event Participation and Responsibility
The Event may involve hazards which are inherent to the activities involved in it. These inherent hazards increase the risk to participants of personal injury, death, illness, and/or loss or damage to property. By making your booking with the Charity you acknowledge and accept the inherent hazards involved in the Event. Except as set out in these booking conditions, the Charity cannot accept any liability for any personal injury, death, illness, loss or damage to property or any other loss or damage you incur as a result your participation in the Event. Any safety equipment supplied must be worn correctly at all times.
Do you require Medical Details?
The Charity requires medical details to be agreed by each participant at the point of registration. Prior to the Event date you will receive an email from Prostate Cancer UK in relation to a medical questionnaire. If you do not receive this email, please contact marchformen@prostatecanceruk.org .
What if I have a Complaint?
Should you have a complaint about any part of the Event, you must tell the Event leader at the time. It is only if the Event leader knows about problems that there will be the opportunity to put things right. Any unresolved complaints must be communicated to the Charity in writing as soon as possible and no later than 28 days after the end of the Event.
Equipment
Clients taking their own equipment on an Event are responsible for any charges for transportation.
Participants
Charity Challenge and/or the Charity reserve the right on reasonable grounds to refuse participation to anyone at any time without having to disclose the reason. Your entitlement to participate depends on our being satisfied that there are no circumstances under which Charity Challenge and/or the Charity ought properly to decline your participation. Charity Challenge and/or the Charity's decision on your participation shall be final and binding. Charity Challenge and the Charity however will not exercise this right without having clear grounds to do so. In any circumstances where Charity Challenge or the Charity decides that you may not participate, your Registration Fee will be refunded to you in full.
When you book with the Charity, you accept responsibility for any damage or loss caused by you. Full payment for any such damage or loss (reasonably estimated if not precisely known) must be paid direct at the time to the appropriate owner or manager or other supplier. If the actual cost of the loss or the damage exceeds the amount paid where estimated, you must pay the difference once known. If the actual cost is less than the amount paid, the difference will be refunded. If you fail to do so, you will be responsible for meeting any claims subsequently made against the Charity or Charity Challenge (together with the Charity's or Charity Challenge's own and the other party's full legal costs) as a result of your actions.
What if I want to cancel?
You may cancel your Event booking at any time before the Event. If you wish to cancel, the Charity must receive notice in writing from you. Effective date of cancellation will be the date such notice is received by the Charity. The Registration Fee is not refundable in the event of cancellation.
Should you wish to make any changes to your confirmed booking, you must notify the Charity in writing as soon as possible. Whilst the Charity will endeavour to assist, the Charity cannot guarantee it will be able to meet any change requests. An amendment fee of £10 per person may be payable to the Charity.
Registration Form
Submitting your online booking form signifies your agreement to abide by the authority of the leader, who represents the Charity. If in the opinion of the Event leader, or Charity Challenge's employees or agents, your behaviour or physical condition is detrimental to the safety, welfare and well-being of the group as a whole or that your general well-being will be put at risk by continuing with the Event, you may be asked to leave the Event without the right to any refund. The decision of the Event leader as to the conduct, itinerary and objectives of the Event is final.
The Charity will do its best to help you complete your Event. However, this may not always be possible, and you may be required to leave the Event early for reasons such as ill-health, fitness, injury etc. If this occurs and you have to cut your Event short for whatever reason, the Charity cannot provide a refund of the Registration Fee or any other costs. The Charity requires that you take a credit card with you on the Event to cover any unexpected costs and would recommend that you ensure you have sufficient available funds / credit limit to cover emergencies.
The Charity's Liability
The Charity promises to make sure that the Event arrangements the Charity has agreed to make, perform or provide as applicable as part of its contract with you are made, performed or provided with reasonable skill and care. This means that, subject to these booking conditions, the Charity will accept responsibility if, for example, you suffer death or personal injury or your contracted Event arrangements are not provided as promised or prove deficient as a result of the failure of the Charity or the Charity's employees, agents or suppliers to use reasonable skill and care in making, performing or providing, as applicable, your contracted Event arrangements. Please note it is your responsibility to show that reasonable skill and care has not been used if you wish to make a claim against the Charity. In addition, the Charity will only be responsible for what its employees, agents and suppliers do or do not do if they were at the time acting within the course of their employment (for employees) or carrying out work the Charity had asked them to do (for agents and suppliers).
You acknowledge that taking part in this activity is entirely at your own risk. You agree that you will not hold Prostate Cancer UK or any of its representatives responsible for any injury, death or loss that might occur as a result of your participation in the Event.
Please note, the Charity cannot accept responsibility for any services which do not form part of its contract with you. This includes, for example, any additional services or facilities which any other supplier agrees to provide for you where the Charity has not contractually agreed to provide or arrange such services or facilities. In addition, regardless of any wording used by the Charity in any material produced by the Charity in relation to the Event, the Charity only promises to use reasonable skill and care as set out above and the Charity does not have any greater or different liability to you.
Prostate Cancer UK reserves the right to amend these Terms and Conditions without notice.
You agree that these terms and conditions shall be governed by English law and will be subject to the exclusive jurisdiction of the English courts