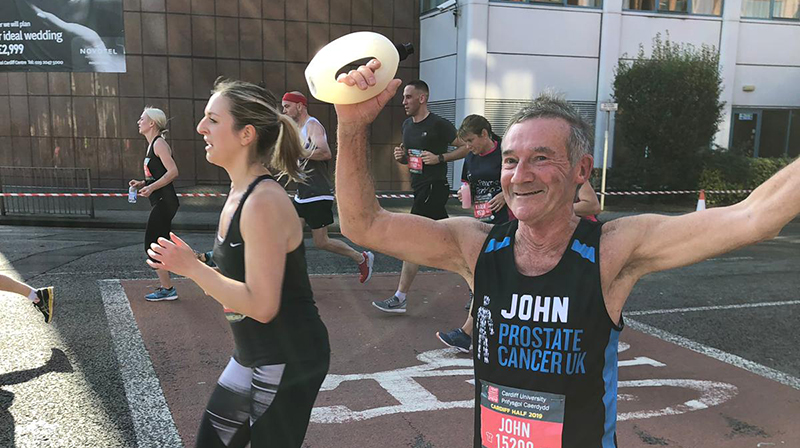 Bath Half Marathon 2022
Take on 13 miles to help tame prostate cancer and be in the perfect place for a post-race spa.
The Bath Half Marathon has had to be rescheduled to Sunday 29 May 2022 
The 'Bath Half', as it's affectionately known, is one of the most popular city runs in the UK. You'll take on two laps of the traffic-free course through the heart of this stunning World Heritage City. This is a fast and flat course, so it's perfect for mates who are either seasoned pros or taking on their first half marathon. 
Join us in 2022
Sign up for a guaranteed charity place by paying a £20 registration fee and pledging to raise £250 in sponsorship. Or if you've got your own place, join our team and raise as much as you can!
Why support Prostate Cancer UK
Run for Prostate Cancer UK and stand together with us to help beat the most commonly diagnosed cancer in the UK
You'll be running to stop a disease that kills 11,500 dads, grandads, brothers, partners, sons and mates every year
You can make huge strides for men and their families everywhere by helping to invest in lifesaving research and our award-winning Specialist Nurses service
Right now, more men and their families need your support more than ever before. Join our team and show men you stand with them
What happens if the event doesn't take place
We know there's a lot of uncertainty in the world at the moment, especially in relation to mass participation events. If your event does not go ahead as planned, we'll be in touch straightaway to offer you all available options, such as rolling your registration fee and sponsorship money over to a future event we have charity places in. We'll do everything we can to support you and keep you updated with all the latest news from the organisers.
Run your questions by us
If you have any queries, please get in touch online or call us on 020 3310 7034. We'll be happy to help.
Bath
Sign up
Secure a guaranteed charity place
Pay a £20 registration fee and pledge to raise £250 in sponsorship.
I have my own place
Sign up here if you've secured your own place.
Sign Up Options