06 Jul 2023
Faldo, Rose and a hole-in-one at The Betfred British Masters!
Our third year as official charity partner at The Betfred British Masters was, arguably, our most exciting yet as we met two former major champions and had our most successful week of fundraising, courtesy of a very special shot on the 14th hole at The Belfry…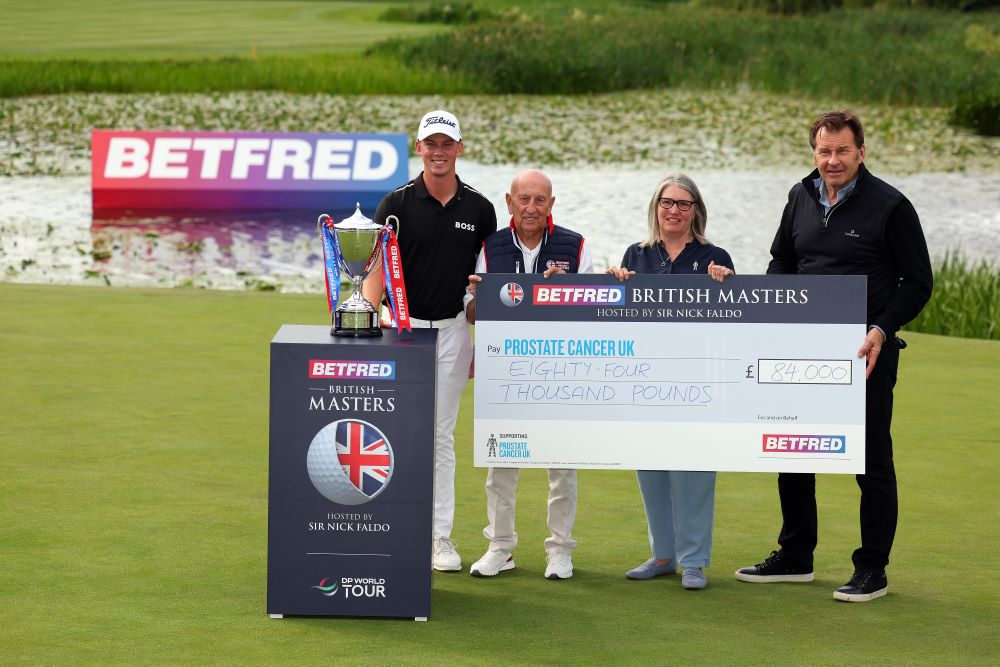 Sir Nick Faldo hosts Prostate Cancer UK
It was exciting to learn Sir Nick Faldo was hosting The Betfred British Masters this year (and for the next four years). To have the greatest golfer Britain has ever produced wearing his Prostate Cancer UK Man of Men badge during the tournament set the scene for a fantastic few days of golf fundraising.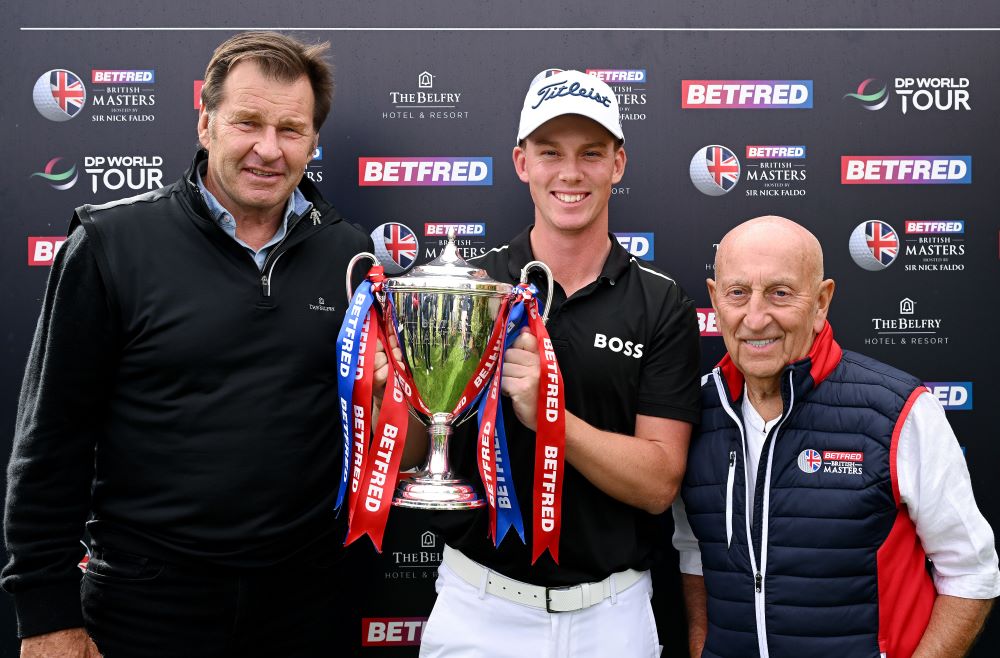 "In the golfing community it's a problem, 1 in 8 men will get prostate cancer, there's a lot of guys at the bar right now (at the tournament) and some of them will be affected," Sir Nick Faldo said.
"I'm in the same boat, I got myself checked out a month ago as I know a couple of guys who have gone through it, from close scares leading through to others having operations. So Betfred [and Prostate Cancer UK] have done a great job with the awareness and with the fundraising too."
Major champion Justin Rose reflects on his early days
If one major champion wasn't enough to be going on with, we met the 2013 US Open Champion Justin Rose in the build up to the tournament. 
Ahead of the Pro-AM event on the Wednesday at The Belfry, Rose had met up with his former England youth coach Steve Rolley on the range, their first encounter for more than 20 years. Rolley, who also coached last year's host Danny Willett, was diagnosed with prostate cancer after taking part in a clinical trial which we supported.
He shared a poignant moment with Rose as he reflected on a letter analysing his game from 1996.
Great catching up with Steve after all these years…. @ProstateUK #BetfredBritishMasters 🇬🇧 https://t.co/hhgu9Fc7U3

— Justin ROSE (@JustinRose99) June 29, 2023
Hole in one poignant for Baldwin at The Belfry
Matt Baldwin, who won his first DP World Tour title earlier this year, holed out from 197 yards with a five iron on the iconic par three 14th hole, the same hole where this year's tournament host Sir Nick Faldo made an ace during the 1993 Ryder Cup.
"It's an incredible feeling," said the 37-year-old from Southport on his first ever professional tournament hole-in-one. The incredible ace triggered a £50,000 donation from the tournament sponsor, Betfred.
🚨 HOLE IN ONE 🚨@mattbaldwin26 with an ace at the 14th, which means @Betfred will donate £50,000 to @ProstateUK 👏#BetfredBritishMasters pic.twitter.com/6OzJ2JR0WW

— DP World Tour (@DPWorldTour) July 1, 2023
"It is a bit surreal at the moment but to get my first hole in one on Tour and the money be donated to Prostate Cancer UK is an unbelievable feeling.
"It's quite close to me. My fiancée Claire, her dad has had prostate cancer and is recovering from it, and my best friend's dad, Phil, who also sponsors me, he's recovering from prostate cancer at the moment too."
In a wonderful week at the Belfry, we saw further donations come from Betfred, who also pledged to donate £500 for every eagle made during the week and for every successful attempt at driving the iconic short par 4 10th hole. A total of 42 eagles or better were made through the four rounds, and 26 successful green drives, swelling the donations from Betfred to £84,000.
In the tournament village, fans were also able to donate to Prostate Cancer UK by taking on the ever-popular Long Putt Challenge and the new 10th hole Green Drive simulator, or by purchasing a Man of Men badge to help raise awareness of the charity. Freemans Event Partners also donated £1 for every portion of fish and chips sold at Faldo's Fish and Chips in the spectator village.
Across the four days and during three years as charity partner, Prostate Cancer UK has raised nearly £200,000 from Betfred's contribution as well as donations made to the Long Putt Challenge in the event village, the Pro-Am tournament and hospitality.
Inspired? Find out more about how you can get involved through golf and help raise awareness and funds to help beat prostate cancer.