20 Aug 2021
"I'm not facing this alone" read Luton Town legend Mick Harford's heartfelt letter.
Mick is undergoing treatment for prostate cancer, and has been overwhelmed by the love he's received from the football world. You can help our Specialist Nurses give men like Mick the support they need.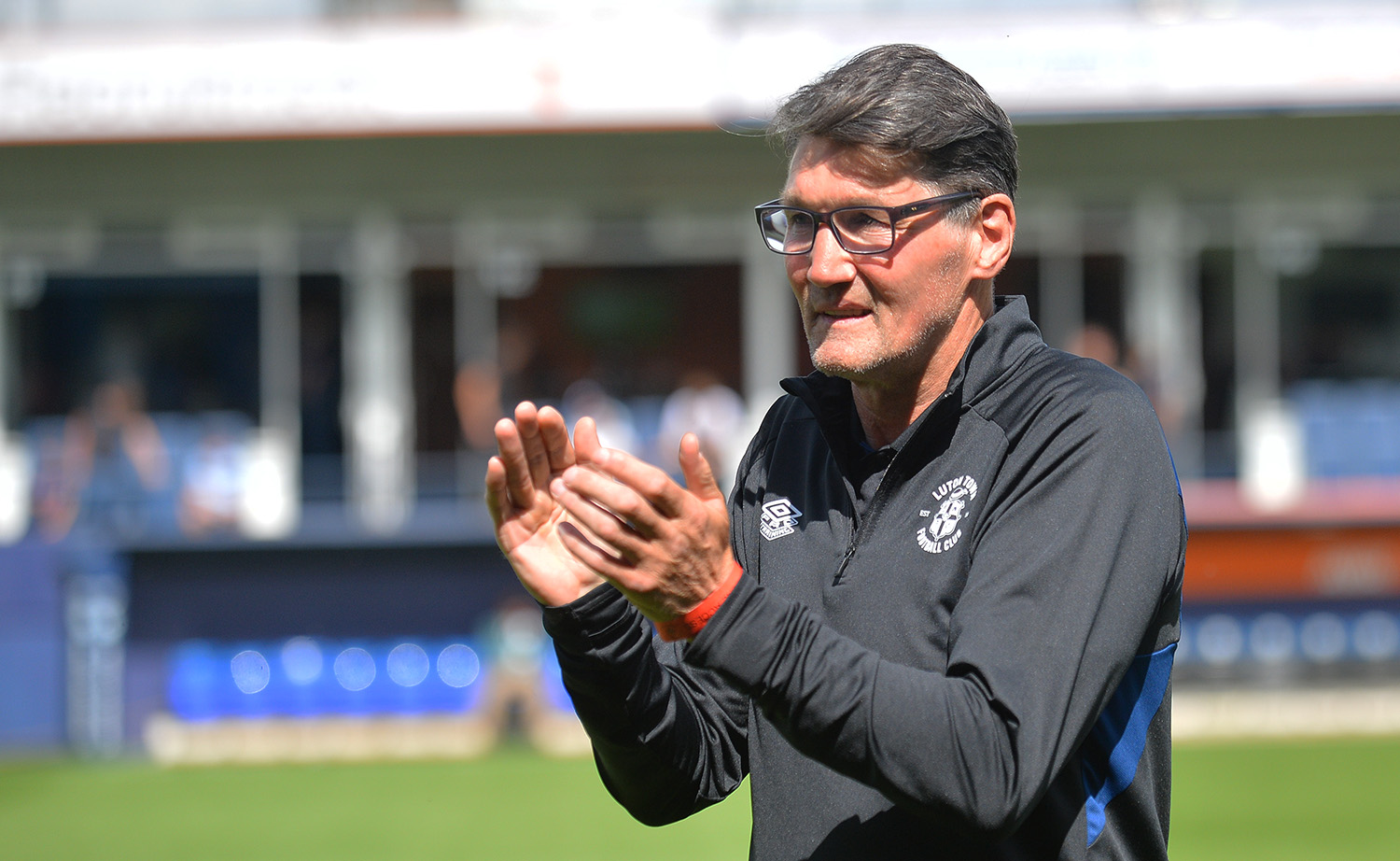 Our long-term partner The League Manager's Association (LMA) are the reason we have the likes of Pep Guardiola, Jurgen Klopp and Dean Smith sporting our Man of Men badge on the sidelines. Members like Chris Powell, Simon Grayson, Terry Butcher, Chris Hughton and Nigel Adkins have raised money for research and our Specialist Nurses, and joined events like March The Month (sign up for September!) and the Football to Amsterdam bike ride.
The LMA is the collective, representative voice of all managers from the Premier League, the Sky Bet Championship, Sky Bet Leagues 1 and 2 and the FA Women's Super League and Championship. They represent 600 managers across the UK. 
As the LMA renew our partnership this September, and following the diagnosis of Luton Assistant Manager, Mick Harford, Richard Bevan, CEO of the LMA, spoke of the importance of our support services for  their membership, and the wider football world:
"The LMA is very proud to support Prostate Cancer UK. We've seen first-hand how this disease can affect our membership. Mick Harford at Luton Town recently spoke about his prostate cancer diagnosis and the treatment he will need over the coming months. Mick is a legend of the game, and I know he will deal with this latest challenge with the openness and honesty that has always defined his career. We wish him all the best and he knows we will support him throughout. As fans return to their clubs, it's outstanding to see so many of our members continuing to stand together in the fight against prostate cancer."
"Just the outpouring of love, I didn't expect." Mick Harford
Much loved by Luton Town fans and staff, Assistant Manager Mick got the team promoted under his leadership when he reluctantly took over after Nathan Jones left. He was a fearsome centre-forward for a variety of clubs, including Chelsea, Bristol City, Derby County and Birmingham City, and played twice for England. Big Mick, 62, was diagnosed with prostate cancer late last year and recently started a course of radiotherapy treatment.
His diagnosis provoked an outpouring of support from the football family, including Hatters fans, supporters of clubs across the UK with Sir Alex Ferguson among the first to check in with him after hearing the news. It highlighted the importance of the LMA's work -  looking after the health and wellbeing of managers, encouraging everyone to wear our Man Of Men badge, and funding our Specialist Nurses.
In a letter to all LMA members, Mick praised the partnership and sent a message to football fans everywhere, after his own prostate cancer diagnosis. Read Mick's letter below:
__________________________________
You may have heard about my diagnosis of prostate cancer and my ongoing treatment for the disease and to this end, I've been overwhelmed by the support I've received from everyone at Luton Town, the LMA, fans and those in the game.  This really means so much to me and I genuinely feel I'm not facing this alone.
Football clubs and players I've had the honour of playing for have also sent messages of tremendous support, equally I've been buoyed by the countless messages I've received from many of the other League clubs and their passionate fans.  
When I heard the news I had prostate cancer, it was a bolt out of the blue to me and my family. However, I remain positive and optimistic and now I want to help as many people as I can by encouraging men to better understand their prostate cancer risk and talk to their GPs about any concerns.
In return, I'm asking you if you can also help to spread the word by wearing Prostate Cancer UK's Man of Men badge whether you are doing media work, at an event or on the touchline managing your team.  So many of you already do it, which I notice and I know the fans notice too.
Mick
__________________________________
Get your Man of Men badge and help fund our Specialist Nurses so they can continue to give men like Mick the support they need.