Why book a talk?
We have a team of trained volunteers throughout the UK who carry out talks to groups both large and small (from a minimum of five people up to 100) and give you the information you need to know about prostate problems.
We know that talks can truly make a difference: our speakers have helped men identify symptoms and encouraged men to speak to their GP.
So whether you work for a large organisation, are a member of local sports club or just want to help your friends, hearing a talk on prostate cancer can be life-saving.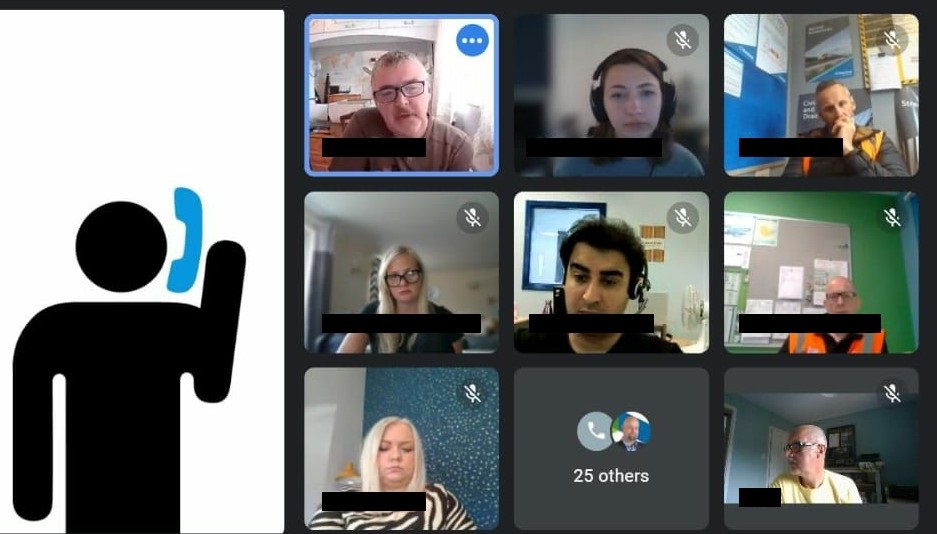 At EDF we recognise what an invaluable resource Prostate Cancer UK's virtual awareness talks have been. The talks have empowered our colleagues with the knowledge and confidence to take action if they think they are at risk, which ultimately could help save lives. We have also felt so inspired and humbled to hear directly from Prostate Cancer UK's incredible volunteers who regularly reflect on their own experiences of prostate cancer to help show the importance of knowing the risks
What is the talk about?
At an awareness talk, you'll learn:
what a prostate is
what prostate problems you could have
who is at higher risk of prostate cancer
what to do if you are worried about a prostate problem
These interactive awareness talks can last anywhere from 15 minutes to an hour (depending on how many questions you might want to ask). And if you've only 5 minutes free, that's not a problem - we can still give you the five things every man should know.
We've given talks in the workplace, at sports or social clubs, faith groups, community centres, and even football clubs. Basically, if there's a place where your group meets up then we'll be there.
Can I book a face-to-face awareness event?
Yes, you can!
As restrictions have lifted, but the number of covid cases across the UK are still high, we want to continue offering you virtual as a first choice, however, if you have an outdoor or indoor event you would like to discuss, then please fill in our awareness talks form with as much information as possible, and we will be in touch to discuss this further with you.
Please be aware, that we will need to ask you some Health & Safety questions surrounding your event, and we require a minimum of 4 weeks' notice to complete your request. 
If you have any questions, please email the team at [email protected] and we will be happy to help!
Who can attend?
We'll talk to anyone and everyone, because knowing your risk of prostate cancer is important. Men will learn about their risk and what to do if they're worried about a prostate problem. Women will get the vital information to pass on to partners, friends and family who need to know the facts.
If you have any questions, please contact us online or on 020 3310 7000.
How else can I raise awareness of prostate cancer?
I liked the down to earth approach of your session and your volunteer's personal experience brought home the importance of the awareness