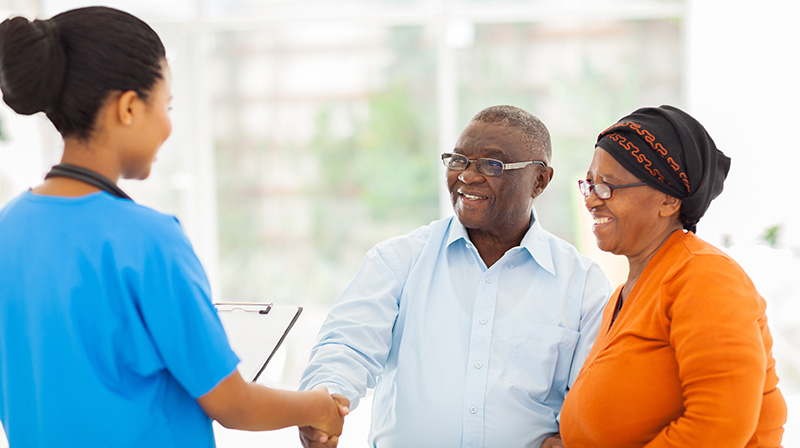 Call us for free, unbiased, confidential support and information.
There's no such thing as a silly question. We can also help partners, family members, friends, and health professionals. Our nurses are here for you Monday to Friday: 9am-5pm (Wednesday: 10am-5pm)
Talk to us on Live Chat
A chat window will show at the bottom of your screen if one of the Specialist Nurses is available. Message us and we'll reply straight away.
Email us
We'll always try to reply to you as soon as possible. If you have lots of questions, you may find it easier to call us on 0800 074 8383.
WhatsApp us
Message us on WhatsApp any time. We're here to chat 9am-5pm weekdays (from 10am on Wednesdays).
You can also text NURSE to 70004 to request a call back from a Specialist Nurse.
Questions about the TRANSFORM trial?
Read more about the prostate cancer screening trial recently announced.
Life on ADT classes
Are you on, or due to be on hormone therapy (androgen deprivation therapy)? Join our Specialist Nurses for an online class on side effects.
The nurses are so supportive and have helped me no end. I don't know what I'd have done without you. Being able to speak to somebody one on one who really knows their stuff is invaluable.
Questions we often get asked ...
"Should I have a PSA test?"
It's an individual's choice, but we can discuss the pros and cons and help you make an informed decision.
Read more about the PSA test
---

"What's my risk of prostate cancer?"
We can talk with you about your individual situation and risk factors.
Read more about risk
---

"What sort of treatment should I have?"
It's not uncommon to get a diagnosis of prostate cancer and feel overwhelmed. We can support you to make the decisions that are right for you.
Read more about choosing treatments
---

"I think I'm experiencing symptoms"
We can talk with you about what's happening. We'll also suggest speaking to your GP if something needs to be looked at more closely.
Read more about symptoms
---

"I'm embarrassed by my problem"
Because we're not answering your questions face-to-face, you may find it easier to talk about it over the phone or online. That's what we're here for. 
---

"What should I ask at my next doctor's appointment?"
We can help you prioritise the 'what-to-ask questions' so you leave your appointment with the information you need.
---

"I'm struggling with side effects"
We can talk with you about how you're feeling and provide practical tips, help and support.
Find out about side effects
---

"I feel lost, scared or low"
Prostate cancer can be overwhelming, and it may be useful to get things out. We're here to listen and help make sense of your situation.
---

"I'm struggling to support a loved one"
Supporting someone with cancer can be difficult. It's understandable if you feel frustrated, frightened or unsure at times. You can talk to us about it.
---

"I've been told my cancer isn't curable. What can I expect?"
We can give emotional support and practical information about side effects of treatment or symptoms of your cancer, and the options available to you.
How we run our services
The Specialist Nurses are here to help everyone navigate their prostate cancer journey. Find out more about what happens when you contact us, our expectations from service users and how we keep your data safe.
We don't tolerate abusive or discriminatory behaviour from anyone using the service.
Please note: we don't have access to your medical notes, we can't liaise with your healthcare team and we can't give medical advice.