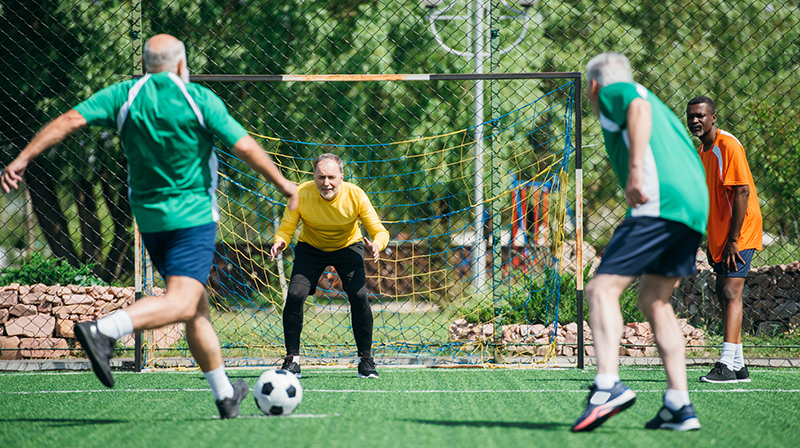 Fundraise with football
Whether you play, watch or are just interested in football, we want you to join our team of supporters dedicated to helping stop prostate cancer damaging bodies and lives.
How we can support you
When you look at the statistics, prostate cancer exists in every football team in the UK. 1 in 8 men get prostate cancer, and 83% of men don't know their risk. To help you and our team of supporters, we provide:
Collection tins and posters to start your fundraising
Ongoing support and guidance on ways to fundraise and maximise your impact
Awareness talks from trained volunteers for groups of 5-100 people
And for anything else, you can contact us online and we can sort you out!
Fundraising inspiration
We know how difficult it can be to get that first fundraising idea, but if you already play or even just have an interest in football, there are a ton of ways for you to get your friends and family involved in raising money and awareness, and even get some exercise in to boot! Some ideas to consider:
Hold a 5-a-side tournament – Charge an entry fee and ask for additional donations on the day.
Football marathon – How many games can you get played in 24 hours?
Walking football – Do you play, or know someone that does? Dedicate a match to Prostate Cancer UK and raise both awareness and funds in an ever-relevant community.
Crossbar challenge – See if your local club will promote a crossbar challenge at half time, and ask for donations to enter.
Match day collection – Will your local club (big or small) hold a collection at a match day of their choosing?
Hold a raffle, auction or arrange a 'money can't buy' experience – Can you speak to your local club to see if they can auction a shirt or provide hospitality as a prize?
Walk/run/cycle between clubs – Why not get the community involved and run between rival clubs? Des Oldham's Nottingham to Derby run did just that.
Something else? There are all sorts of ways you can use football to raise funds and awareness, from visiting every ground in the UK, to getting included in a match day programme, find out what works for you and join the fight against prostate cancer.
Feeling inspired or want some more information? Get in touch, and we'll give you all the help you need.