30 Nov 2022
We're working with Movember to stop prostate cancer coming back
In partnership with Movember, and with your support, we're funding world-leading research to help more men survive recurrent prostate cancer.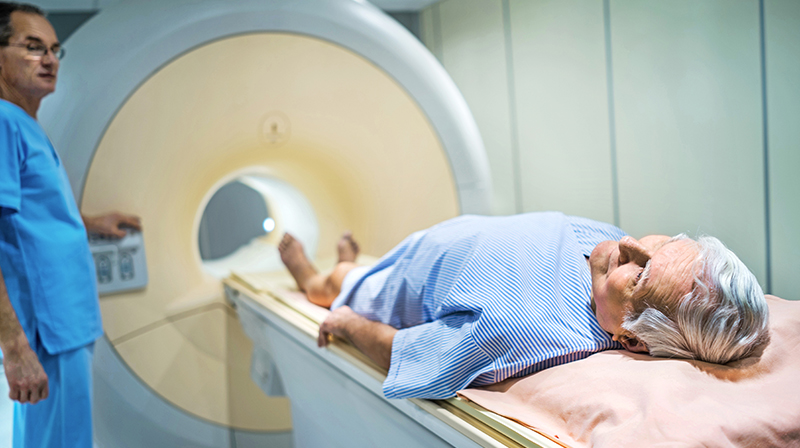 In the UK, around 2,000 men a year will learn that their prostate cancer has returned after radiotherapy. For these men and their families, this can be devastating news.  
That's why, in partnership with Movember, we fund research into recurrent prostate cancer – so that no man has to face the prospect of his cancer returning. 
Predicting whose cancer might recur
Much of this research takes place at the FASTMAN Movember Centre of Excellence, which we launched in 2014 in partnership with Movember. 
This centre – shared between Belfast and Manchester (hence the name FASTMAN) – is a research hub. It brings together world-leading scientists and clinicians with different areas of expertise to tackle big questions in prostate cancer research from fresh perspectives.  
With these diverse, world-class teams, FASTMAN aims to accelerate prostate cancer research so it can benefit men as quickly as possible. 
In particular, these researchers are looking for new ways to find out which men are more likely to develop recurrent disease before they start their initial treatment.  
Then, by improving and refining radiotherapy treatments, they hope to reduce and prevent recurrence altogether. 
For example, Dr Chris Armstrong at Queen's University Belfast has been developing new drugs that could help certain men respond better to radiotherapy. These men have a mutation in a gene that is meant to stop cancer cells growing out of control – making it more likely that their cancer will come back after radiotherapy. Dr Armstrong hopes that giving the new drug alongside radiotherapy will reduce these men's risk of recurrent prostate cancer. 
Such is the quality of research at FASTMAN that The Christie, part of the Manchester arm of the centre, was recently named the UK's first European Prostate Cancer Centre of Excellence – cementing its reputation as one of the world's leading cancer centres.  
Meanwhile, in the Belfast arm, Queen's University Belfast has just been awarded nearly £2m in further funding for its prostate cancer research, showing that our joint investment in the centre is bringing in further funds to supercharge research there.
Fewer doses in more places
At the same time, over at The Institute of Cancer Research (ICR) in London, a team of researchers funded jointly by Movember and Prostate Cancer UK is exploring whether a particular type of radiotherapy called stereotactic body radiotherapy (SBRT) can nip recurrence in the bud.  
Unlike traditional radiotherapy, which might be done in around 20 small doses over several weeks, SBRT delivers larger doses of radiation in around five visits, making the process a lot less stressful for men undergoing the treatment. 
The team has previously found that using SBRT on the prostate is safe and effective – so they now want to improve it further. They have just begun a new trial called PACE-NODES to see whether giving the treatment to the lymph nodes and the prostate, rather than just the prostate, can reduce the risk of the cancer returning.  
If successful, this research could give men the option of a more convenient new treatment that also reduces the risk of their cancer coming back.
Help us improve treatments even further
Since 2007, Movember has invested more than £94m into our research programme and support services, helping us transform how men are diagnosed and treated for prostate cancer and making sure they get the support they deserve. 
To find out more about Movember, and to get involved, visit uk.movember.com 
Donate today so we can continue to fund world-leading researchers to help more men survive recurrent prostate cancer.