Abseiling
Scared of heights? Face your fears and help save lives!
Arts and crafts
Host an arts and crafts evening and charge people an entry fee.
Awareness Day
Help raise awareness for prostate cancer. We have loads of informative resources we can provide you with, as well as the chance for one of our incredible volunteers to deliver an in-person or virtual awareness talk. Get in touch to find out how.
BBQ
Dust off your tongs, fire up the grill and host a barbecue to help fight prostate cancer.
Bingo
Charge for an entry fee and donate half the winnings! Why not ask local businesses for extra prizes too?
Birthday
Ask for donations in lieu of presents. We can help by providing all the decorations you'll need, to help make your special day one to remember.
Bowling/Bowls
Raise money and awareness by holding a day or fun, games and fundraising at your Bowling / Bowls Club.
Brew & Bake
Everyone loves tea and cake, it's a fact! So pop the kettle on, get baking and join us in the fight against prostate cancer. Whether you'd like to organise a coffee morning or a cake sale, we're here to help.
Calendar
Forget the Calendar Girls, it's time to put your own stamp on the months ahead by getting your mates together and creating a calendar.
Car boot sale
Sell some of your old stuff and donate what you make.
Celebration
Ask for donations rather than birthday, anniversary or wedding presents. Find out more.
Collection
Hold a collection at your local shop/market! Get in touch for fundraising and awareness resources and a Letter of Authority to help gain the land owner's permission. Find out more here.
Comedy Night
Are you bit of a comedian? Or know someone who is? Host a comedy evening and charge for entry.
Dance Competition
Strictly super-fan? Put your moves to the test.
Darts Tournament
Bullseye! Challenge your mates to a night of darts and pay to play. Tell us about your plans, and find out more here.
Decade-Themed Party
Always wanted an excuse to host suave 20's night? Or a groovy 60's do?
Dinner party
Get your friends to donate the cost of a meal and cook them up a treat. 
Disco
Party the night away, charge for entry - and why not do a dance-off competition?
Easter egg hunt
Pay to enter - and why not make an Easter bonnet dress code compulsory?
eBay
Donate a percentage of your eBay sales to us.
Fancy dress day
Pay a couple of quid and be whoever you want for the day! Get your employer involved and apply for matched funding.
Fishing competition
Support us at your next fishing match, or have a day of fun down at your Angling Club.
Garden party
Have a garden party, perhaps with games that your guests give a donation to play. 
Give something up
Give up chocolate, coffee or alcohol and donate what you would have spent.
Halloween
Organise a Halloween party and charge an entry fee.
Head shave
Get sponsored to shave your head!
Hiking challenge
Organise your own hike! Get in touch to find out how we can support you every step of the way.
Ice cream eating challenge
Got a sweet tooth? How much ice cream can you eat in an hour? Get sponsored per scoop!
It's a knockout
Team up, take an entry fee and create your own 'It's a knockout' obstacle course. 
Jam making
Turn whatever your passions and hobbies are into fundraising.
Jazz night
Book a local venue and charge for a night of great music.
Join a class
Can't stand the treadmill, or even the thought of a Yoga Class? Time to face your fears!
Karaoke
Whether you charge for ear plugs or entry fees, sing up a storm with your own karaoke evening.
Knitting, crocheting, weaving...
Get creative and donate your sales.
Ladies who lunch
Get your friends together and organise lunch in exchange for a donation.
Livestream
24 DJ set, gameathon or Twitch stream.
Matched funding
Why not ask your employer to match your fundraising total? Get in touch, and we'll provide a letter to help you to boost your fundraising efforts.
Men United Arms
Host a fundraising day at your pub! Get in touch and we'll send you beer mats, bunting and loads of more useful fundraising resources.
Music event
Host your own music event: get local bands and venues involved. 
Nature trail
Take your friends on an educational journey through the great outdoors, ask for donations in return.
New year new me
Take on an annual challenge! Such as 10,000 Steps a day for the year, or a book a month.
Olympics
Fancy yourself as an Egg and spoon race champion? Organise a day of Olympic challenges, charge to compete.
Open garden
Take admissions and hold an open garden. 
Perform
Get your finest performers together for an evening of fundraising! Show off your talents and donate the profits with a play, concert or gig of your choice
Personal challenge
Set yourself your own personal challenge and collect sponsorship.
Press up challenge
See if you can beat your friends at a push up challenge, and collect bets on who will win.
Quiz
Get your mates together and organise a quiz.
Race night
Place a bet and split the winnings with us!
Raffle
Sell raffle tickets and get creative with donated prizes.
Rowing
Row row row the Channel, or maybe the Atlantic!
Skydive
Get sponsored to skydive. Why not do it with friends?
Sponsored silence
Shhhhhh. No talking. Get sponsored for your silence.
Street party
Hold a street party and get inventive with ways to raise money.
Sweepstake
Take your best guess. Football, Grand National, F1: split the sweep with us!
Swimming
Hold a swimathon or get sponsored to swim an iconic distance in your local pool.
Tombola
Why not get raise a few extra pounds and include a tombola at your event?
Treasure hunt
Pay to enter - why not make it pirate fancy dress?
Twenty-four hour challenge
Challenge you and your mates to fundraise around the clock.
Upcycling
Time to get creative with your unwanted things. Why not sell them at a local market or workplace.
Virtual fundraising
Tour de France on a spin bike? London Marathon on a treadmill?
Volleyball
Hold a volleyball contest. Charge for admission. 
World record attempt
How many eggs can you fit in your mouth? Attempt a world record at anything - this is a great way to get press coverage, too! 
Waxing
Only for the brave. Get sponsored to have something waxed!
X-Factor night
Get your friends and family together and sing up a storm with your very own X-factor evening.
Year long challenge
Set yourself a year long challenge and get sponsored: lose weight, get fit or take up a sport.
Zumba
You and your mates can't think of anything worse than making fools of yourselves at your local Zumba class? Soften the blow by raising money for a great cause.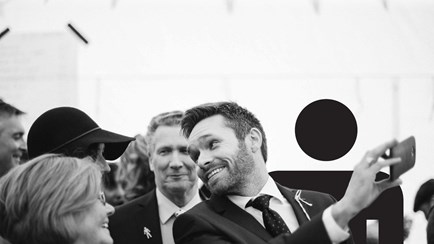 Start fundraising
Whatever kind of fundraising you have in mind (or don't), we're here to help.