Suggested routes
Is there somewhere you'd like to explore in the UK? Or a part of the world that intrigues you? Take on the adventure by bike. 
Popular routes
Coast to Coast
LEJOG/JOGLE
London to Paris
The 2012 Olympic road race route
For a comprehensive list of suggestions, visit Sustrans for some UK inspiration and EuroVelo for continental routes. 
Less conventional rides
Club to club - cycle between local sports clubs and get your community involved
Clock up miles - Ride the length of or distance to something notable without actually going there! The UK, the world or the moon, for example
Virtual reality or static rides - cycle the Cols of the Tour de France or just clock up miles without leaving the gym!
Already got your route mapped out? Let us know, and we'll help you take care of the details.
Whether you're a velo fanatic, casual commuter, or it's been a few years out of the saddle, organising your own cycle challenge is an excellent way to raise money and awareness in the fight against prostate cancer.
LEJOG is well deserving of its iconic status and each day presented fresh opportunity to see another part of our wonderfully very varied countryside. Although we didn't set out to create a charity cycle ride, we realised completing such a feat was a perfect opportunity to raise money for Prostate Cancer UK.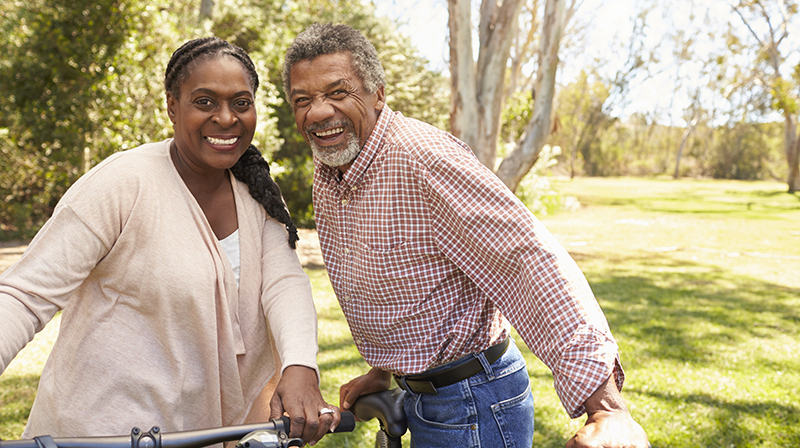 Planning
Pick a date
Give yourself plenty of time to get prepared for the event and any fundraising you'd like to do. If you're riding in the UK (or anywhere else prone to a downpour), consider any equipment you might need to protect yourself from the elements - waterproof clothing, overshoes, stronger tyres etc.
Get road/off-road ready
Consider your equipment - staying safe is your top priority, so make sure your bike has recently been serviced and you have everything you need to fix minor mishaps along the way. See the FAQs below for guidance on equipment.
Gather support
Do you have any friends, family or colleagues you could ask to be your support crew, and could they carry spares or even a backup bike? Can you contact your local press to raise awareness and get the community involved?
Get your mates involved
The more the merrier. Give yourselves a bold team name. Whose employer offers matched giving? And when your legs are getting tired, and you're starting to flag, who's that friend that keeps you going?
And another thing to remember: we can help! Request a pack from us, and we'll get the ball rolling.
FAQs
What equipment do I need? 
The kit required depends on the type or challenge you're taking on, but try and get the essentials covered, including:
Helmet, lights, high-vis clothing
Suitable cycling clothing, e.g. padded shorts, windproof jacket
Basic maintenance items such as a multi-tool, pump and inner tubes
Enough food and drink to keep you going throughout
---
Can I get a Prostate Cancer UK cycling jersey? 
Absolutely! We provide a cycling-specific short-sleeve, full-zip branded jersey for all riders that raise over £200
---
Do I have to ride a long distance? 
Not at all! That's the beauty of organising your own challenge – just do what's right for you. Off-road, track, round the block, through town, the choice is yours!
---
Do I need insurance? 
If you're organising an event for a group of people, it's essential you check out what is required with regards to insurance and health and safety – see British Cycling's guidance for details on organising your own event.
---
Will Prostate Cancer UK help with promoting my ride? 
For all of our fundraisers, we offer ongoing support to maximise their fundraising, including press release templates and local media details. Register your ride with us for more details of how we can help.
How we can support you
Whether you're a seasoned pro, occasional rider or haven't picked up a bike since childhood, we are here to help you make the most of your fundraising and challenge. We can provide:
Collection tins and posters to start your fundraising
Ongoing support and guidance on ways to fundraise and maximise your impact
A Prostate Cancer UK branded cycling jersey when you hit £200
Exclusive training advice from Running With Us
An online community for story sharing, advice and tips - made up exclusively of Prostate Cancer UK cyclists