01 Sep 2022
Bill Turnbull's warmth woke us up each morning. His diagnosis woke up Britain to prostate cancer. We'll miss you, Bill.
We are deeply saddened to hear that our friend and ambassador, Bill Turnbull, has died. Since he shared the news of his diagnosis in 2018, the broadcasting giant has inspired millions, saved thousands of lives and woke up the nation to prostate cancer.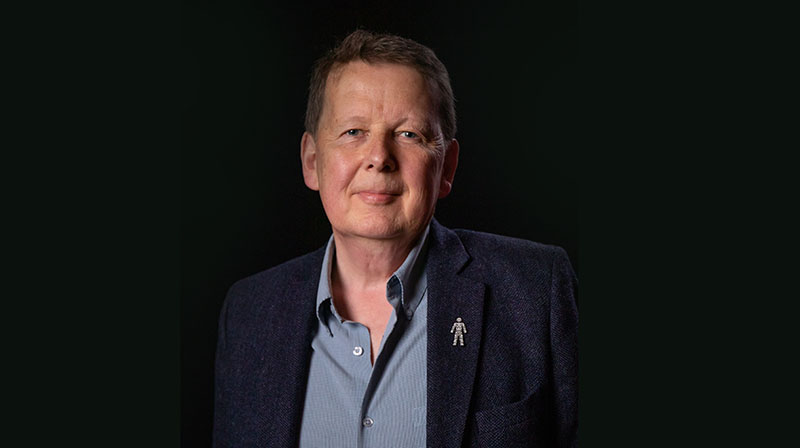 Bill Turnbull was a greatly-respected broadcasting giant. Easing us into the day on the BBC Breakfast sofa for 15 years, as well as presenting Classic FM, Songs of Praise and much more. As a younger journalist he reported for the BBC in more than 30 countries, covering the Monica Lewinsky scandal, the OJ Simpson trial and hurricanes in Florida. As well conflicts in eastern Europe, Russia and Romania.
Watching and listening to Bill was the perfect way to wake up and get up to speed with the world. After he went public with news of his prostate cancer in 2018, he was selfless with his time, defying his own diagnosis to undertake interviews, support our campaigns, and inspire so many others affected by the most common cancer in men.
Sadly, for Bill his prostate cancer diagnosis came too late, but we know his work with us has saved many lives. For that we will be forever grateful. Our thoughts are with his wife Sesi and all the family at this time. Today, they shared this statement:
Following a challenging and committed fight against prostate cancer, Bill passed away peacefully at his home in Suffolk surrounded by his family on Wednesday, 31 August.
He was resolutely positive and was hugely buoyed by the support he received from friends, colleagues, and messages from people wishing him luck. It was a great comfort to Bill that so many more men are now testing earlier for this disease. He was also a devoted Wycombe Wanderers fan and an ever-aspiring beekeeper. Bill was a wonderful husband and father to his three children; his family and friends will miss how he always made them laugh, and the generosity and love he shared with those around him.
How Bill saved lives, warmed hearts and woke up the nation to prostate cancer.
Bill was diagnosed with prostate cancer in 2017, after experiencing long-term aches and pains that he'd put down to old age. Because he had a PSA test aged 40 and 50, he said he was cross with himself for not visiting a GP in four years, when it could have been caught earlier.
"Warm, welcoming and kind, Bill has been a huge part of the Prostate Cancer UK family. We know his work with us has saved many lives. For that we will be forever grateful. Our thoughts are with his wife Sesi and all the family at this time."
After Bill shared his story of diagnosis we saw an unprecedented spike in referrals for suspected prostate cancer in 2018. NHS England called this the 'Fry-Turnbull effect', citing the impact of Bill and fellow Prostate Cancer UK supporter Stephen Fry sharing their stories early. This huge surge in referrals saw prostate cancer become the most commonly diagnosed cancer for the first time that year – 10 years earlier than previously predicted.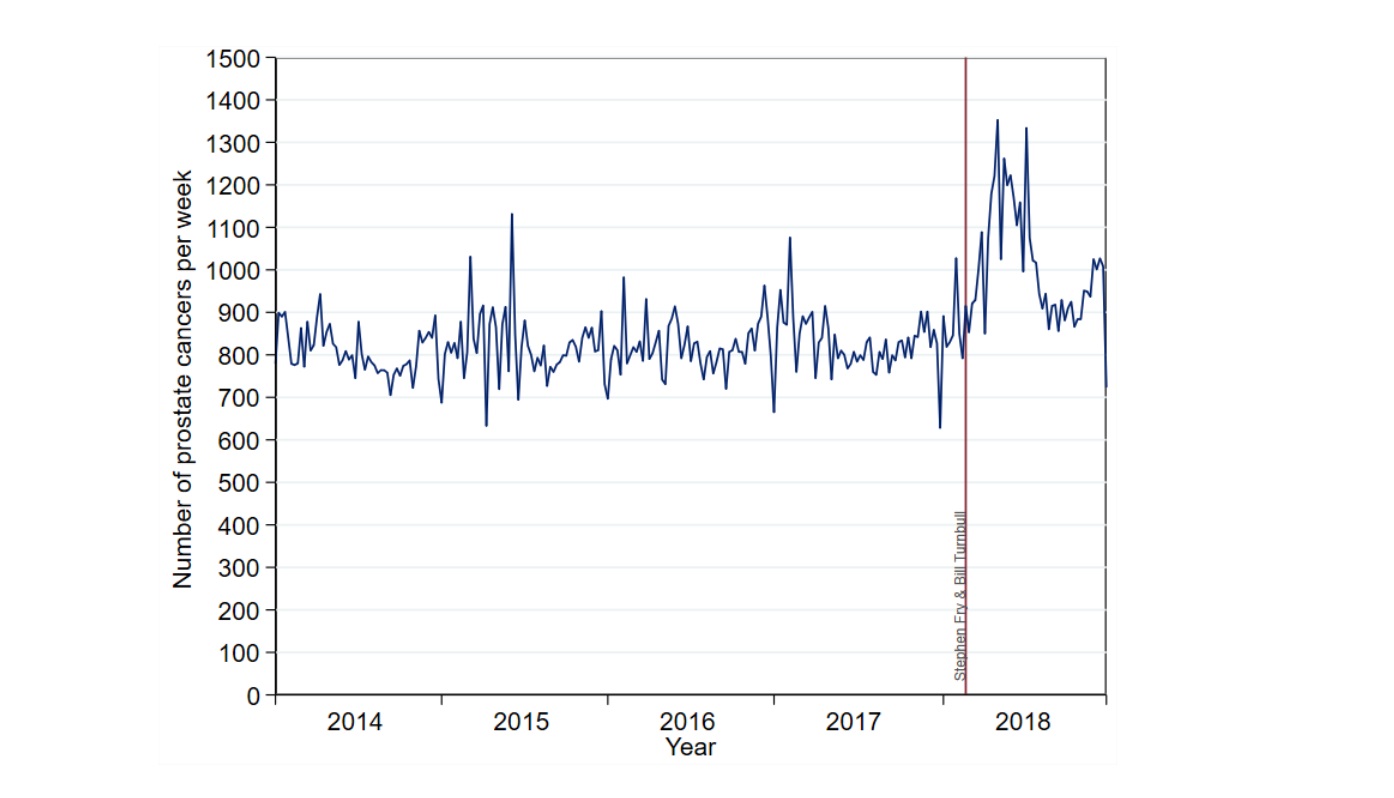 Bill has been a tireless advocate for the work of Prostate Cancer UK since then, appearing in television interviews, fronting donation campaigns that raised over £611,000, and connecting with and answering questions from our supporters, like in this heart-warming video shot during lockdown from his family home.
A passionate Wycombe Wanderers fan, Bill used his love for the game and the club to help raise funds and awareness within the football community.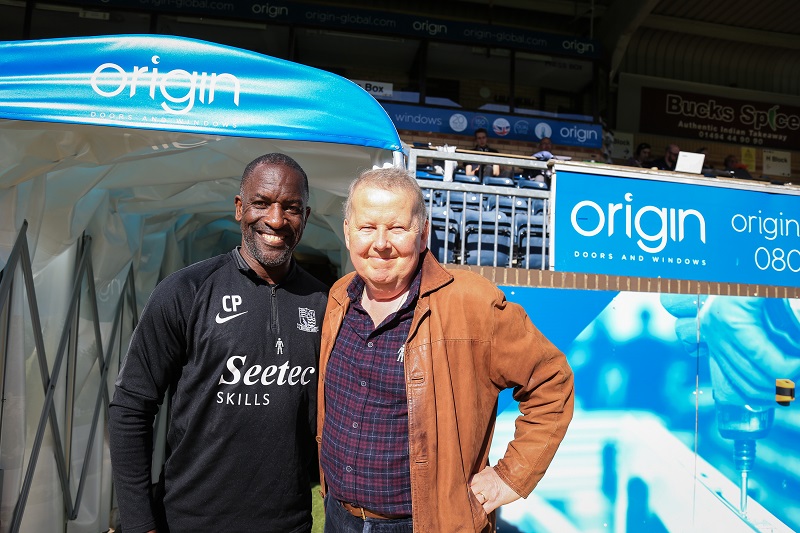 His story featured in our donation appeals and he supported our March For Men events, in solidarity with hundreds of families affected by prostate cancer. During lockdown he also hosted a special Father's Day quiz, with Fry among several other quizmasters. Raising more than £10,000 and entertaining thousands of our supporters during an unsettling time.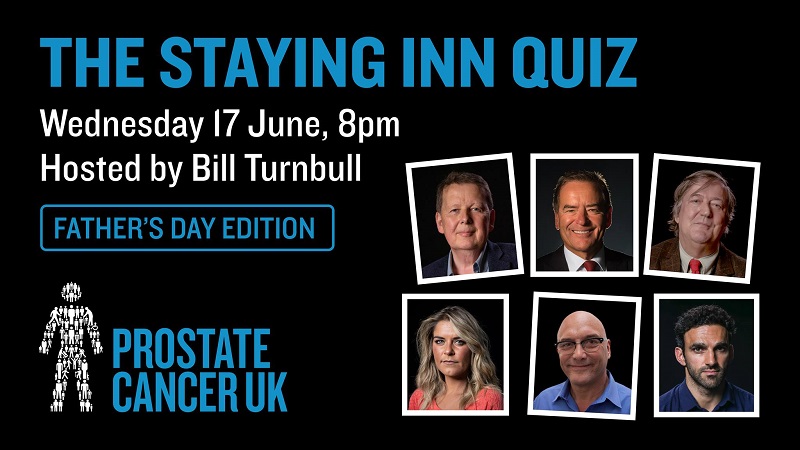 "I've had wonderful support from my family, particularly from my wife. From friends as well, and people I've never met. Everywhere I go people say 'how are you?' and they seem interested and concerned, which is wonderful and helps."
Bill's bravery in speaking so candidly about his experience continues to help men across the country understand more about the disease and their risk. His story, and his public support of Prostate Cancer UK has also been key in highlighting the need for a screening programme to help make sure more men have their cancer caught early.
Thank you Bill, for your friendship, your generosity, and everything you've done for men across the UK. We'll miss you.