08 Jul 2021
Dr Matthew Hobbs: five breakthroughs that could change the way we diagnose and treat prostate cancer.
Our Director of Research reflects on exciting research news - from a new way to target cancer cells to the permanent approval of a life-extending drug.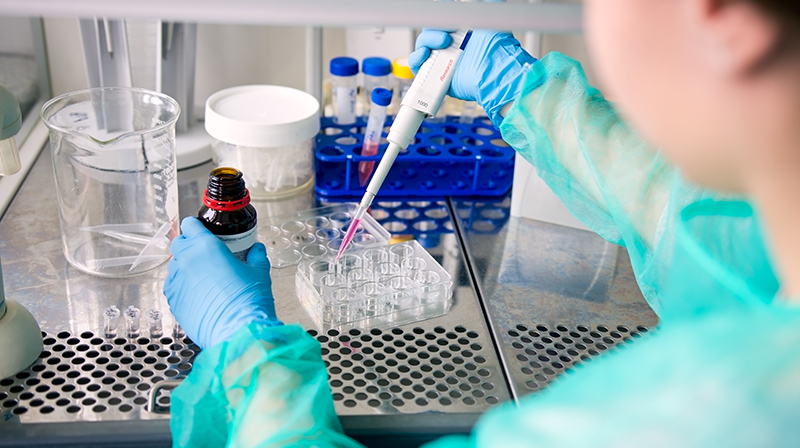 Dr Matthew Hobbs, had a front-row seat (from his desktop computer in London) at this year's ASCO (The Association of American Oncologists) virtual conference. We heard about new treatment options and targeted therapies, to alternative techniques to scan the body for tumours. And closer to home, we celebrate the approval of a life-extending drug for advanced prostate cancer.
Here's what these results mean for men and their families, and how people like you have made this possible.
1. A 'guided missile' to target cancer cells
The biggest ASCO headline came from the presentation of the VISION results, a Phase III trial testing a targeted treatment for advanced prostate cancer. The catchily named Lu-PSMA-617, also known as lutetium therapy, is a new and clever way to kill prostate cancer cells. It's able to detect and attach directly to the cancer cells to deliver a dose of targeted radiation.
While it's not possible to cure advanced prostate cancer, the treatment reduces side effects and can help extend the life of men by, on average, four months.
These initial results are hugely exciting, and it looks as if this trial will give us final confirmation that Lu-PSMA-617 works as a completely new and effective treatment for late-stage prostate cancer.
It's a big win for the prostate cancer research community and shows that with the proper investment we can keep finding new ways to treat the disease and extend men's lives. But this is not the end of the story. The next step will be to ensure this innovative treatment reaches men and we'll be working closely with the NHS and pharmaceutical companies to make sure this happens. We're also already funding research to reap even more benefits for men from this new form of treatment.
2. Same treatments, new technique, better results
One of the ways we can speed up progress against prostate cancer is to think about using existing treatments in different ways that do a better job at killing cancer cells, or that work in stages of the disease that haven't previously benefitted.
One example of this is the TRAP trial. Your donations have allowed us to fund Dr Alison Tree at the Royal Marsden Hospital, to run a clinical trial using radiotherapy. What's new about this study is that it's not for men with localised disease, which would be the normal setting for this kind of treatment. Instead, it's looking at using radiotherapy to kill tumours in men where the cancer has spread outside their prostate and has already stopped responding to other treatments. Key findings from TRAP will soon show us if this technique can extend the life of men with late-stage prostate cancer.
One of the reasons this is now such a hot topic is because of last year's result from STAMPEDE, which proved for the first time that any man with cancer that's spread outside the prostate could benefit from radiotherapy. It was thanks to your support that perseverant researchers were able to re-analyse thousands of bone scans and turn an unsuccessful trial into one that can improve treatment with equipment that's readily available in hospitals everywhere. This has recently become standard treatment on the NHS and is giving thousands of men extra months with their loved ones.
The PEACE1 trial showed us another way to use existing treatments to better benefit men with advanced prostate cancer: combining them together. It has produced interesting results about whether giving men three treatments (docetaxel chemotherapy with hormone deprivation therapy and abiraterone), is better than giving them two. It may seem obvious that it would increasing the benefit, but early results show a mixed picture. We'll need to wait a bit longer to get the final answer from this trial.

3. Ultrasound to spot prostate cancer

CADMUS, a trial that you helped fund in 2014, has finally recruited all the men they need to test whether we could use a special form of ultrasound to detect prostate cancer. Early results suggest that this new technique was almost as good as magnetic resonance imaging (MRI), which is currently seen as the best way to diagnose this disease.
There's some way to go yet, but this could be an important new development for men who can't have an MRI – either because of metal replacement joints or because they have claustrophobia. And in parts of the world where MRI is unaffordable or where remote populations make it difficult to access, this research could mean thousands of men could benefit from more accurate diagnosis.
4. Understanding why black men are at higher risk of prostate cancer
1 in 4 black men will be diagnosed with prostate cancer. That's twice the risk of all men, and we don't know why. That's why we're funding PROFILE, a pioneering study looking at the genetic factors which may increase risk.
A vital ASCO session on prostate cancer in black men added weight to the conclusions we've made in the UK. Essentially, we're not seeing a disease that is fundamentally different in different ethnicities, just a slightly different mix of biological processes that lead to prostate cancer and drive its growth.
The PROFILE trial should help us build on these insights and help us work out how to stop prostate cancer killing so many black men in particular.

5. Enzalutamide: life-extending hormone therapy approved permanently for men with advanced prostate cancer.
Last but not least, we recently also celebrated big treatment news at home, with the approval of the life-extending drug enzalutamide. Enzalutamide is a vital alternative for over 4,000 men each year who aren't able to have the standard treatment of docetaxel chemotherapy and who have, until now, had limited treatment options.
The decision by the National Institute for Health and Care Excellence (NICE) is a huge win and guarantees that men with advanced prostate cancer can access this drug permanently.
Enzalutamide's approval comes just a short time after abiraterone and apalutamide, two other alternative hormone treatments, were rejected by NICE and follows three years of appraisals made possible thanks to your support and that of thousands of men and their families.
Thank you so much for making this possible.
Every single one of the 400,000 men living with prostate cancer in the UK should have access to the best prostate cancer tests, treatment, and support – wherever they live and no matter who they are.
Help us improve diagnosis, treatment, and care for men everywhere by giving a regular gift.