04 Jun 2021
Behind the headlines: Can a drug act like a 'guided missile' to target advanced prostate cancer?
News of lutetium therapy, an innovative treatment for advanced prostate cancer, hit the media today. But what does this announcement mean for men living with late-stage prostate cancer?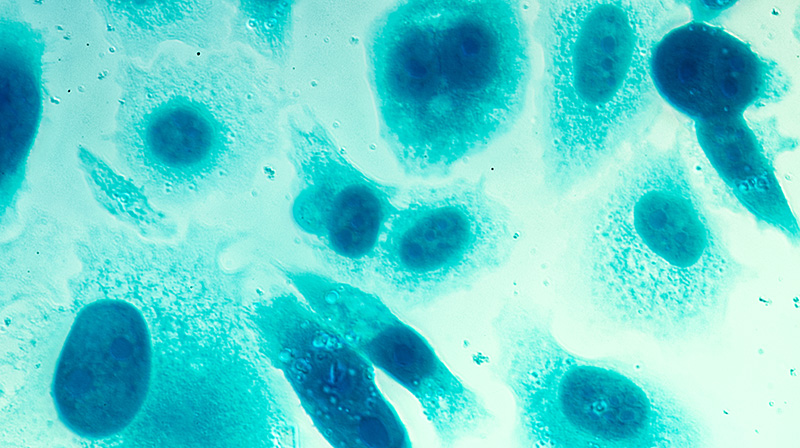 Advanced prostate cancer – also called metastatic or late-stage cancer – is cancer that has spread from the prostate to other parts of the body, most commonly the bones or lymph nodes. While there are treatments available to help manage symptoms or keep the cancer under control, it's not possible to cure advanced prostate cancer.
The VISION trial looked at a new type of cancer treatment, called 177Lu-PSMA-617 (also known as Lutetium-177 or lutetium therapy). What's exciting about lutetium therapy is that it's delivered straight to cancer cells through an innovative mechanism that reduces side-effects and can help extend the life of men with advanced prostate cancer.
VISION is a Phase 3 trial – the last stage needed before the treatment can be brought into normal practice. The treatment won't be available immediately as it still needs to be licenced to confirm its safety and to be appraised by the National Institute for Health and Care Excellence (NICE). That said, the positive trial results are a great step towards lutetium therapy being available for men with late-stage prostate cancer.
We're working hard with the NHS, researchers, and health experts to help this treatment reach the men across the UK who need it.
How it works: using a novel treatment to deliver radiation straight to cancer cells
Radiotherapy can be used as a primary treatment for localised cancer, when the disease has not responded to other treatments (known as salvage treatment), as well as for locally advanced cancer. Most radiation treatment is "external beam" radiotherapy, where high-energy X-ray beams are targeted at the area being treated from outside the body.
Lutetium therapy is a new way of delivering radiation to tumours called radionuclide therapy (also known as molecular radiotherapy or radioligand therapy). The treatment works by binding a radioactive atom to a drug molecule. It's then injected into the bloodstream where the drug can attach directly to the cancer cells. The drug can identify these cells by detecting the presence of a molecule called prostate-specific membrane antigen (PSMA). This is a protein found in 80-90% of prostate cancers. Once bound, the particles deliver a dose of radiation to kill the cancer cells. This targeted delivery means radionuclide therapy is considered a "precision medicine".
This type of therapy has many advantages. It can, in theory, target all areas of prostate cancer, even when it has spread around the body. The targeted treatment means less damage is done to healthy surrounding tissues, which can also lead to fewer side effects. 
This is an improvement compared to conventional radiotherapy, which must be targeted manually to spots where doctors have already located cancer cells and can sometimes harm healthy areas (e.g. radiotherapy to the prostate can harm the bowel).
Who may benefit?
The VISION trial tested this treatment in patients with late-stage prostate cancer who had already been treated with chemotherapy and hormonal drugs. Lutetium therapy was shown to extend these patients' lives by, on average, just over four months. If this treatment is commissioned, it will be available to men who have already had several previous treatments for their advanced prostate cancer. However, this process can take a long time, and it is likely to be a year or more before the NHS can provide it.
It's a big win for the prostate cancer research community and shows that with the proper investment we can keep finding new ways to treat the disease and extend men's lives. We'll be working closely with the NHS and pharmaceutical companies to make sure this happens.
Other ongoing trials are also looking at using lutetium therapy earlier in the treatment pathway, where the disease is less widespread and the benefit from the therapy is likely to be much greater.
As the drug attaches to prostate cancer cells, this treatment might not be suitable for every man living with advanced prostate cancer. For the targeted treatment to work, the disease must produce the PSMA protein, which can be confirmed with a special scan called a PSMA-PET scan. This scan is also used to diagnose prostate cancer found after primary treatment but is not universally available in the UK. We're working across the UK nations to make sure PSMA-PET is available to all men who need it.
What will we do next?
There's a lot of clinical excitement and enthusiasm behind lutetium therapy, and we're building momentum and bringing the right people together to get this treatment to men.
We are part of an ecosystem of cancer research funders. On this occasion, the drug was not developed with our resources. 177Lu-PSMA-617 was originally developed at the University of Heidelberg, Germany. But we support all innovation in prostate cancer treatment, in line with our vision. We're funding further research looking into the effect of lutetium therapy on the immune system and whether the benefits of this drug could be boosted by combining it with other novel treatments.
We're working to prepare the UK healthcare system for the use of lutetium therapy. We'll also be taking part in the more formal next steps such as representing the patient viewpoint during the NICE appraisal.
Keep an eye on our publications and social media (find us on Facebook and Twitter) to see what happens next with this promising treatment.
Every single one of the 400,000 men living with prostate cancer in the UK should have access to the best prostate cancer tests, treatment, and support – wherever they live and no matter who they are.

Help us improve care for men everywhere by giving a regular gift.