12 Jan 2023
There's a huge North-South divide in prostate cancer diagnoses. We need your help to change it.
10,000 men are diagnosed too late for a cure each year, with Scotland worst hit.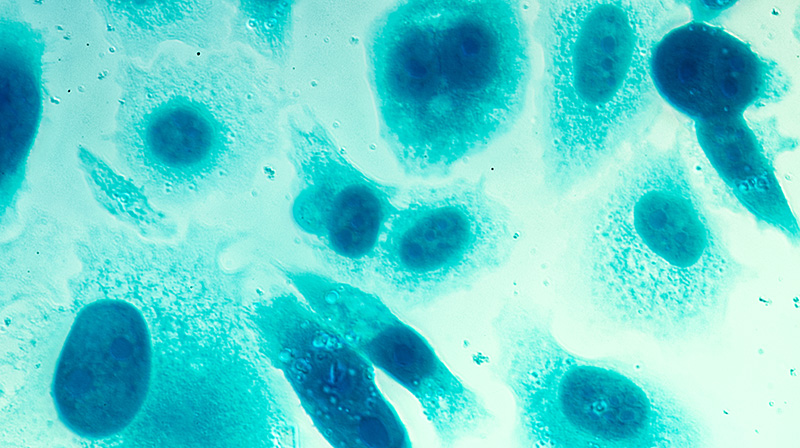 We may have ended last year celebrating one million people checking their risk as part of our campaign to find 14,000 men living with undiagnosed prostate cancer, but the latest data shows that regions are being left behind in a 'postcode lottery'. 
There's huge variation in the likelihood of men being diagnosed when it's too late for a cure. In London just 1 in 8 men (12.5%) with prostate cancer are diagnosed with metastatic disease, whereas in Scotland more than 1 in 3 (35%) are diagnosed late, at stage 4. Wales, Northern Ireland, and the North and Midlands of England are also shown to be badly affected.
Please note that this analysis compares the proportion of stage 4 prostate cancer diagnoses in Scotland, Wales and Northern Ireland, with the proportion of metastatic diagnoses in England. Data on stage at diagnosis for all UK nations can be found below.
"This postcode lottery for cancer diagnosis simply isn't fair, and the picture in Scotland is particularly shocking. Every man should get an equal chance of a cure, which is only possible if his cancer is caught early."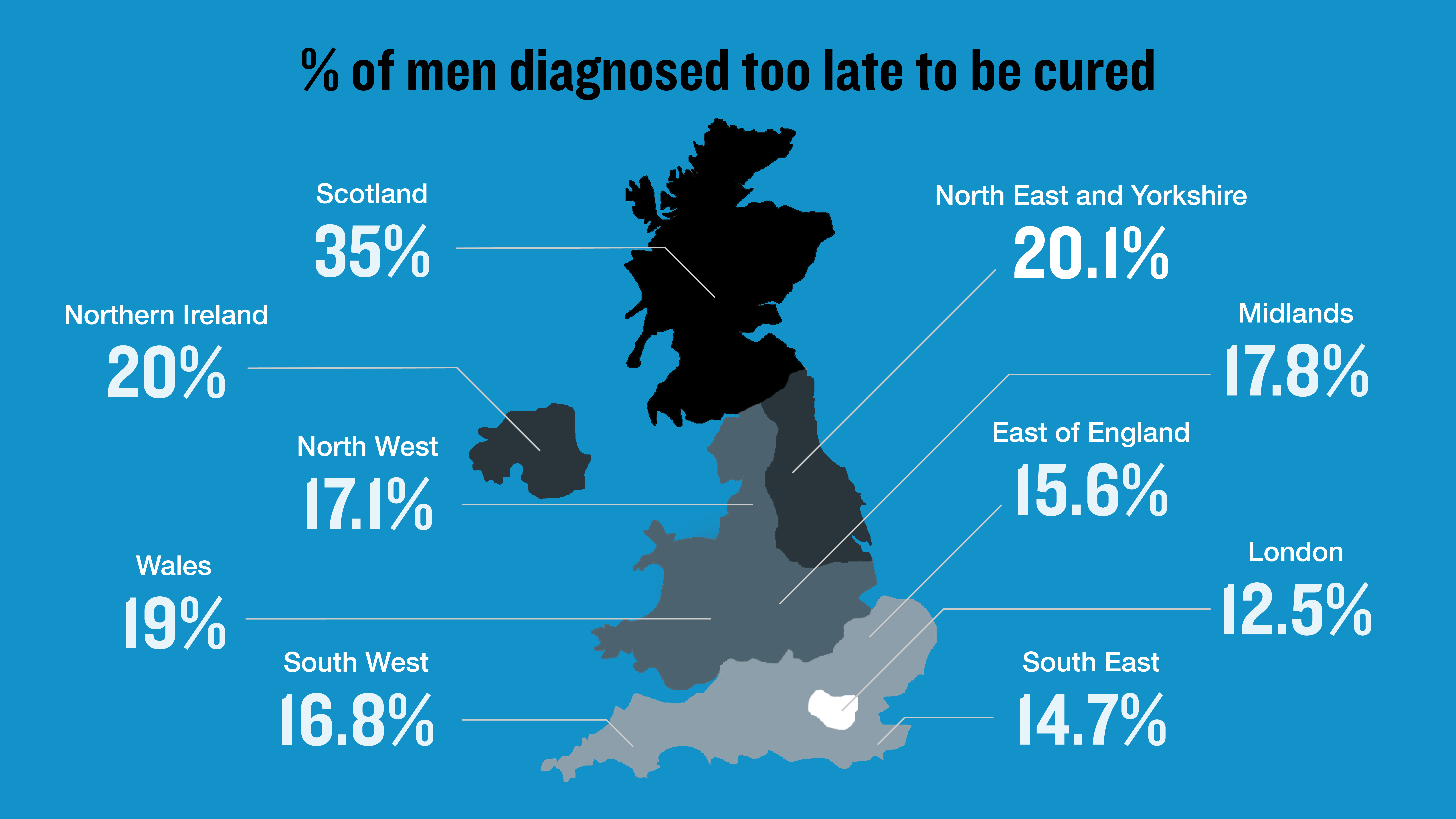 We can't accept this and we need your help to change it.
The latest National Prostate Cancer Audit (NPCA) shows men in more deprived areas are more likely to be diagnosed too late for a cure. The reports also showed a dramatic 29% fall in the total number of men diagnosed in the first year of the pandemic, which could result in higher risk of metastatic diagnoses for years to come. Overall, almost 10,000 men each year are being diagnosed at stage 4 in the UK.
The 'postcode lottery' is also impacting recovery from the pandemic. October 2022 referrals for suspected prostate cancer in London surged to 19% above pre-pandemic levels – indicating a strong recovery - whilst in the Midlands they are only up 5%. 
Daniel Burkey, a 57-year-old teacher from Ossett in West Yorkshire was diagnosed with incurable prostate cancer in June 2021. Daniel said: "As a person with quite high hereditary risk I just didn't know enough about prostate cancer until I was diagnosed, and by then it had already spread to my bones."
"Being diagnosed at that stage was an awful experience and it's terrible to think that so many other men in the North-East are in the same position. Take the risk-checker. It's so quick and it could save your life."
Daniel said: "At this stage, the treatments I've received are all palliative. They can keep the cancer at bay, but it can't now be cured. That's why I'd urge anyone who's not sure about their own risk to take the risk checker to find out more. It's so quick, and it could save your life." 
We've reversed trends like this before. Together, we can do it again.
We're calling for action to tackle these health inequalities - particularly in those worst-hit regions. Today we launch a fresh, targeted campaign, encouraging everyone to share the 30-second online risk checker to help men understand their risk and what they can do about it. 
We're working with the NHS in these regions to help tackle these inequalities and have called on GPs to proactively engage higher risk men about the PSA blood test. We're supporting GPs in areas of high deprivation to send targeted messages to men at the highest risk, to share the risk checker and help them make an informed choice about testing. 
Since we launched our partnership with the NHS to find the 14,000 men, the situation has improved, with referral rates across the country returning to above pre-pandemic levels, and recent NHS estimates showing that nearly 2,500 additional men were treated as a result of the campaign. We know that if we act together now, we can start to address these inequalities so that men across the UK get the early diagnosis they deserve,
Laura Kerby continued: "At one point in the pandemic, prostate cancer made up a third of all missing cancer cases, so it's fantastic to see that we're beginning to find and treat these men. 
"However, there is still a long way to go to fully reverse the impact of the pandemic, and as these figures show our job isn't done even then. That's why we need a screening programme for prostate cancer, and we are committed to funding the research to make this a reality and save thousands of men's lives." 
Check your risk and share the risk-checker with the men in your lives 
Anyone with concerns about prostate cancer can contact our Specialist Nurses on weekdays on 0800 074 8383 or online.
____________________________________________________________________________________
Sources for national stage at diagnosis data.
1. England and Wales: National Prostate Cancer Audit short report Sept 2022
https://www.npca.org.uk/content/uploads/2022/09/NPCA_Short-report-2022_Final-08.09.22.pdf
2. England: Staging Data in England, NHS England, 2017-2019 average
https://www.cancerdata.nhs.uk/stage_at_diagnosis
3. Wales: Cancer incidence in Wales, NHS Wales 2017-2019 average
https://phw.nhs.wales/services-and-teams/welsh-cancer-intelligence-and-surveillance-unit-wcisu/cancer-incidence-in-wales-2002-2019/
4. Scotland: Cancer Incidence in Scotland, Public Health Scotland, 2016-2019 average
https://www.publichealthscotland.scot/publications/cancer-incidence-in-scotland/cancer-incidence-in-scotland-to-december-2020/data-files/#Genital%20organs
5. Northern Ireland: Northern Ireland Cancer Registry, 2016-2020 average
https://www.qub.ac.uk/research-centres/nicr/CancerInformation/official-statistics/BySite/Prostatecancer/
Summary of data
Percentage diagnosed with metastatic disease in each area of England:
NE and Yorkshire 20.10%
Midlands 17.80%
North West 17.10%
South West 16.80%
East 15.60%
South East 14.70%
London 12.50%
9,972 men are diagnosed with stage 4 prostate cancer every year in the UK based on averages taken from national stage at diagnosis data. Source same as above.
National Prostate Cancer Audit short report Sept 2022: https://www.npca.org.uk/content/uploads/2022/09/NPCA_Short-report-2022_Final-08.09.22.pdf
Source: National Prostate Cancer Audit full report Jan 2023: Published on 12 January
• The proportion of late diagnoses increased from 13% in April 2019 - March 2020 to 17% in April 2020 - March 2021
• The number of men diagnosed with prostate cancer in England and Wales between 1st April 2020 to 31st March 2021 was 32,426. This is a decrease on the number reported for 2019-2020 (45,885) - a fall of 13,459 or 29% in the first year of the pandemic.
Referrals by NHS region
In October 2022, there were 23,613 referrals in England, a 14% increase when compared to October 2019. The referral breakdown by NHS Region is outlined below:
• 2,489 urological referrals in East of England, a 10% increase when compared to October 2019.
• 4,136 urological referrals in London, a 19% increase when compared to October 2019.
• 4,124 urological referrals in Midlands, a 5% increase when compared to October 2019.
• 3,695 urological referrals in North East and Yorkshire, an 18% increase when compared to October 2019.
• 2,717 urological referrals in North West, a 15% increase when compared to October 2019.
• 3,712 urological referrals in South East, a 16% increase when compared to October 2019.
• 2,740 urological referrals in South West, a 16% increase when compared to October 2019.

Source:
England: Cancer Waiting Times, NHS England: https://www.england.nhs.uk/statistics/statistical-work-areas/cancer-waiting-times/
The 14,000 figure was estimated based on publicly available data showing the shortfall in expected prostate cancer treatment figures in England and Scotland between April 2020 and December 2021. Equivalent figures were not yet available for Wales and Northern Ireland. 
• Public Health Scotland Cancer Waiting Times. Table 5.  https://publichealthscotland.scot/publications/cancer-waiting-times/cancer-waiting-times-1-july-to-30-september-2021/  
• NHS England Statistics Supplementary Information: Number CWT of 31-day first treatments for prostate cancer https://www.england.nhs.uk/statistics/statistical-work-areas/supplementary-information/  
Data shared in public statement by NHS England