Join us in the fight against prostate cancer.
Prostate cancer affects 1 in 8 men in the UK. That's thousands of dads, grandads, partners, brothers, sons, uncles and mates. Jump for Prostate Cancer UK and raise lifesaving funds to help beat prostate cancer.
What does the jump involve?
The jump is called a 'tandem skydive'. You'll be free falling for several thousand feet without the parachute deployed (this is the skydive part). And from start to finish, you'll be harnessed to a professional parachute instructor (that's the tandem part).
What you'll do:
Complete both your training and your jump in one day
Be harnessed to an experienced parachute instructor at all times
Jump from at least 10,000 feet - just like the professionals
Learn how to steer onto the drop zone so that you can ride the parachute down to the ground
Receive a certificate after the jump to show off to your friends and family
What do I need to do?
All you have to do is raise £395* (or more!) for Prostate Cancer UK. Ask your friends and family to sponsor you and think about organising some smaller events leading up to the big day to give yourself a boost.
* For airfields based in Scotland and Northern Ireland the minimum sponsorship level for a tandem skydive is £450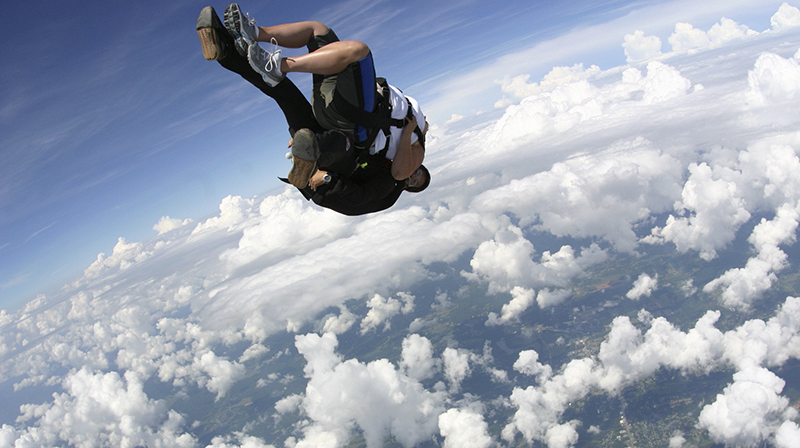 We'll support you all the way
What you can expect:
Tips and ideas to boost your fundraising
Ongoing support from our Skydiving Team
Resources and materials - such as a t-shirt to wear on your skydive plus balloons, banners and collection tins to help with any events you're organising in the run up to the day
We'll guide you through setting up a JustGiving page so the donations can start rolling in!
When can I jump?
Skyline have a number of dates you can choose from, listed on their website.
Where can I jump?
There are British Parachute Association approved centres across the UK. Take a look at the map here to find your nearest centre.
Are there any restrictions on age or health?
You need to be 16 or over and weigh under 15 stone.
There are also medical restrictions for all jumps which you can find out more about on Skyline's website. Those under the age of 18 will need the medical form signed by a parent or guardian; those with a medical condition will need it signed by their doctor.
Please note that if your doctor refuses to sign your medical form or advises you not to jump, you need to send us over a note from your doctor informing us of this. If the doctor says you can't do the jump, unfortunately you will need to take their medical advice.
If you are in any doubt, then please contact Skyline for further information.
What about insurance?
You will automatically be covered for up to £2,000,000 third party insurance but this will not cover you for personal injury so you will need to arrange this yourself if you'd like to have it.
What's the cost?
When signing-up you will need to make a £70 booking deposit payable to 'Skyline'. Don't worry, you can fundraise this in cash first or take it out of any money raised offline after your challenge.