Join in the fight with bowls
Bowls Scotland and Prostate Cancer UK have joined forces to raise awareness of prostate cancer amongst bowlers. One man dies every 45 minutes of prostate cancer the UK – that's two men every 15-end game. We need you to join us. Raise vital funds and awareness in clubs across Scotland while doing something that you love – playing bowls.
I was diagnosed with prostate cancer in 2001 and the following year I had my prostate removed. Six months after the operation I returned to bowling, which was a great form of light exercise to get me back in the swing of things. Nine years after my initial diagnosis, and after receiving regular PSA tests, I was deemed clear of prostate cancer.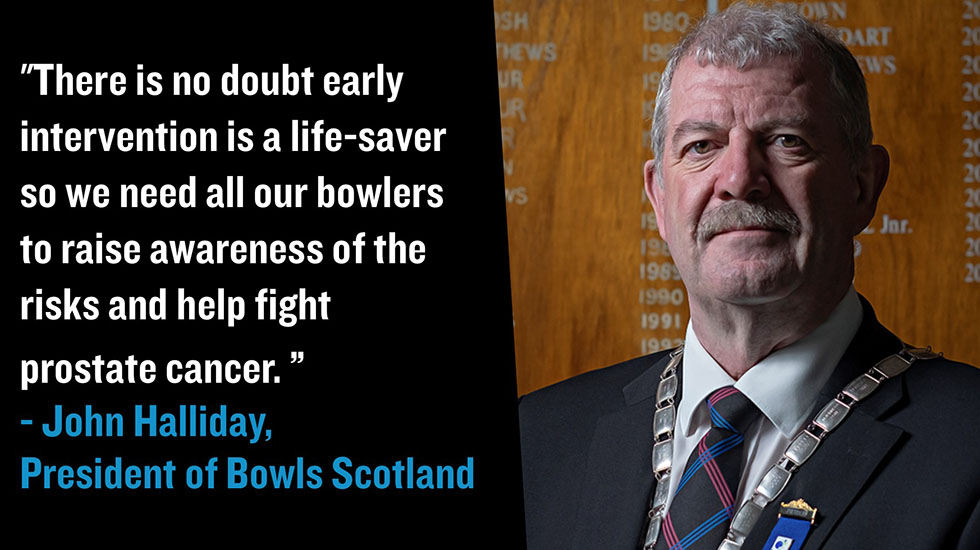 How we can support you
Did you know that 1 in 8 men will get prostate cancer, and 83% of men don't know the risks? This means that prostate cancer exists in every bowls club. Get involved, raise awareness and help turn these stats around. We can provide you with:
Materials including newsletters, posters, pin badges and collection tins
Awareness talks from trained volunteers for groups of 5-100 people
Ongoing support and guidance on ways to fundraise and maximise your impact
Anything else you need - just get in touch and we'll sort you out
Fundraising ideas
We can help you raise vital fund and awareness in your club. Check out a couple of our top fundraising tips below to help get you started.
Pay to play – open the event up to everyone for a donation of your choosing
Knock out tournaments – keep it simple with prizes for the finalists
Hold a post match celebration – arrange an event nearby of hold a raffle for attendees
We'd love to hear what you've got planned and offer you support. Contact us online, or call 0141 218 4762.
Three years ago I was suffering from back pain and had no other symptoms. I thought the pain might've been through playing bowls but my wife made an appointment with my GP just to check it wasn't anything more serious. I was diagnosed with prostate cancer. Men over 50 are most at risk so all bowlers need to be aware of the signs and symptoms of prostate cancer.
How to send in your money
You can send in the money you've raised online, or in a number of ways:
Online
You can pay in online using our quick and simple donation form.
By phone
Call us on 0141 218 4760
By post
If you'd like to send a cheque, we'd be grateful if you could use our printable donation form - it allows us to claim Gift Aid, which makes your donation go further.
Cheques should be made payable to "Prostate Cancer UK". Our address is:
Prostate Cancer UK, Unit F22-24, Festival Business Centre, 150 Brand Street, Glasgow, G51 1DH