Turn darts into donations and help save men's lives
Whether you're amateur, professional, an avid fan or you run your own league, we want you to join our team of supporters dedicated to helping stop prostate cancer being a killer. We can help you raise money and awareness while doing something that you love - playing darts.
Fundraising ideas
Whatever type of activity you have in mind (or don't), you can tailor it to suit you - some tried and tested ideas include:
Knockout tournaments – keep it simple with prizes for the finalists
Marathon events – test your will power with an all day or night darts marathon
League exhibitions – dedicate an existing match with a 'donate to play' system
Charity of the Year – make Prostate Cancer UK your club's charity of the year.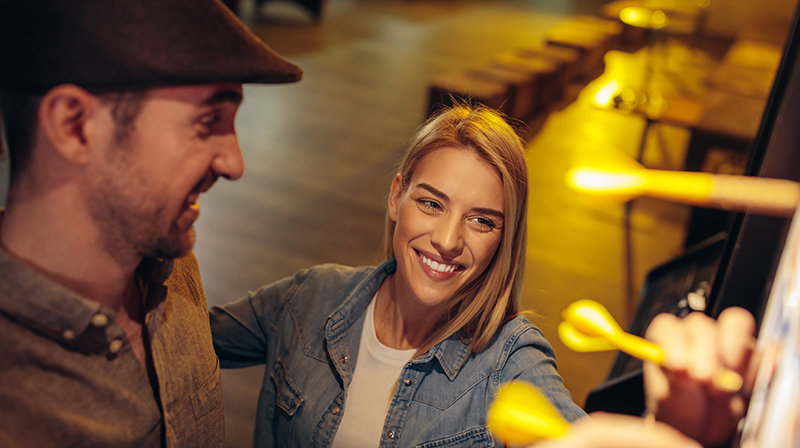 How we can support you
When you look at the statistics, prostate cancer exists in every darts club in the UK. 1 in 8 men get prostate cancer, and 83% of men don't know their risk of prostate cancer. You can help them by displaying fundraising and awareness materials where you play darts. We can provide:
Collection tins and posters to start your fundraising
Ongoing support and guidance on ways to fundraise and maximise your impact
Awareness talks from trained volunteers for groups of 5-100 people
Anything else you need - just get in touch, and we'll sort you out!
By post
If you'd like to send a cheque, we'd be grateful if you could use our printable donation form - it allows us to claim Gift Aid, which makes your donation go further.
Cheques should be made payable to "Prostate Cancer UK". Our address is:
Prostate Cancer UK, Fourth Floor, The Counting House, 53 Tooley Street, London, SE1 2QN