Brew & Bake
Organise your own Brew & Bake to help beat prostate cancer.
Everyone loves tea and cake
It's a fact! So pop the kettle on, get baking and join us in the fight against prostate cancer. Whether you'd like to organise a coffee morning or a cake sale, we're here to help.
Once you've told us about your plans, we'll send you a Prostate Cancer UK Brew and Bake fundraising pack which will include:
T-shirt to wear at your event
Recipe cards
Cake labels
Bunting
Balloons
Banner
Poster
Collection box
Tips on how to host the best cake sale or coffee morning!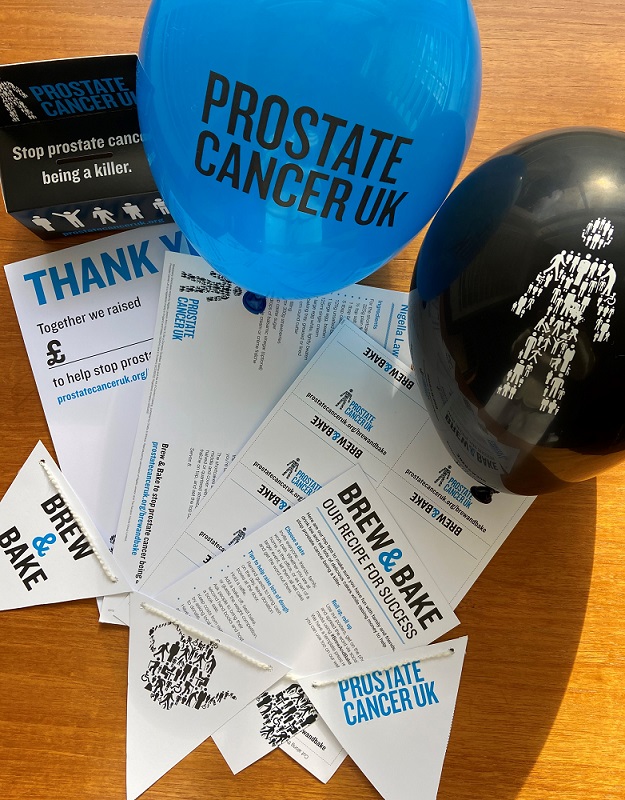 Every cake, scone and biscuit will be helping to bring us closer to a world where men can live long and live well. So let's get baking!
How to get started
1: Let us know
First things first, register your event! Let us know when and where your coffee morning or bake sale will be taking place, and we'll be on hand to offer you support, advice and all the fundraising materials you could ever need.
2: Roll up, roll up
Use our handy poster to promote your event and spread the word to friends, family, colleagues and your local community via social media using #BrewAndBake.
3: Prepare for the day
Use our cake labels to let people know if your bakes contain any ingredients that can cause allergies (nuts, dairies, gluten etc.).
If you're collecting money, you'll need permission from the owner of your venue, or a permit from the local council if you're holding your event on public property.
Keep it safe by following basic hygiene principles when handling food.
We'll post your fundraising pack to you when you sign up, but if you need to print off any extras you can find the downloadable copy of the pack here.
4: Relax and have fun
Remember to take lots of pictures and take time to enjoy the event with your guests. Share your pictures on social media or email them to us - we would love to see your event!
Let everyone know that you're doing your bit to stop prostate cancer being a killer by shouting about your event and showing off all your bakes.
5: Thanks a million
Thank all your guests for attending and giving so generously. Say a public thank you on social media; you may even get a few last minute donations from friends who couldn't make the day.
6: Tot up your total
Thank you for hosting your own Brew and Bake, by pouring cups of tea and baking cakes you're helping to keep more men with their loving families for longer.
When you're ready, find out how to get the money you've raised from your event to us in the way that suits you by heading to our paying money in page.
If you have any questions, please get in touch with the team by emailing us.