Prostate Cancer Specialists Conference 2023
Join us for this two-day conference in March. You'll hear from a panel of expert speakers who'll share their knowledge and best practice guidance about prostate cancer care.  
The conference will be led by Chiara de Biase (Director of Support and Influencing at Prostate Cancer UK), Sarah Hillery (President of the British Association of Urological Nurses) and Amy Rylance (Head of Improving Care at prostate Cancer UK). They'll be joined by a range of speakers who'll provide the latest information and guidance, helping you to provide best practice care for your patients. 
Date: Wednesday 22 - Thursday 23 March 2023 
Time: 9am – 12.15pm  
Location: Online  
Cost: Free  
REGISTRATION IS NOW CLOSED!
What'll be covered?
Over the course of the two days, you'll cover topics such as:  
Research and advances in treatment

 

Hormone therapy

Active surveillance

Health inequalities in prostate cancer

 

Sexual functions

 

Living and dying well
You'll be able to ask any questions and engage in peer-to-peer discussions throughout the event.  
The conference is aimed at clinical nurse specialists and allied health professionals but is open to all specialists who care for men with prostate cancer.  
Don't worry if you're unable to make it on the day, we'll be sharing the recordings with those who register. 
Your key speakers
You'll be joined by the following speakers who'll be sharing their expert insights, and taking any burning questions you may have:  
Chiara De Biase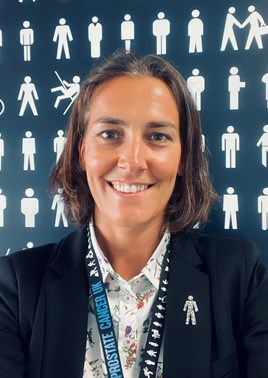 Chiara is the Director of Support and Influencing and joined Prostate Cancer UK in September 2021. She oversees all the charity activity for direct services to men and their families and the clinical community including Health information, clinical education, policy and health influencing, peer support, specialist nurses and cancer data specialists.  
Sarah Hillery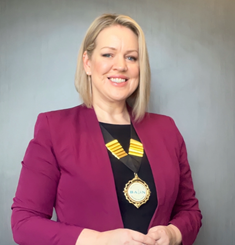 Sarah is the President of the British Association of Urological Nurses, the Lead Nurse for Urology at York and Scarborough Teaching Hospitals NHS Foundation Trust, and editor of the BAUN newsletter. Holding a Master's Degree in Advanced Clinical Practice, she is an RCN credentialed Advanced Nurse Practitioner with a specialist interest in bladder health and over 20 years' experience in diagnostic and benign urology. Sarah delivers educational talks, webinars and podcasts about bladder and continence issues around the world. She lectures at the University of York and is a regular writer for the IJUN and BJN. Sarah also is a board member for National and European non-profit organisations such as the European Association of Urological Nurses Education Accreditation Board and The Bladder Interest Group (BLIG). 
Amy Rylance 

Amy is the Head of Improving Care at Prostate Cancer UK where she leads teams that deliver healthcare education, policy and health influencing, translate research into NHS practice, address health inequalities and deliver improvement programmes. Previously, Amy has worked at both small, local and large national charities - always in the field of disability and/or healthcare. Running themes of interest through her career have been around tackling health inequalities; improving accessibility of health services/information; and growing leadership programmes to improve care.
Jayne Tierney 
Jayne Tierney co-leads the Meta-analysis Programme of the MRC Clinical Trials Unit at UCL. For nearly 30 years, she has been responsible for conducting systematic reviews and meta-analyses to assess the effects of treatments for different cancers, as well as for other disease and conditions. Most recently, she has been evaluating which treatments for prostate cancer are most effective, and for which men. Her research has influenced the treatment of patients worldwide. Alongside, Jayne has developed methods and guidance to improve how systematic reviews and meta-analyses are done, for example, to speed them up and do them more reliably. 
Claire Vale

 
As part of the Meta-analysis Programme, MRC Clinical Trials Unit at UCL, Claire has delivered systematic reviews and meta-analyses that have assessed treatments for patients with different types of cancer. In recent years, her work has focused on finding out which treatments are most effective for men with metastatic hormone sensitive prostate cancer, as well as looking at the effects of treatments for men with high risk, localised disease. Claire has also taken a lead role in WHO-led work to identify effective treatments for patients hospitalised with COVID-19. She regularly teaches about the methods used in systematic reviews and meta-analysis, and has completed research to improve their design and conduct. 
Lisa O'Sullivan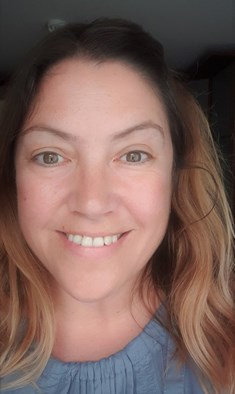 Clinical Nurse Specialist for 15 years. Lisa has worked across many cancer sites and have managed her own cancer service whilst working in the NHS. For the past 3 years she has worked as a Senior Specialist Nurse at Prostate Cancer UK. Lisa has a keen interest in pain management, symptom and assessment, palliative care and Androgen Deprivation Therapy, its impact, strategies and living well with ADT. 
David Thurtle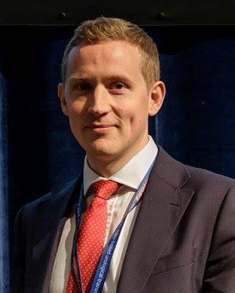 David is a senior urology registrar in the East of England. He completed a doctorate on prognostic modelling in nonmetastatic prostate cancer at the University of Cambridge. He has experience in running local and national clinical trials. Part of his research work led to the development of 'Predict Prostate' a free online decision aid which has been endorsed by the National Institute for Health and Care excellence (NICE). He maintains broad clinical interests including general, emergency and endo-urology, kidney and prostate cancer. 
Vincent Gnanapragasam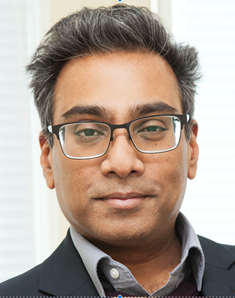 Vincent J Gnanapragasam is Professor of Urology in the University of Cambridge and an Honorary Consultant Urologist at Addenbrooke's Hospital, Cambridge. Vincent's research has covered the full spectrum of basic science, translational, clinical and epidemiological disciplines in prostate cancer. His laboratory work as group leader led to novel discoveries into the pivotal role of endogenous signalling regulators (SEF/SPRED) in prostate cancer and mechanistic insights into growth factor signalling in disease progression and treatment resistance. In recent years his work has focused increasingly on the translational/clinical interface and the application of research findings into clinical practice.
Tanimola Martins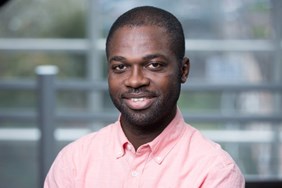 Tanimola is a Lecturer in Postgraduate Education and Post-doctoral Research Fellow at the University of Exeter Medical School. He has a background in Medical Rehabilitation and Public Health, and has a PhD in Primary care diagnosis of cancer and ethnic inequality. His workstream aims to identify and quantify sociodemographic differences in primary care diagnosis of cancer, intending to formulate appropriate interventions to address such inequalities. Presently, Tanimola's ongoing work (funded by Cancer Research UK) in collaboration with researchers from University College London and London School of Hygiene & Tropical medicine (LSHTM) investigates ethnic inequities in diagnosis and outcomes of symptomatic cancer.
Tharshini Ramalingam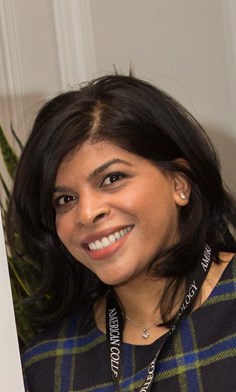 Dr. SivaTharshini Ramalingam is a GP Partner at Oxted Health Centre in Surrey and an ICOS board-certified cardio-oncologist at The Royal Brompton Hospital, London. She graduated from University College London and has a postgraduate diploma in Heart Failure Management from the world-renown Zurich Heart House and a postgraduate diploma in Cardiology from the University of Plymouth. As the world's first-ever GP with a special interest in Cardio-Oncology, she is the national GP lead for the British Cardio-Oncology society and is a scientific board member for the Global Cardio-Oncology Summit to be held in Madrid later this year. Furthermore, she is a Faculty Member and Clinical Advisor to the Royal College of General Practitioners and a member of the Royal College of Physicians of London. She is also a council member of the GP chapter of the Royal Society of Medicine. Dr Ramalingam is an ardent champion of the holistic care of patients with chronic diseases such as cancer and heart failure. In addition, she has been involved in the digital health landscape by having collaborated with technology companies such as Microsoft, Hitachi and iOWNA to tackle health inequalities in cardiovascular and cancer care.
William Kinnard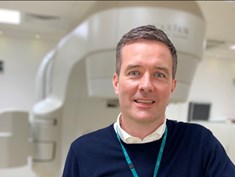 William Kinnaird is a Consultant Therapeutic Radiographer at University College London Hospitals. His main research interests are prostate cancer, sexual dysfunction, advanced disease, EDI, and quality of life in decision-making. Will comes from a treatment floor background delivering external beam radiotherapy, and his current role incorporates both clinical and research aspects, allowing him to make the connection between the treatments delivered and long-term consequences. He was named as a Prostate Cancer UK Clinical Champion for his work to improve support for men experiencing sexual dysfunction in advanced prostate cancer. He is carrying out doctoral research in this area in the Department of Medical Physics and Biomedical Engineering at University College London.
Philippa Aslet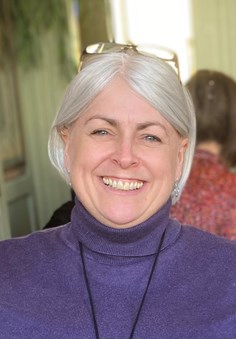 I started my nursing career in 1986. After some time working in Nephrology, I moved to the field of Urology which working in Cambridge. I was lucky to work with 3 consultants who supported my development as a clinical nurse specialist. It is here that I learnt my speciality across benign and malignant urological conditions. I married and in 2002 moved to North Hampshire and joined the Urology department. I served on BAUN council and became the president of that organisation. I was lucky enough to present locally, nationally and internationally at conferences and meeting. I increasingly sub-specialised in the field of prostate cancer and developed an advanced practice role. I was promoted internally to lead the team. I was then appointed to the role associate director of nursing and lead cancer nurse. After the pandemic, I decided to leave this role and after a short stint with the Wessex cancer alliance was appointed as the Director of Nursing for an independent Hospice. I am due to retire later this year.
Ann Graham
My name is Ann Graham and I am 62 years old. In 1997 I married my husband, Albert. We had a great life, travelling to America and spending time in Madeira every year. Albert was diagnosed with advanced prostate cancer in 2012. He died in 2014.  In 2020, I retired from nursing after a 42-year career in various hospitals. I spend my time walking my dog, volunteering for Prostate Cancer UK and lunching with my friends. 
Your learning objectives
After the conference, you will: 
Be up to date with new

research and advances in treatment

 

Have increased knowledge of

living well with

androgen deprivation therapy

(ADT)

 

Be able to promote a multidisciplinary approach to the management of prostate cancer through active surveillance

 

Have gained confidence in managing the unmet needs of patients, from sexual function

s

to

health inequalities in prostate cancer

 
Your certificate of attendance
Following the conference, you'll receive an evaluation form giving you the chance to provide us with key feedback to help us improve future events. After submitting your feedback, you'll be able to download your personalised certificate of attendance. 
FAQs
How do I register to the conference? 
You can use our quick online form to register. Once you've registered, you'll receive a diary invite, and we'll be in touch in due course with the log in details to the online conference platform. Registration closes on Tuesday 21 March at 4pm (GMT).
How do I get my certificate? 
After the conference, you'll receive an email with a quick evaluation form to fill in. Once completed you'll be able to download your certificate of attendance. 
I'd love to attend but won't be able to make the whole conference. Can I still participate? 
Yes! If you've registered, you'll be able to join and leave at any time.  
Will the conference be recorded? 
Yes, all sessions will be recorded and available to view for 6 months afterwards on the online conference platform. Register now to make sure you receive the log in details. We strongly recommend participating on the days though, as you'll get the opportunity to ask questions and get involved in discussions with your peers. 
Programme
Wednesday 22 March

Time 

Agenda  

Speakers 

9:00 – 9:15

 

Welcome and Introduction 

 

Chiara De Biase - Sarah Hillery

 

9:15 – 9:45

 

Update from the STOPCAP M1 collaboration:

Finding out which treatments work best for men with metastatic hormone sensitive prostate cancer
Jayne Tierney and Claire Vale
 

Hormone Therapy:

living well with ADT 

 

Lisa O'Sullivan 

 
10:30 – 10:45 

Break 

 
 

10:45 – 11:15 

 

Risks, Counselling, and the importance of Active Surveillance

 

David Thurtle

 

 

 

11:15 – 11:30 

 

Active Surveillance

- the Wild West of prostate cancer management 

 

Vincent Gnanapragasam

 

11:30 – 12:00

 
Q&A 

All speakers 

 

12:00 – 12:15

 
End of day 1   
Chiara De Biase - Sarah Hillery
Thursday 23 March 

Time 

Agenda  

Speakers 

9:00 – 9:15 
Welcome and Introduction   
Chiara De Biase  

9:15 – 9.45

 

Insights on health inequalities in prostate cancer diagnosis 

 

Tanimola Martins

 

9:45 – 10:15

 

Equality, inclusion and holistic care in prostate cancer

Siva Tharshini Ramalingam

 
10:15 – 10:30 

Break 

 
 

10:30 – 11:00

 

Meet the unmet need:

how to provide support on sexual functions.

 

William Kinnaird 

 

11:00 – 11:30 

 

Living and dying well with prostate cancer

 

Philippa Aslet

and Ann Graham

11:30 – 12:00 

 
Q&A 

All speakers 

 

12:00 – 12:15

 
End of day 2  

Amy Rylance 

 
Download your programme*
*Programme may be subject to change