19 Nov 2023
Introducing TRANSFORM, our £42 million trial to find a screening programme for prostate cancer
The £42 million TRANSFORM trial, our biggest and most ambitious trial ever, could save the lives of thousands of men each year.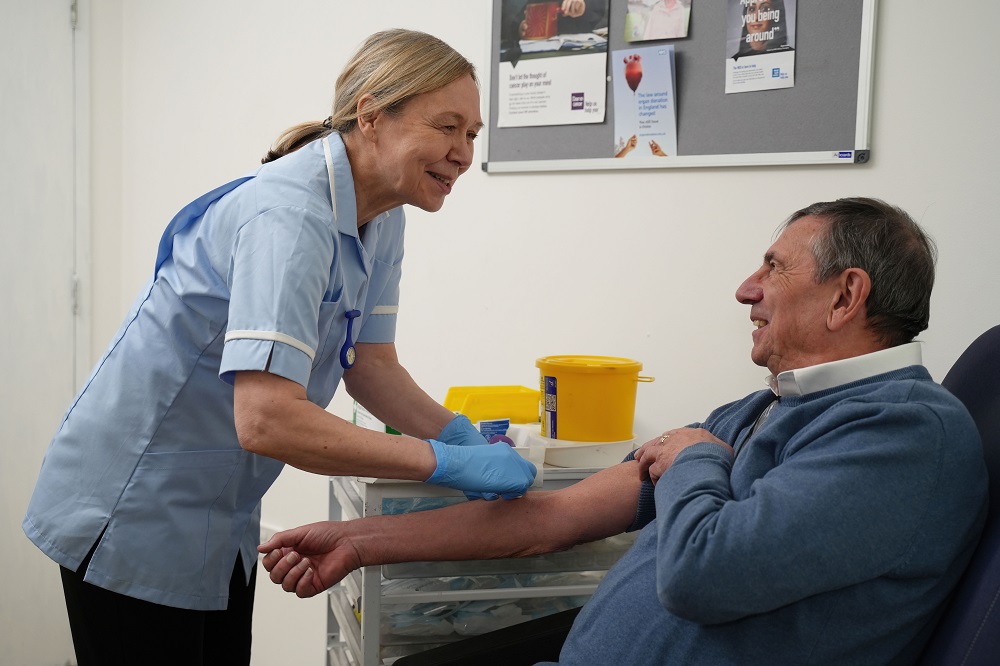 Today, we're launching our £42 million TRANSFORM trial, which aims to save thousands of men each year by finding the best way to screen for prostate cancer.
Led and developed by us, and backed by £16 million of Government funding, the trial will involve hundreds of thousands of men – making it the biggest prostate cancer diagnosis trial in 20 years.
The trial will compare the most promising tests and provide definitive evidence for the best way to screen for prostate cancer so that, in future, all men at risk will be invited for regular tests that can find the disease as early as possible.
We will confirm details of the research itself, including what tests are being trialled and how men can join the trial, once contracts have been finalised in Spring 2024.
Gathering evidence for a screening programme
Today in the UK, prostate cancer is the most common cancer without a screening programme. Every year, 12,000 men die from the disease, which usually has no symptoms until it has already spread and become incurable.
That's why the TRANSFORM trial is urgently needed. We need to identify the best tests that can find these men before their cancer spreads.
We've used our decades of research-funding experience to bring together the best researchers globally, working with the NHS, National Screening Committee and National Institute for Health and Care Research (NIHR) to make sure the trial provides the data needed to revolutionise prostate cancer diagnosis.
We've also engaged independent UK and international experts to ensure the trial is robust enough to find the best way to test for the disease, which is why the Government, through the NIHR, was able to commit to such a significant investment in the trial.
Things could have been different if I'd been tested routinely and caught it early enough.
Addressing prostate cancer inequalities
The TRANSFORM trial will also aim to address some of the inequalities that exist in prostate cancer diagnosis today.
For example, 1 in 4 Black men will develop prostate cancer – double the risk of other men – and often at a younger age. Yet previous research has failed to involve and recruit enough Black men and so has not been able to provide evidence needed to diagnose them earlier using a targeted approach.
We are determined to make sure our trial, and the results, are relevant to Black men. We will do that by ensuring that at least 10 per cent of the men who are invited to participate in the trial are Black.
Laura Kerby, Chief Executive at Prostate Cancer UK, said: "12,000 men die of prostate cancer each year and it's the most common cancer that doesn't have a national screening programme.
"It's about time that changed. That's why we're launching our biggest and most ambitious trial ever. It will finally give us the answers we need to develop a routine testing system and save thousands of men each year.
"Prostate Cancer UK's unique focus and expertise made us the only organisation that could really deliver this paradigm-shifting trial, and we're delighted that the Government has backed our vision to revolutionise diagnosis."
Daniel Burkey, from Yorkshire, is 58 years old. He was diagnosed with advanced prostate cancer in June 2021. He says: "Men need prostate cancer screening so that if we've got it, we can find out early enough to treat it and get rid of it. I got my diagnosis in my fifties, and the doctor told me the horrible news that it can't be cured. 
"Things could have been different if I'd been tested routinely and caught it early enough. If this country gets prostate cancer screening, so many lives will be saved! Knowing that this trial is going to find a way to do that makes me optimistic for other men."
We're working to transform the way men are diagnosed with prostate cancer.
Until then, use our 30-second risk checker to know your risk and what you can do about it.