14 Sep 2023
We went to Westminster to tell MPs 'Boys need Bins'
Our incredible supporters sent letters to their MPs and helped raise awareness about male incontinence. Now conversations are happening in Government. 
We launched our 'Boys need Bins' incontinence campaign back in February and asked our supporters to send our letter to their MPs. An incredible 2,200 of you did just that, reaching 90% of MPs across all four nations.
This created a buzz with MPs, with 12 reaching out to us to find out more and to offer their support to the campaign. Conversations are now happening in the Department of Works and Pensions, the Department of Levelling Up, Housing and Communities, the Department of Health and Social Care and the Department of Food and Rural Affairs.
There have been debates in both the UK Parliament and the Welsh Senedd, with the 'Boys need Bins' campaign being championed by Members of Parliament and Members of the Senedd.
Lifting the lid on male incontinence: our report
We wanted to build a national picture about the barriers men faced when needing to dispose of incontinence waste products, and why workplaces weren't being more proactive in providing the facilities these men need.
We surveyed 84 men and 62 workplaces and pulled the results into a report. We took this Westminster on Tuesday 5 September to share with MPs and other key decision makers.
Our findings showed:
98% of the men we surveyed agreed with the statement "I feel that there is a need for male sanitary bins to be made available in all men's public washrooms".
50% stated they had worn their pads for more than two hours, which could lead to fungal infections, sores, rashes and ulcers.
Workplaces were in the dark about the experience of male incontinence and wanted Government to legislate for change.
This simply isn't good enough.
We knew we needed to share these findings with those in positions of power to push for change. 
Our Westminster event
On Tuesday 5 September, we hosted an event in Westminster, sponsored by Stuart Andrew, MP for Pudsey, Horsforth and Aireborough. 
We were joined by 13 MPs from a range of parties, partner charities and organisations, industry experts, and key decision makers who were given opportunity to mix and mingle with each other to share experiences and understand what they could do to amplify the campaign.  
Stuart Andrew MP opened the event talking about the prevalence of male incontinence. He highlighted that no man should have to experience the indignity of having to carry wet and soiled pads.  
We shared the findings from our report and heard firsthand from our supporters how this issue affects them. Lisa Cleminson, Customer Operations Director at Transport for Wales, shared how they're installing bins in their stations, after a chance conversation between a man and Member of the Senedd, Carolyn Thomas. She highlighted how simple it is to address the issue of men not having adequate disposal facilities.  
Our supporter Jonathon Hall gave a moving talk about his experiences of being incontinent and what the campaign meant for him.  
Proud to join @ProstateUK in Parliament today for the launch of their #BoysNeedBins report, campaigning for men to have access to sanitary bins in male toilets so they can safely dispose of their sanitary waste with dignity. #MaleIncontinence #ProstateCancer pic.twitter.com/DWZld2uKnU

— Kim Leadbeater MBE MP (@kimleadbeater) September 5, 2023
We handed out copies of our report which sparked conversations in the room. Our supporters spoke about their experience openly and candidly, highlighting the impact incontinence has on their everyday lives.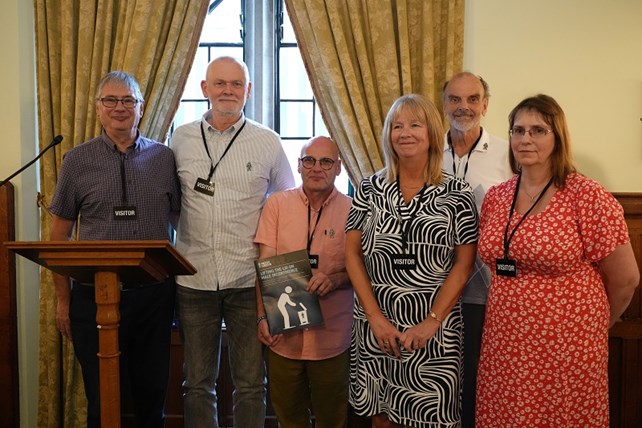 What needs to happen next
We couldn't have got here without your support, but there's still more you can do. Talk to your local councillors and local businesses and let them know what they can do to support men with incontinence. 
Our report highlighted three key areas where change needs to happen: 
New legislation is needed for the specific provision of at least one male sanitary bin in male toilets.



We need a national conversation about incontinence, and recognition that men wear pads, pouches, catheters, and stoma/colostomy/ileostomy bags, and the impact this has.

 



We need more support for men, and recognition by health professionals of the mental health and emotional support needs for men as well as practical advice about managing incontinence.

 
The time for action is now. Help us keep up the momentum.