16 Jun 2023
500km on a bike called Barry
Golf pro and world's biggest golf Youtuber Rick Shiels cycles 500km raising over £55,000 to help beat prostate cancer. We sat down with Rick to chat about the highs and lows of his challenge, and who he thinks could win this year's Open Championship.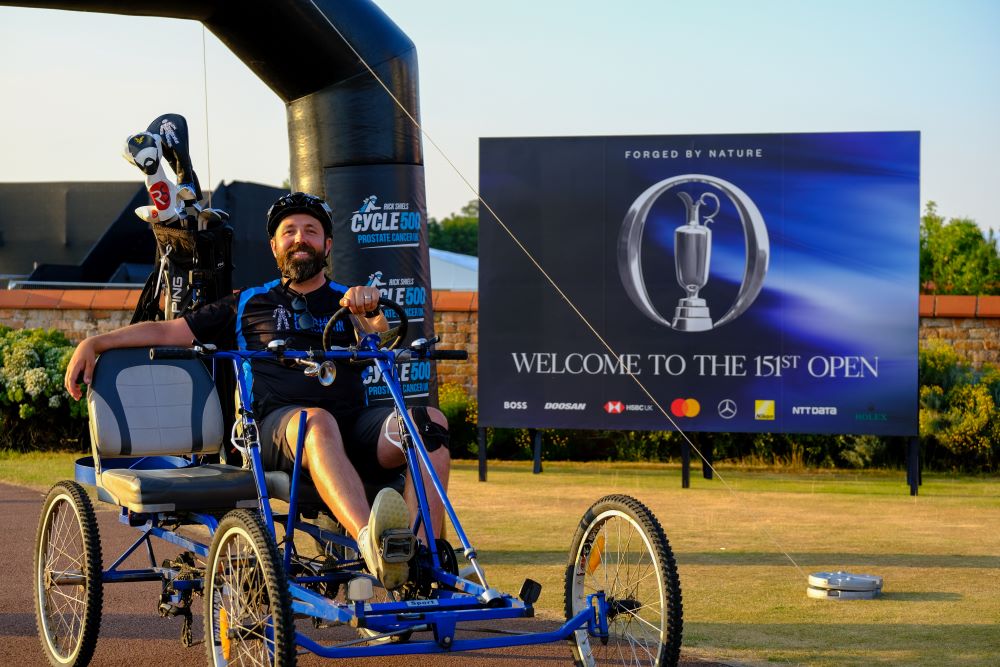 Rick Shiels is a golf professional with a difference. He's golf's biggest Youtuber and he likes taking on crazy charity challenges to celebrate his favourite golfing tournament, The Open Championship.
In 2022, Rick walked 6 marathons in 6 days with golf clubs on his back from Prestwick Golf Club (where the 1st Open Championship was held) to The Old Course, St Andrews, the home of golf. This year Rick set off from The Old Course, St Andrews to Royal Liverpool Golf Club (the host venue for the 2023 tournament) over 4 days on a bike called "Barry". Shortly after the event we sat down with Rick to find out how it all went, what he knows about prostate cancer, to find out why he loves The Open Championship and who he thinks will win year at Royal Liverpool Golf Club.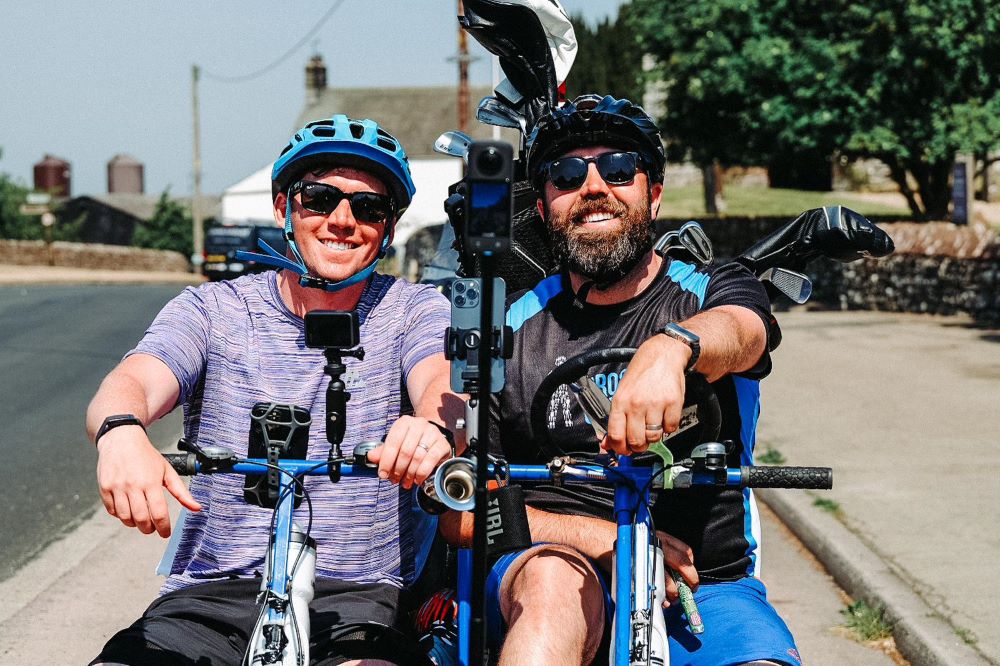 So Rick, how was it?
Honestly?! It was a lot harder than I thought. I was nervous before starting. Last year I walked 150 miles over 6 days. But I knew I could walk. I didn't know if I had it in my legs to cycle 500km. 125km a day over 4 days from St Andrews to Biggar, Biggar to Carlisle Golf Club, Carlisle to Lancaster Golf Club and Lancaster to Royal Liverpool to finish. I mean it's a long way right? And it was so hard. Last year was painful, this year was just never ending.
Your hardest moment on the bike?
All of it but probably the first day when we finished really late, just exhausting and the hills on the way to Lancaster in 30+ degree heat. Incredible. I thought we were in trouble from a mechanical point of view at times. "Barry the Bike" held on until we got to Lancaster. Fortunately I had a push bike to get me to Liverpool. I was always going to get over the line, the cause is too important not to finish a challenge like this. I've met so many people on this journey and working with Prostate Cancer UK I know prostate cancer is a terrible disease and we all need to do something about it.
And it was fitting to complete your challenge in Men's Health Week wasn't it?
One in eight men will get prostate cancer in their lifetime and men over 50 are most at risk so it's something we all need to consider and be aware of - whether it's us, our dads, brothers or uncles.
It's great to be able to use my platform (Rick has over 4.5m followers across Youtube, Instagram, Facebook and Twitter) to raise a great amount of money, which I'm delighted about, but also to raise awareness and talk to my audience, which is very male-dominant. It's nice to be able to get men talking about prostate cancer - and to do something stupid every year to celebrate The Open but also when the conversations around men's health are heightened.
WHAT A JOURNEY! 🚴

St Andrews ➡️ Royal Liverpool - completed it ✅

THANK YOU all so much! £50,000 raised (so far) for @prostatecanceruk

Without question the hardest challenge I have ever done!

If you can donate it'll be really appreciated! Thank you pic.twitter.com/m61VZ8IRHu

— Rick Shiels PGA (@RickShielsPGA) June 13, 2023
So why is The Open Championship your favourite golf tournament, what's special about it?
I grew up watching The Open, I go every year. It's my favourite tournament with some fantastic champions on amazing courses. The only one of the major championships in the UK. It deserves to be celebrated!
The Royal Liverpool is a fantastic venue and had some wonderful champions in the past including Tiger Woods and Rory McIlroy. To have the best players in the world calling Liverpool home in the next few weeks will be really exciting. I think it's going to be one hell of an Open Championship and I'm excited to watch it and see who comes out victorious.
Finally, who do you think can win this year's Open?
I would really love to see Tommy Fleetwood win this year. He's a local lad from Southport and he has had some strong finishes in previous championships. I have a feeling this could be his year!

Thanks to people like you, Rick has already raised over £55,000. It's not too late to show your support. Donate to Rick's page today and help fund lifesaving research.