26 Apr 2023
Could artificial intelligence help diagnose and detect prostate cancer?
Everyone is talking about artificial intelligence (AI), as new tools like ChatGPT promise to change the way we work and use the internet. Could AI also change the way we diagnose prostate cancer?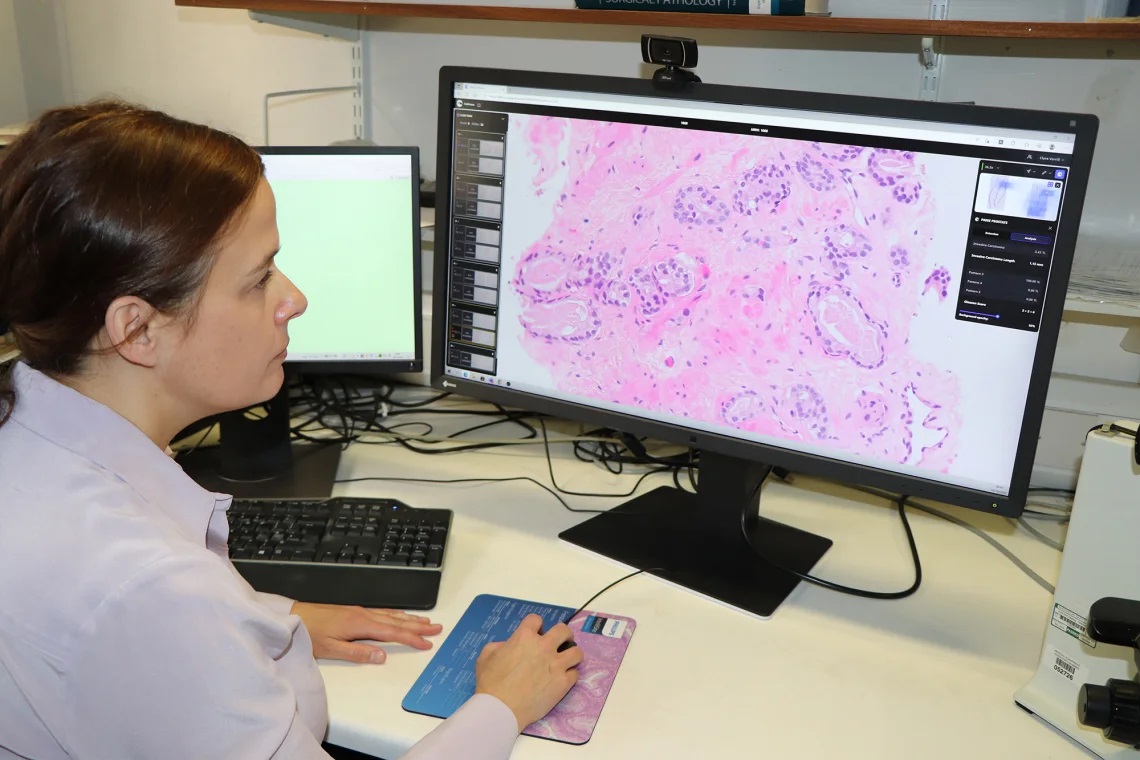 Professor Clare Verrill uses the new AI pathology software - Photo: University of Oxford
Professor Clare Verrill, Consultant Histopathologist and Associate Professor in Pathology at the University of Oxford, is exploring whether AI can spot cancer in prostate biopsies, potentially making diagnosis quicker and more accurate than ever before.
We spoke to her about this study – ARTICULATE PRO – and how it was made possible by you.
Before we get into the detail, could you give me a bit of background – what is digital pathology, and how is it different to what we do already?
In a nutshell, pathology is the study of diseases, and histopathology means doing this by looking at cells in a tissue sample.
So currently, when a man has a biopsy for prostate cancer, a histopathologist will look at the tissue samples under a microscope to see what the cells look like. From that, they can figure out if he has prostate cancer and, if so, how aggressive it looks. This is essentially the same way it's been done for decades.
But with digital pathology, we digitise those glass slides so that they're digital images, and we view them on a screen. One of the benefits, is that this makes it much easier to work with our colleagues across the hospital trust and across the country, because we aren't physically sending a glass slide to them to get a second opinion. It also allows pathologists to work remotely, and this was a huge benefit during COVID, when it meant that the pathology service could continue in its usual way.
Not every pathology lab is digital yet but in Oxford we completed this digitisation in 2020, when our histopathology laboratory was one of the first in the UK to achieve the milestone of scanning 100 percent of its surgical histology workload.
Digital pathology makes it possible to use AI to help with diagnosing prostate cancer. This could make diagnosis faster, safer and more accurate.
I can imagine that was a big change in the way you work – have there been other benefits?
Absolutely. Digital pathology also makes it possible to use artificial intelligence (AI) to help with diagnosing prostate cancer. This could make diagnosis faster, safer and more accurate.
For example, a prostate biopsy report can have around 100 data points in it. By working alongside a human pathologist, the AI could help with some of the analysis, for example giving an estimate of the cancer's aggressiveness, or even flag up suspicious areas, saving the pathologist time. That could lead to biopsy results getting to men much sooner, when time is of the essence. This is becoming vital as the number of prostate cancer cases increases across the UK, and this coincides with a shortage of trained histopathologists in the NHS.
There's also a benefit in standardisation – from day to day, or person to person, humans can interpret the same slides in slightly different ways. They might even overlook something. AI doesn't do that. It's a computer technology, so it's very rigid in how it does things. It could flag a small area of cancer that might be missed by a human. On the other hand, pathologists are experts and bring vast experience and the ability to make judgements which AI cannot do.
In this way, by working together, humans and computers can balance each other out in how they make decisions, and both should be better than either one in isolation. The pathologists in this study are being assisted by AI, but have final oversight of the case.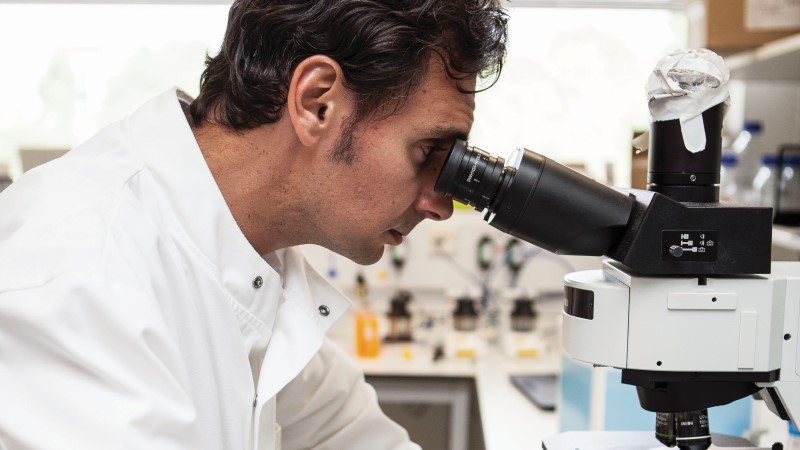 It sounds like there could be some big benefits to digital pathology – why is this research even needed?
Well, although these digital tools have existed for some time, there is still this 'AI chasm' in the field. In the last 20 years, we've seen around 13,000 publications on AI and histopathology, but only a handful of examples where these technologies are being used in actual clinical practice. So clearly there's great enthusiasm, but the uptake is low. And we wanted to change that.
That's why we came up with the ARTICULATE PRO (Artificial Intelligence for Cellular Pathology Transformation in Prostate Practice) study. We want to find out if a recent technology called Paige Prostate can help pathologists analyse prostate biopsies in three hospital trusts in Oxford, Bristol, and Coventry and Warwick.
The aim is to evaluate whether AI enhances pathologists' efficiency, and more importantly, to ensure that using AI improves the experience for men who are being referred for prostate cancer biopsies.
Having had prostate cancer, anything that speeds up and increases the accuracy of diagnosis has to be good.
How have men with prostate cancer made this research possible?
In 2021, when we were preparing to submit a grant application to the NHS-led Accelerated Access Collaborative to do this study, we asked Prostate Cancer UK supporters to give us their views on digital pathology and the use of AI in pathology.
We wanted to understand support for these technologies versus people's scepticism and concerns, and to make sure that people would be comfortable with the idea of AI being used in healthcare in this way.
Similar to how there have been few studies of AI being used in clinical practice, there have also been very few studies exploring public perceptions about the use of these technological advances for patient care in general, and none in histopathology specifically.
So, we asked Prostate Cancer UK supporters about three things: their level of understanding of how biopsies are reported, their views on digital pathology generally, and their level of support for AI helping pathologists in diagnosing prostate cancer from biopsies.
We were really grateful that so many men took the time to respond. We had almost 1,300 responses to our survey, and we were really pleased to learn that less than 1 per cent were not in favour of using AI in the clinic to help with diagnosis – and where there were concerns these could be easily addressed. Some respondents highlighted the importance of having a 'human in the loop' and it was great to hear that the expertise of pathologists is valued by the public.
Some of the feedback we got in our focus groups was extremely positive. One man said: "Having had prostate cancer, anything that speeds up and increases the accuracy of diagnosis has to be good."
With this information, we were able to show men with prostate cancer were generally happy to see AI used in this way, and support our bid to the NHS Accelerated Access Collaborative to fund the research and bring it closer to clinical practice. As a result, we got funding to go ahead with ARTICULATE PRO.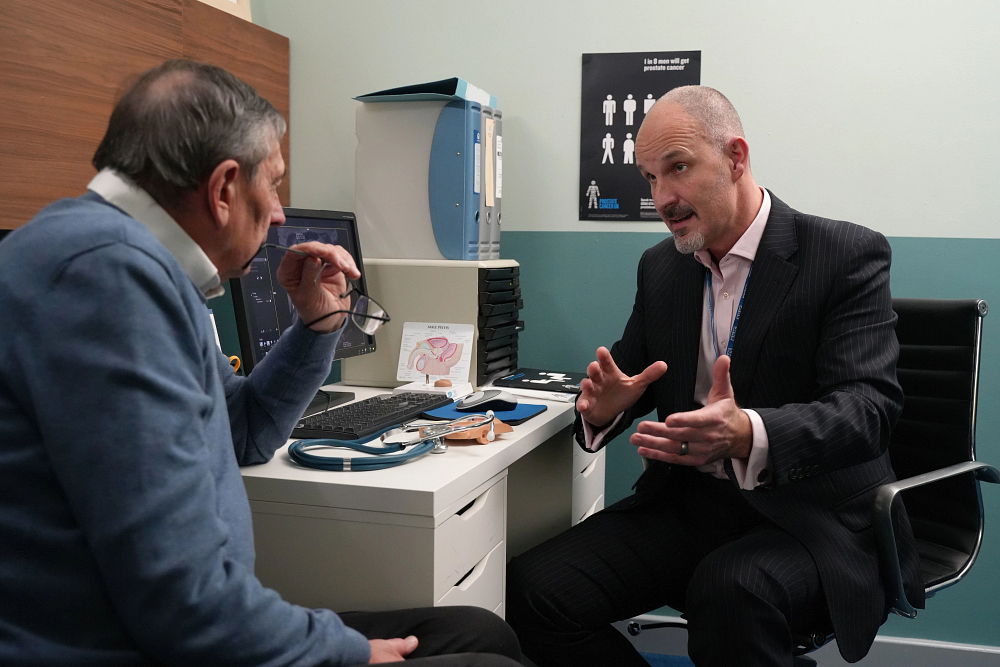 So now the evaluation of the AI is up and running, what's next? How would the technology reach the clinic?
We hope that our two-year project will pave the way for this and similar technologies to be rolled out across the NHS, reaching many more men than the three sites currently do. That's our focus – collecting the evidence and helping others to implement it.
We're also working alongside this project on some more exploratory research, such as whether the AI could work out what mutations a cancer has without the need for genetic testing – or even predict how well a man will respond to a given treatment.
It's an exciting time for digital pathology. It's only three years since our lab went fully digital, during the pandemic, and now we're beginning to investigate the use of AI. I believe there's great promise in these new ways of looking at disease that we can't compute as humans.
Finally, it's clear that having feedback from men with prostate cancer has made a big difference to your work. What would you say to the men who helped, and to any man affected by prostate cancer who is thinking of getting involved in studies like this?
Firstly, I'd want to say thank you so much to everyone who helped us get ARTICULATE PRO funded. Your feedback made a significant contribution – our funders consistently say that we have strong involvement and engagement from patients and the public in our research, and Prostate Cancer UK supporters have been a valuable part of this. If you'd like to read the full results, they're available on this website.
But beyond this funding application, having men with experience of prostate cancer getting involved in research is vital. It ensures that the work we're doing is what people with the disease would want.
In our project, for example, men with prostate cancer are a core part of the team. As well as the original survey and focus groups, these volunteers are helping us to design the research study and the information we give to others. They also feature in articles and blogs speaking about their experience and help us to publicise the study in other ways too.
We couldn't do this work without these volunteers, so if you are considering taking part in initiatives such as this to improve services for patients or research studies, I would encourage you to speak to your clinical team to find out if there are any opportunities near you.
Your ongoing support enables us to fund research that will improve diagnosis and treatment for men with prostate cancer. 
Please consider a regular gift to help us continue this vital work.