20 May 2021
Another advanced prostate cancer treatment rejected: NICE must guarantee over 4,000 men access to a life-extending drug.
Today the National Institute for Health and Care Excellence (NICE) made the interim decision to reject the use of a new life-extending drug for men with advanced prostate cancer.
The decision to reject apalutamide could mean thousands of men each year miss out on many months of life.
Please note: men who are already taking apalutamide, having participated in trials, will be able to continue taking it. However, men who cannot tolerate chemotherapy face missing out on an effective treatment in future unless apalutamide, or similar treatments such as enzalutamide or abiraterone are approved. 
Apalutamide (brand name Erleada) is a medicine used to treat men with advanced prostate cancer. It's currently only available as part of a clinical trial. It won't cure prostate cancer but it can help keep it under control and has been shown to help some men live longer.  
Vital alternatives for men who can't have chemotherapy
Docetaxel chemotherapy is an effective treatment for men newly diagnosed with advanced prostate cancer. It can give these men additional months of life, but many men are sadly unable to tolerate it. For some older men and those with other health conditions, new hormone treatments like apalutamide, enzalutamide and abiraterone offer them a way to gain a similar life-extension. These three alternative treatments are currently being appraised by NICE. We urgently need at least one of these drugs to be made permanently available for the thousands of men whose lives they can extend.
When the pandemic made chemotherapy too risky because of the increased chance of contracting COVID-19, we stepped in to make hormone therapies available to take safely from home. The NHS answered our call, and these men can now take one tablet a day with just the same effectiveness as chemotherapy. Now we're fighting to make these therapies permanently available for men across England, Wales and Northern Ireland.
The experts who analysed the data provided by the manufacturer of apalutamide decided it was not clear enough in demonstrating the benefit to men. Because of the uncertainty within the data, they could not be sure it would be cost-effective compared to other treatments.
This decision also affects men whose prostate cancer has progressed from localised or locally advanced to advanced disease. These men have few treatment options available to them and will miss out on the additional months of life that apalutamide could provide.
A desperate situation, as two out of three options now rejected
Apalutamide is the second rejection of this kind in just six months. Earlier in the year, NICE announced their intention to permanently reject abiraterone for men who can't tolerate chemotherapy. That's why we asked you to stand with the men caught in the middle of a tug-of-war between NICE and the drug company, and join our call for the decision to be reversed. 
12,673 of you signed letters to show you stand with men. The campaign hit national press in early March, putting pressure on NICE and Janssen.
The letters motivated NICE to work more closely with us on these other hormone treatments that could benefit these men too. We've been working hard to try to get an approval, so this latest decision comes as a major disappointment.
I feel lucky that I've been able to benefit from this treatment and believe other men deserve the same
Geoffrey Snowden, aged 80 from Scunthorpe, has been receiving hormone therapy for advanced prostate cancer for the past 11 years. In 2019 he started taking apalutamide alongside his hormone treatment which he credits for helping to control his cancer and keeping it stable.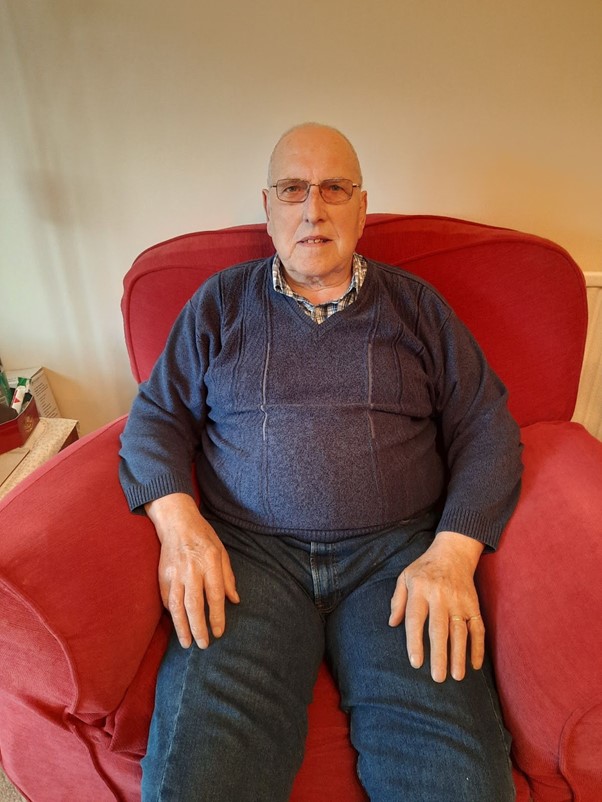 Geoffrey said: "I've been on apalutamide for two years and my experience has been very positive. I really believe it's helped to control my cancer and slow down its spread. I feel lucky that I've been able to benefit from this treatment and believe other men deserve the same, which is why I hope NICE reconsider their decision."
Angela Culhane, Chief Executive at Prostate Cancer UK added, "For the second time in six months, NICE has rejected a treatment which could have given thousands of men more valuable time with their families. It is now vital that NICE and the pharmaceutical companies act urgently to make sure these men have access to an effective treatment" 
Rejections of both apalutamide and abiraterone make it essential that enzalutamide is approved when the updated guidance is published next month. We're now calling for NICE and the pharmaceutical companies involved to do everything they can to make sure a suitable treatment is approved for men who are not able to receive chemotherapy.
Every single one of the 400,000 men living with prostate cancer in the UK should have access to the best prostate cancer tests, treatment, and support – wherever they live and no matter who they are. Help us improve care for men everywhere by giving a regular gift.