11 Feb 2021
'We're a partnership' | Couple's love for golf took them around the world, and helped them deal with prostate cancer
In this short Sky documentary, Tyrone and Jacqui show us how golf and partnership helped them get through a cancer diagnosis and treatment.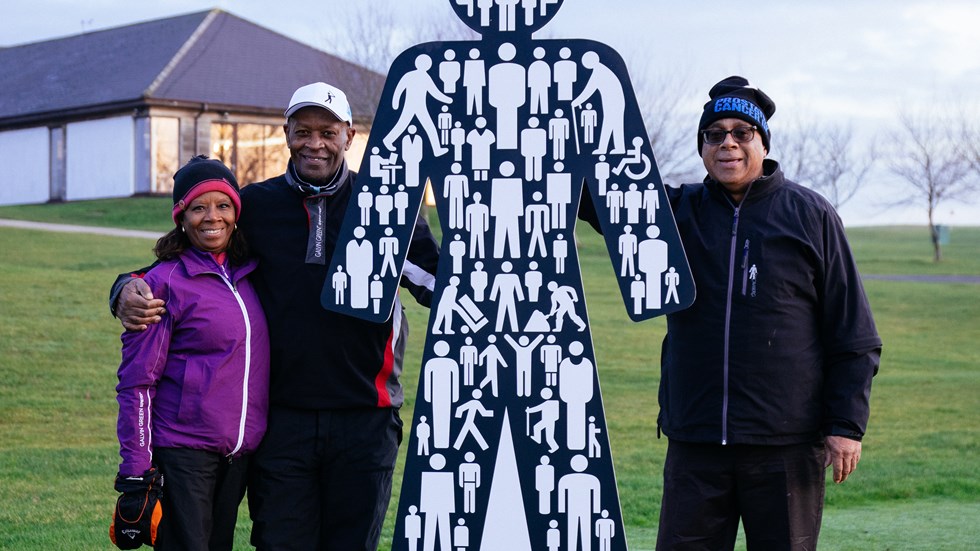 Tyrone Carter's partner, Jacqui, prompted him to speak to his GP about prostate cancer in 2015. Six years on from his diagnosis, the keen golfer tells us just how important partners and support networks can be when living with the disease.
Tyrone and Jacqui have been lucky enough to play golf in some of the most exotic locations on the globe.
As members of the African Caribbean Golf Association (ACGA), the couple's passion for golf has taken them around the world from Portugal to Barbados, the couple's passion for golf has taken them around the world. But for Tyrone, a life-changing diagnosis is what made their relationship stronger than ever, as we found out when the duo joined fellow supporter and ACGA golfer Frank Skinner in starring in a new Sky Sports documentary.
"My luck was that Jacqui was a member of the association, she was captain in 2013" he said. "She asked the committee when she was captain in 2013 if they could support Prostate Cancer UK."
"During the night I'd get up two or three times to go to the loo. After some talks from the charity, Jacqui wouldn't let it drop and she kept saying 'you need to go to the doctors'. I think it took me about two years to get me to go."
Jacqui's hunch turned out to be correct, as Tyrone was diagnosed with prostate cancer in 2015. 
"Prostate cancer can be devastating, but having a strong partner, like my Jacqui, made it easier for me," added Tyrone.
"Going through treatment has made us stronger. It showed that we're a partnership, a team. Our partnership has been cemented. If you're in a relationship, when it comes to cancer you can't be on your own."
Like many of us, Tyrone and Jacqui have had to put their plans on hold due to the Covid-19 pandemic, but the couple are keeping positive. and, through the ACGA, will continue to support us in our battle with the most commonly diagnosed cancer in the UK.
"The ACGA will carry on supporting Prostate Cancer UK as long as it's going," he said. 
What are your club or organisation's plans for 2021? Let us know here.